Brands of the Year: TD gets close for comfort
The bank has added a personal touch to an impersonal category to be seen as a challenger brand.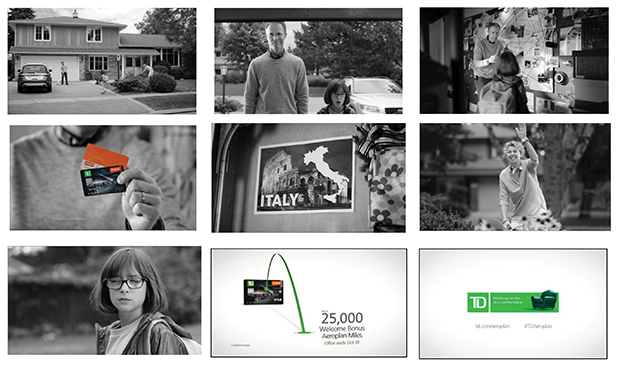 This year's Brands of the Year winners are as Canadian as maple syrup and they've had some very sweet successes. Check back each day this week as we count down the winners. 
It was a scorcher of a day when Calgary sisters Tegan and Sara stood on stage and belted out songs to a crowd in Toronto. The audience of more than 1,000 people, protected under pockets of shade and keeping hydrated with free sodas, didn't wait months after purchasing tickets to see the act. In fact, they didn't purchase tickets at all, many of them just happened to be walking by. The concert was a surprise treat from TD Bank, created in the name of comfort.
Though aligning itself with music and events is not a new strategy for the bank, having sponsored more than 60 music festivals over the past 11 years, the pop-up concert series, called TD Music Café and developed by Diamond Integrated Marketing and NKPR, was run by and for TD to support its positioning of being the bank that brings comfort to a sometimes stale and somewhat impersonal category.
Dom Mercuri, TD's EVP and CMO, says the brand finds success in being able to make life comfortable for customers. That's why it began opening its banks on Sundays in 2011, and extending its weekday hours to challenge competitors and make banking more convenient. And in late 2012, TD improved its cross-border banking services to allow seamless money transfers between accounts for shoppers, business travellers and Canadians studying, vacationing or living in the U.S.
Admittedly, the past couple of years have been tough for TD. Its insurance division was hit hard in 2013, after extreme weather and flash flooding in Alberta and Ontario saw a rise in insurance claims, however, the bank managed to bounce back.
In August, it reported record-high earnings of $2.1 billion for the third quarter of 2014, putting TD just behind RBC, which posted a net profit of $2.38 billion for the same period. TD saw a 37% increase in earnings the year prior due to a rebound in insurance earnings, healthy loan and deposit growth, as well as developments in its retail division, such as the major deal it struck last September with Aimia-owned Aeroplan to become the loyalty company's primary card issuer. As a result, the partnership helped shift some 540,000 Aeroplan customers from competitor CIBC over to TD.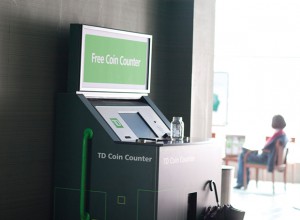 It was only natural for the bank to launch its Aeroplan card with the same thinking used in previous marketing, putting a spotlight on convenience and comfort. It introduced the TD Aeroplan Visa Infinite credit card with a campaign and dedicated website that explained the changes made, how the program worked and what customers could expect during the transition, says Mercuri. "It worked well, and it stayed true to the brand of trying to make things as comfortable as possible, as well as our vision to have personal connections with consumers," he adds.
"Digital connections are increasing, so we decided to invest in the people, time and money to grow that," he says. "[But] one of the key things that we see is that having a human connection is [also] important, as consumers have fewer direct face-to-face interactions."
In response to this insight, the company has been beefing up its marketing department to better handle more experiential and social. It also brought on Leo Burnett as its agency of record in late 2012 to evolve the TD brand that its former creative agency partner FCB helped build over the years, specifically moving away from the iconic grumpy old men characters. It now focuses more on TD being seen as a challenger brand by marketing its convenient products and services that challenge category norms, such as extended business hours and TD Coin Counters, which launched in early 2013, says Dom Caruso, president and COO at Leo Burnett.
He adds that his agency has so far dedicated most of its time creating consistent design elements across the company's various touchpoints, with Judy John, Leo's CCO and CEO, adding that they're taking the idea of comfort and delivering communication to consumers that's "easy to digest and simple to understand."
As a result of having a finer focus on experiential and social, the bank launched a campaign, called "#TDThanksYou," which went viral in July when it set up and filmed four "Automated Thanking Machines" at branches in Toronto, Montreal, Calgary and Vancouver.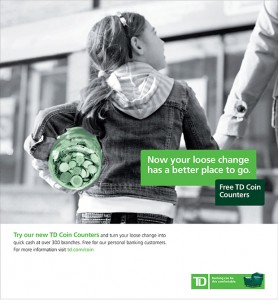 The brand hid people inside, so when customers used the ATMs, they were able to interact with them and receive gifts, from flowers to the chance to throw the first pitch at a Blue Jays game. The video of the stunt, a collaboration between Leo Burnett, Diamond Integrated Marketing and Hill+Knowlton Strategies, was uploaded to YouTube and, at press time, has raked in more than 11.8 million views.

"[TD] fundamentally believes that the most important part of its brand is the people and what happens when customers interact with it," adds Caruso, noting that going forward, his agency is working to help define, in modern terms, what comfort really means at TD.

And if profits and online fame aren't enough of a measure of success, the bank also has accolades to back it up. This year, TD was ranked first in customer satisfaction by marketing firm J.D. Power in its annual study. It's a title that TD has no problem holding onto — this is its ninth year winning. Also, during this year's Ipsos Best Banking Awards, held in August, TD took home top honours for the 10th consecutive year for the best customer service among Canada's five major banks. And finally there was the Best Canadian Brand title, which it claimed (yet again) in this year's biennial study from Interbrand.

"We've had a busy year in terms of the range of activities we've done," says Mercuri. "We don't build on the brand purpose of comfort in just one particular campaign, and it's not just done in the marketing function. It's really how we deliver it through all the different touchpoints that we have with our customers. [And] it's not just about what we put out there, but how we engage with customers and find new ways to deliver on that human connection."

This story appears in the October 2014 issue of strategy.