UP Express announces retail partners
A focus on iconic Toronto brands looks to give the service's flagship station at Union a hyper-local feel.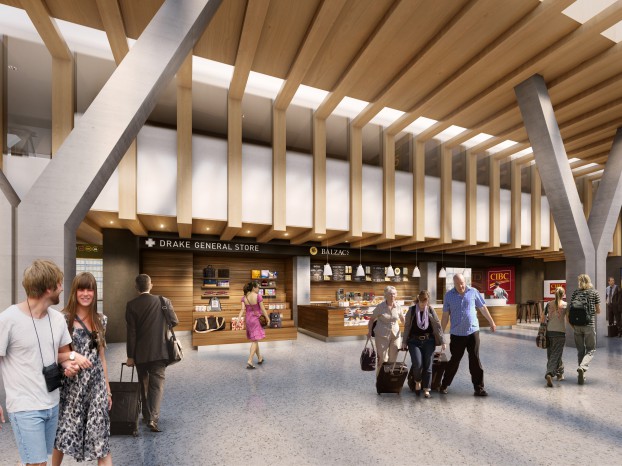 Metrolinx's Union Pearson Express – the train that will connect Toronto's Union station with Pearson Airport – has announced a range of partners that will be providing services and experiences to riders, including local retailers with exclusive product offerings at the transit service's flagship stop at Union Station.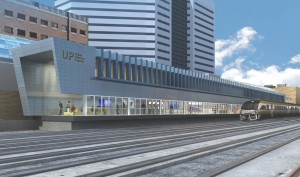 UP Express' Union Station stop is located near the SkyWalk that connects Union to the Rogers Centre and CN Tower. In addition to ground floor retail space, the upper level of the station features the mezzanine CIBC UPstairs, a lounge with further space and a glass-enclosed seating area. The retailers set to open at both levels are established brands within Toronto, and look to create a local, artisanal feel within the station.
"Our mission is to transform the way people travel to and from the airport, and how they experience what the province and the city have to offer," said Kathy Haley, president of Union Person Express, in a statement. "Showcasing unique, iconic artisanal brands and products will surprise and delight our guests and showcase the best of Ontario."
The Drake General Store will open a 167-foot retail space at Union, featuring a specially curated travel-focused apparel line and a selection of gifts and stationery, as well as UP Express-branded travel and business products. The location will also stock a selection of the store's standard merchandise and provide an e-commerce solution for the UP Express products.
"This newly formed relationship is decidedly an appropriate one," said Drake General Store co-founder Carlo Colacci. "We love classic and modern goods that fill us with whimsy and nostalgia, and the UP Express plans to bring an era of nostalgia back to Toronto."
This will be the fifth permanent location for the Drake General Store, which has space in Hudson's Bay locations at Toronto's Eaton Centre and Ottawa's Rideau Centre.
Balzac's Coffee Roasters will open its tenth location at the station. In addition to coffee and a special espresso blend only available at the Union location, the shop will offer light meals, snacks and pastries sourced from local Toronto establishments. It will also sell co-branded UP mugs and posters specific to the location, similar to the vintage designs available at its locations throughout the city.
Diana Olsen, Balzac's founder and president, feels the mix of retail partners is a good fit for the coffee shop. "UP Express is genuinely committed to bringing in home-grown businesses whose identities are interwoven with the unique spirit of Toronto and Ontario," she said in a statement.
Upstairs in the lounge area, Mill St. Brewery will be operating a full bar, featuring a line of craft beers, snacks and bar food.
The retail locations will open when service for UP Express begins this spring. An exact date has yet to be set, but Metrolinx has previously said it is on schedule to begin in time for the 2015 Pan Am Games in July.
UP Express also announced its founding partners and provided more detail on how they will be working to enhance the commuter experience during the ride. In addition to being a name sponsor for the lounge, previously announced lead partner CIBC will operate ATMs for both Canadian and foreign currency and provide free Wi-Fi to riders.

Reaching travellers by providing greater access to services and stress-free experiences has been a recent priority for CIBC, and its partnership with UP Express looks to complement its recent work at Pearson Airport.

Deloitte will handle data analytics, using customer feedback and ridership flow to help identify areas of potential improvement to the service. Cisco will run a network providing travel alerts, hospitality information, promotions, ticket services and other information to riders through mobile apps, kiosks, screens at station doors and video walls. Rogers will also have branded content on the media screens and provide a news feed that runs in every UP Express station.