TD's growing interest
From JohnnyCash machines to grumpy old men to heartfelt thank-yous, how TD Canada Trust has banked on comfort for 160 years.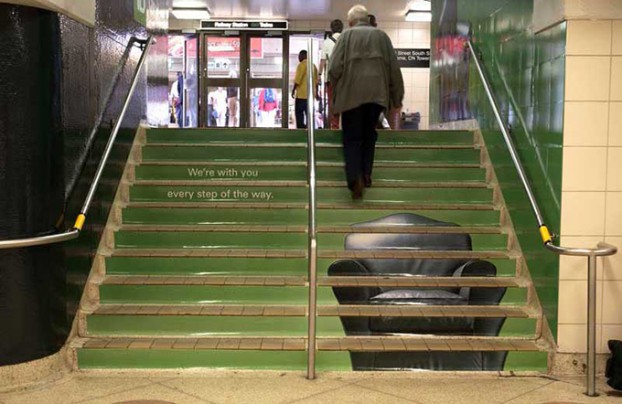 This story appears in the September 2015 issue of strategy.
Imagine if instead of the comfy green chair, TD Canada Trust's main imagery was an open door. Or a pair of comfortable slippers. Or a smoking pipe.
In 2000, the bank's marketers were discussing a brand identity for its post-merger life, after TD and Canada Trust became one entity. It was Ian Mirlin, of Toronto-based agency Harrod and Mirlin (later absorbed into FCB), who suggested finding an inhabitable metaphor, says Chris Armstrong, former EVP/CMO (and now CEO of retirement planning firm Life's Next Steps), who was in charge of marketing at the time of the merger.
Comfort was a key demand for customers, Armstrong says. "I think the big five [banks] had been the subject of a lot of public derision [in the 1990s]. There was a notion that Mr. and Mrs. Front-Porch Canada did not get a good banking deal, that the oligopoly was not service-oriented."
"Sometimes consumers didn't feel comfortable," adds Dominic Mercuri, EVP and CMO at the bank today. "[When asked] 'What would make me stay with an organization?' [The response was], 'Make me feel comfortable.'"
That's where the chair, smoking pipe, slippers and even open door came in – they were all meant to represent the idea of comfort.
The chair almost didn't make the cut, Armstrong says. It was neither the most favourable nor least favourable metaphor – but it was certainly one of the most physically comfortable. It won out in the end, and today enjoys 86% recognition among Canadians.
Of course, a big comfy chair wasn't the only thing introduced in 2001: Armstrong says the decision was made to make sure the concept of "comfort" permeated all aspects of the brand's retail banking. Its tagline, "Banking can be this comfortable," would go on to shape everything the brand did in the new millennium (and continues to shape how it approaches business today).
In Canada, the brand has more than 1,150 locations with nearly 80,000 employees. It's the second largest bank in the country, in terms of revenue and locations (and briefly beat out RBC in 2014, before dropping back to second place this year). And, amid the financial crisis of 2008, TD remained stable, in fact, growing into new markets such as the U.S., where it's since gone on to create a huge presence for itself. (It is now the eighth strongest bank worldwide, according to an annual ranking by Bloomberg.)
But comfort has been a key pillar for the bank over the course of its history. And, as it celebrates its 160th anniversary this year, it's that commitment to creating a comfortable experience, and putting the consumer at the heart of all marketing and business decisions, that's brought it success.
Numerous banks filtered into what would eventually become TD Canada Trust.
The big players in TD's history, however, are The Bank of Toronto (founded in 1855), Dominion Bank (founded in 1869) and Canada Trust (originally the Huron and Erie Savings and Loan Society, founded in 1864).
The earliest incarnation of the bank was actually the Millers, Merchants and Farmers Bank of Canada West, but the name was turned down by the legislators (as was its original mission to sell flour, grain, produce and insurance and act as a bank).
The Bank of Toronto followed (focused strictly on banking), incorporated in 1855 with £500,000 in capital.
At the time, a massive influx of immigrants flooded the country. The Bank of Toronto – like all banks at the time – was more focused on breadth than branding. Having bricks-and-mortar locations in the community was the most effective way to garner new customers. Expansion was rapid, with new branches quickly opening across Southern Ontario, and the first out-of-province location found its way to Montreal a few years later in 1859.
The concept of comfort at the turn of the century was different than it is today. Chris Stamper, SVP corporate marketing, says much of the advertising for all banks at the time was geared towards letting people know the bank's location in a community and assuring people it could be trusted with their money. For The Bank of Toronto, farmers and millers were an important target demographic, and early ads went out of their way to assure this group the bank would "meet reliable farmers in any reasonable demands for credit."
The mid-1800s to mid-1900s weren't an easy time, according to Joseph Schull, in his book 100 Years of Banking in Canada: A History of the Toronto Dominion Bank, penned for the brand's centennial. The financial institutions weathered a recession, a depression, a run on the bank, not to mention two World Wars. And with its deep roots in Ontario, expansion was a struggle – especially in the West, where it opened and was quickly forced to close a number of branches.
By 1955, none of the banks that would go on to form TD could be considered a leader in Canada – that honour belonged to RBC and CIBC. But they were of respectable sizes: The Bank of Toronto boasted 256 branches across Canada to Dominion's 193. And on Feb. 1, 1955, the financial landscape changed with the merger of The Bank of Toronto and Dominion Bank.
Toronto Dominion's advertising in the '50s was really geared at telling the world about the new brand, says Stamper. "[Messaging was designed to tell consumers] it was a bigger, larger institution that could reach, connect and help a lot more people," he says. "You see that in the evolution of the brand in that [they say] 'We're big, we're here and we can be your bank because we've got the security, stability and breadth.'"
With the advent of television, the bank put out a steady stream of marketing geared at teaching consumers about its new products.
One ad, from the '70s, featured a man calmly waiting in a delivery room, surrounded by nervous fathers-to-be. He doesn't have to worry, the voiceover says, TD will be there for him with its new Twin chequing and savings account. He's then handed one baby. Two babies. Three babies. And he isn't phased. Cue the jingle and the tag, "The bank where people make the difference."
This was the consistent theme across most of TD's ads at the time (including one humorous spot where a man walks through a zoo, complete with a man in a gorilla suit, touting the benefits of borrowing against his cash flow).
While TD chugged along, continuing to grow in the '50s to '90s, Canada Trust came into its own.
What was unique about Canada Trust was the relationship between its head office and branch managers. In the '60s and '70s, Allyn Taylor and Merv Lahn, then president and CEO, respectively, gave near-complete control over how the branches were run, according to Philip Smith, in his book The Trust-Builders: The Remarkable Rise of Canada Trust. The branch managers, they reasoned, were in the best position to know what consumers would want because they were the ones on the ground, in the communities.
Smith gives the example of one Hamilton branch that was moving locations back in 1963. To help get the word out and entice new customers, the general manager decided to give away gifts to anyone who opened a savings account. Customers could choose between a camera (which weren't cheap at the time) or a glass coffee maker. Executives were "horrified," worried they'd become associated with five-and-dime stores, says Smith.
But that fear was misplaced: on opening day, the branch ran out of gift inventory, and ended up extending its opening "day" into three weeks after restocking. More than 6,000 new accounts were opened.
After this, Canada Trust brought on its first marketing exec, Don McLean.
It wasn't a smooth start for McLean, a former beer marketer with no financial background: his first campaign was built around the tag "Start something with us," and tellers were made to wear pins that said "Start something with me," which caused a fair bit of leering and inappropriate comments towards female staff. It was quickly canned. But overall, the marketing campaigns were considered a success, helping Canada Trust grow quickly. The trust raised its profit to $3.2 billion in 1971, from $2.2. billion three years earlier, and Smith credits a lot of that to its marketing presence.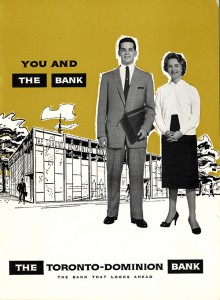 Canada Trust had a number of big hits, despite being a smaller financial institution. In 1984, following the rush from other banks to introduce automated banking machines (TD launched its Green Machine in 1976), the Canada Trust folks batted around ideas for a name. "Casheteria," "Harvey Wallbanker" and "Johnny Pay-cheque" were floated. Someone suggested a JohnnyCash machine. And the singer himself actually went for it, offering to play a number of concerts for both employees and customers and create a commercial to help promote the new machines. ("Why walk the line?" was the tag.)
This was also the time the bank made the strategic decision to put its consumers at the heart of all its decisions, says Smith. Marketing was geared around alleviating banking pain-points – for example, a "Burn Your Mortgage" campaign offered one customer a month the opportunity to have their entire loan paid off. The bank was criminally charged, and later cleared, with running an illegal lottery, but it ended up being one of its most popular executions of the time.
More importantly, in 1976, the marketing department suggested a radical new idea: extended bankers hours. Most banks only operated from 10 a.m. to 3 p.m., though Canada Trust was open 9 a.m. to 5 p.m. Eric Minns, then a senior product manager, recognized that more and more, both husband and wife were working, so business hours didn't make sense for most people.
The branding team bounced around ideas like "Nine-to-nine, all the time" before landing on "Eight-to-eight, six days straight." (The logic was it would be easier to sell upper management on a six-day work week, rather than seven.)
And it was a gamble: to make this marketing campaign work, Canada Trust had to hire hundreds of new, part-time staff in order to keep the lights on. But it fit with the company's strategy of offering better service, so it tried a pilot run in London, Ontario.
The entire push cost the company less than half a million, according to Smith (that included marketing materials and new staff salaries), but netted more than 15,000 new accounts and $24 million in deposits in London alone. The campaign was extended across the entire network, and would go on to become one of the most enduring brand promises, even as Canada Trust merged into TD.
That merger followed a failed one between TD and CIBC (kiboshed by then-finance minister Paul Martin). TD and Canada Trust officially signed the papers on Feb. 1, 2000, 45 years after The Bank of Toronto and Dominion Bank merger.
Internally, the Canada Trust teams seemingly took charge of the marketing department, says Armstrong, who joined Canada Trust to lead its direct marketing practice in 1997, before taking charge as CMO in 2000. He says the two brands, while both customer-focused, had different brand identities. TD was better known for its transactional acumen and sales-driven approach, a welcome addition to Canada Trust, which he says was better known for its customer service.
Conversations started around how the new TD Canada Trust could differentiate itself from the competition. "Building a better bank" became the theme in the marketing department.
"We asked people things like 'Why do you bank? How do you bank? What do you think about when you think about a bank? How do you choose a bank?'" says Stamper.
Thus rose the idea of comfortable banking, which became the theme across all marketing communication. Armstrong remembers that to help people transition from TD and Canada Trust to TD Canada Trust, thousands of booklets had to be printed, and each one was customized for individual customers. A specialized software had to be used to create the personalized pamphlets, but it was important that they understood how the merger would affect their banking in particular, he says, and that was something that couldn't be communicated on a mass scale. It cost more, but it resulted in a more comfortable transition.
What's more, he says though "Banking can be this comfortable" was created around the marketing table, the decision was made to make sure that philosophy permeated all aspects of the brand's business – requiring buy in from the top.
"There were lots of people trying to push us off the puck, [asking] 'Hey guys, is this service-oriented branding, banking-can-be-this-comfortable philosophy where we want to be?'" Armstrong recalls. "'Or do we want to be the low-rate bank? The new-product-every-month bank?'
"But frankly, the guys running the retail banks said, 'No, none of those are as defensible as the customer satisfaction positioning.'"
So the bank started selling the messaging. The "Grumpy Old Men" campaign, by DraftFCB (in which two older gentlemen ruminate on "the good old days" when the banks were closed when you wanted to visit or provided advice you didn't want), juxtaposed the "old ways" with the new ones, and were among the best known ads of the mid '00s. Stamper says the grumpy old men still have 55% brand familiarity, despite being retired in 2012.
Alan Middleton, marketing professor at Schulich School of Business, says this was a great move.
"Canadians just assumed in retail banking, all banks were the same," he says. "There's no point in leaving one because they're about as good or as bad as each other."
"Banking can be this comfortable" wasn't just a tagline either, he says. TD lived it, allowing the brand to positively differentiate itself. "They recognized a brand promise they could keep."
"Imagine that you're the client and in comes the agency with the position line 'Banking can be this comfortable.' Gah! That's boring. Is that all?" Middleton adds. "TD's insight was 'It might not be the most exciting or involving line, but if we commit ourselves, it'll grow in stature, importance and credibility' – which is exactly what it's done."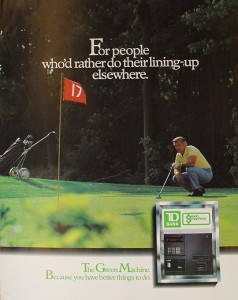 And the concept of comfort truly resonated: the brand would go on to win the Synovate (now Ipsos Reid) Award for customer service excellence in banking 10 years in a row, the J.D. Power and Associates customer satisfaction award for the past 10 years, and it's twice topped Interbrand's biennial Best Canadian Brand list.

And it's the commitment to giving customers what they want that will carry the bank forward for the next 160 years, Mercuri says.

More recently, TD has taken its "Banking can be this comfortable" philosophy and spread it across all its businesses, Mercuri says. That is to say, it wants to make all access points with the bank – whether that's people taking out loans, getting insurance or investing their money – as easy and comfortable as possible.

And while that might be easily said, the digital era has made maintaining face time with customers more challenging than ever.

"We need to make sure we keep consumers engaged with TD as an organization," he says. "It was different when customers' primary relationship was done face-to-face. [Today the question is] how to continue to give that personal, human connection. That's going to be the key to the future success of our organization and others."

To that end, the brand has beefed up its digital capabilities, bringing on more staff members to help manage its experiential and social. It also brought in Leo Burnett as its agency of record in 2012 to build on the work from FCB. The iconic grumpy old men were retired, with creative focus shifting toward its products and services that challenge the industry's norms (such as the extended business hours). It brought on board Aeroplan to launch a new Visa, allowing people to collect travel reward points. The bank has also recently rolled out options such as bank-by-text and the ability to deposit cheques by taking a photo with your phone. Up next, Mercuri says they're exploring tools such as digital wallets, and other types of technology that help make the process of banking as easy as possible.

And, of course, digital is making it easier than ever to connect with consumers in meaningful ways, he adds.

One of the brand's most successful campaigns last year, the "Automated Thanking Machine," in which unsuspecting ATM users were gifted with expensive presents, netted 22 million views online, not to mention massive social chatter around the campaign.

The video stunt (a collaboration between Leo Burnett, Diamond Integrated Marketing and Hill+Knowlton Strategies) was followed up with an even bigger giving stunt, "Make Today Matter," in which community leaders across North America were gifted with at least $30,000 from the bank. They were asked to give back to their community in any way they saw fit (one bought musical instruments, while another put the money towards improving an animal shelter).

The acts of kindness were cut into a handful of videos, with nearly five million views, and an 80% positive ranking.

This theme continued in the latest campaign, launched in July. To highlight that the brand has been with its consumers through all their major life events, it surprised a handful with real-life photo galleries of their major milestones, with the help of some family and friends. A week in, the super-cut already had more than 3.5 million views (over 4.6 million at press time).

But more importantly to Stamper, the comments have been overwhelmingly positive. "They say, 'I want to bank with this bank,'" he says. "As a brand, from a vision standpoint, [we believe] legendary experiences build a better bank. So we're really focused as an organization on being 'better' – not the best. When you're the best, you settle. When you're better, everyday, you're trying to do more. We'll keep trying to be better."