Brands get on the Blue Jays bandwagon
How Ikea, Honda and Budweiser showed a little spirit ahead of the team's first playoff game.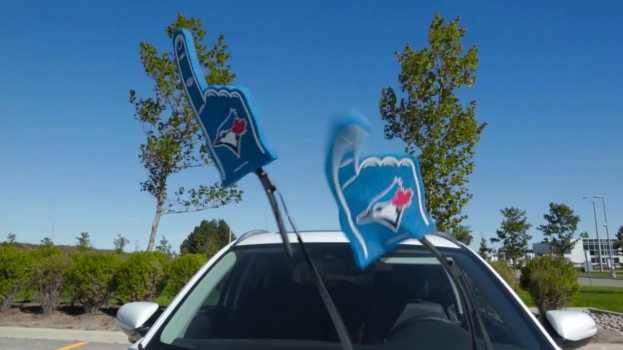 With the Toronto Blue Jays kicking off their first playoff run in 22 years yesterday, nearly every brand with a Canadian presence made their support known in some way or another. While we've already taken a look at how Coca-Cola has updated its iconic jingle, previously seen during the team's last World Series win, here's how others went a little further than a supportive tweet to capitalize on the excitement before the first pitch yesterday.
Ikea
When the Toronto Raptors made the playoffs in 2013, courtside fixture Drake pulled out a lint roller in the middle of a game to make sure his pants still looked fresh. As part of its "House Rules" campaign, Ikea Canada capitalized by handing out its own lint rollers outside of the next home game. Not wanting to be left out of another Toronto team's long-awaited playoff appearance, Ikea showed up outside the Rogers Centre handing out "rally spoons" branded with "#StirItUp."
Let's #StirItUp. For real. We're giving out rally spoons before Game 1 today! pic.twitter.com/Qo7l0KDBjd

— IKEA Canada (@IKEACanada) October 8, 2015
Picked up one of these today. Excited to see the fans #StirItUp @IKEACanada #ALDS #BlueJays pic.twitter.com/l6DEbQaozw

— Kevin Pillar (@KPILLAR4) October 8, 2015
jays fans from Alberta here to #stiritup #cometogether pic.twitter.com/AyiMRhnXbX

— Natalie Kalata (@natalie_kalata) October 8, 2015
The "stir it up" motion is a common signal players use across the MLB, referring to a quote by Hall of Famer Reggie Jackson where he said he was a "straw that stirs the drink." While Jackson has since denied ever saying it, players still use the motion after doing something they think should get the rest of the team going. Even though the signal isn't unique to the Blue Jays, we will forgive Ikea for not wanting to wait for Drake to bring a throw pillow to rest his head on during the seventh inning stretch – or get frustrated while building a cabinet next to the dugout.
(Unfortunately, party-pooping security at the Rogers Centre was reportedly confiscating the spoons as people came in, as they were seen as potential safety risks if they were thrown on the field.)
Honda
Some workplaces are being pretty understanding with letting fans follow the action from their desk, but bringing a foam finger into the boardroom to gesture at diagrams on your PowerPoint might be pushing it. Honda realizes how fun something like that sounds, though, releasing a video yesterday recreating the wave in a way only one of its cars can.
Budweiser
Blue Jays fever seems to have done the unthinkable and gotten people in Toronto more excited than they are at the start of hockey season. It's only natural that Budweiser (which is the official beer of the team) would look to mirror that excitement. In 2013, Budweiser forged a connection with hockey fans by releasing the "Red Light," a goal light consumers could purchase for their home or office and programmed through an app to light up whenever their favourite team scored.
A spokesperson from Budweiser says that with a simple app update, those that already have a Red Light at home can set it to go off every time the Blue Jays hit a home run. The Red Light update is part of a larger push around the team, which includes a limited-edition, Blue Jays-branded "6ix Pack" at LCBO stores and activations at Toronto bars and restaurants where fans can watch the games.