Strategy's 2015 nice list
As we get ready for 2016, the strategy team picks our favourite campaigns of the past year.
As the strategy team gets ready to sing "Auld Lang Syne" (probably very badly) and say hello to 2016, it's the right time to reflect on a year of great creative and media campaigns. Here, we pick our own personal favourites that weren't all necessarily big award winners, but spoke to us in their own way. 
Mary Maddever, publisher, strategy, Media in Canada and stimulant
Campaign: "#OwnIt"
Brand: Kellogg's Special K
Agency: Leo Burnett Toronto
I was really torn picking a fave this year, but in the end I kept coming back to a rather classic, even old-school style TV commercial: a brand anthem. Every time I saw the Special K "#OwnIt" spot I got sucked into its vortex, watching the whole thing and listening rather attentively.
I know there's been a lot said about too many brands mining the self-esteem territory, but Special K has heritage here. Remember the great work Elspeth Lynn and Lorraine Tao did on the brand back in 1998 when they were a junior team at Leo? "Resolutions" featured guys in bars self-consciously and ever-so-seriously saying things that women obsess over, like "I have my mother's thighs. I have to accept that." They were hilarious, attention-grabbing and really made you think twice about being harsh on yourself. And it worked – the U.S. team picked up the Canadian spot, which was a first.
This year Special K got my attention back by taking its weight focus in a powerful direction that harkens back to the earlier work: we all have things we don't love about ourselves, but rather than focusing on what you can't change, quit stressing about perfection. The writing connects brilliantly: "What if we tell the little voice inside that tells us we aren't good enough to shut up?" Although the message falls into famously trodden ground, it's battling a lifetime of unrealistic models of perfection (starting with Barbie), so it bears repeating: Change what you can – your perspective – and saunter off into that pool with your head held high.
I feel a little fiercer when I watch it, and I think it's because they used real women sharing real emotions. So Kellogg's and Leo, kudos. Hopefully more women will feel a little less hard on themselves when it comes to New Year's Resolutions, and embrace the "#OwnIt" attitude. Oh, and buy some Special K, of course.
Emily Wexler, editor, strategy
Campaign: "#BetterForIt" OOH
Brand: Nike
Agencies: Lg2 Toronto, Jungle Media
It can't be easy to be an out-of-home campaign these days. People walk around with their eyes gazing downwards at the phones in their hands, oblivious to what's around them. So when an OOH campaign becomes the talk of the town (and beyond), it's definitely noteworthy. That's what happened this spring in Toronto when Nike launched a running campaign, with messages that cheekily spoke to the target (female runners) in creative ways.
Among the six executions were a sign with a giant raccoon above it that read, "When your city's raccoons are as big as dogs, you don't jog. You run." Another read, "Your only competition is you. And also other people. Like her." and pointed to a window that showed what appeared to be a woman doing pull-ups.
The campaign, by Lg2 with media by Jungle Media, drove to Nike's "#betterforit" platform, and got picked up by media and blogs, generating three million impressions, and motivating runners all over the city.
This campaign is, in my opinion, one of the best of the year because it proved that the brand and agency really understood their target (and I happen to be part of that target). Beyond the fact that the executions were clever, the language they used and the references they made were spot-on. Well done, Nike and Lg2.
Jennifer Horn, associate and special projects editor, strategy
Campaign: "6 Billion Hours"
Brand: Volvo
Agencies: Grey Canada, Havas Media
There are two reasons why Volvo's "6 Billion Hours" made me weak in the creative knees this year. One, it was a semi-rare example of agencies (Grey and Havas Media) playing nice to produce slickly coordinated and contextually-relevant pre-roll ads (a pretty tall order), and two, they were able to get someone like me, a self-admitted YouTube addict, just as excited to watch the advert as the actual video I logged on to view.
In a nutshell, the brand's analytics team and its agencies created hundreds (you read right) of unique spots, each highlighting a feature belonging to the Volvo XC60 vehicle. Instead of just throwing the videos in front of other videos that had nothing to do with what the viewer logged on to watch, the team placed them alongside six billion hours (you read right, again) worth of YouTube content that, in some way or another, could be thrown to the Volvo vehicle. So, if you wanted to watch a video about a tornado ravaging some poor house, the ad that would play before would be one that demonstrated the Volvo car's rain sensors on its windshield.
And so this went on, with videos for things like twerking, catcalling, and everything in between, showing how the car is good at keeping junk safely secured in your trunk, how its park assist camera can show you what's creeping behind, and more.
Correction: This article originally stated that "6 Billion Hours" included 40 unique spots. At press time, the campaign has included hundreds of unique videos.
Harmeet Singh, news editor, strategy
Campaign: "Nobody's Memories"
Client: PFLAG
Agency: FCB Toronto
Full disclosure: I cry a lot.
Despite that, my inner cynic does win out much of the time and I can often be caught rolling my eyes when campaigns are trying hard to tap into my emotions.
But the "Nobody's Memories" campaign for PFLAG created a definite "wow" moment for me. It wasn't because of a particularly bold execution (although the spot's 16mm film style was both cool to watch and relevant to the message). Rather, it was that a lightbulb went on and I realized I had never thought of this important issue from this angle before – that despite a decade of marriage equality in Canada, there are so many couples who didn't get to share their commitment of love publicly with friends and family and many more worldwide who still can't.
That's one of the reasons why I think the campaign worked – it acted as a meaningful and powerful reminder for people about why same sex marriage is still an important issue.
And it did work. Launched at a critical time south of the border, when the U.S. Supreme Court was making its final decision on marriage equality, the campaign was clearly impactful. With $2 million in donated media (300% over the goal) it gained more than 27 million impressions (19 million PR impressions) in the first month.
So my hat goes off to the team at FCB Toronto, who put a fresh, smart perspective on a long-time issue without veering into cheesy territory just to get us to cry.
Josh Kolm, staff writer, strategy
Brand: Monster Factory
Agency: Havas Worldwide Canada
In 2015, the ad landscape (both in Canada and globally) was dominated by feel-good ads, so it was nice to see some work that not only went for a laugh, but also stood out by getting very, very dark.
Havas Worldwide Canada's campaign for independent Toronto toy manufacturer Monster Factory embraces the slightly demented look of its characters by showing kids at their absolute worst. A destructive child isn't a totally new main character for an ad, but what makes the spots in this campaign great are the details, from the "so pretty" that makes a little girl colouring all over a baby extra sinister, to how filthy that toilet brush looked. But the one that put this campaign over the top for me is the "Builder" spot. Not only is it a kid playing with something he shouldn't be, not only is that something a dead relative's ashes, but he drops a casual "thanks Uncle Wayne" as he does it, giving his actions a deliberateness that hilariously rides the uncomfortable line between a child's selfish pursuit of entertainment and the signs of young sociopath.
The business side of this campaign is interesting too, since Havas was one of several agencies in Canada to be in "invest and grow for the future" mode this year. So if Helen Pak and her team come out with ideas like this in a one-off campaign for a young upstart client, one can only think of what kind of concepts they'll drop over the next year.
Val Maloney, associate editor, Media in Canada
Campaign: Rogers NHL GameCentre LIVE app 
Brand: Rogers Media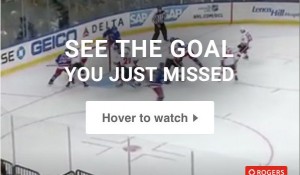 Rogers Media and Google partnered for a market-first this fall, creating a set of real-time video ad units to show NHL hockey fans goals they just missed. I liked the campaign because it tied TV with online to create digital ads you might actually want to click on.

The deal came out of a partnership between Rogers and Google's Art, Copy and Code division, which has been looking into finding unique ways to promote the Rogers NHL GameCentre LIVE app to potential users using programmatic and new creative ideas.

For the ads, Rogers Media TV producers cut clips of goals the minute they happen on TV. Those clips were then pushed to a server and targeted programmatically, using Google's DoubleClick network, at out-of-market sports fans online. Video ads were delivered with the tagline "see the goal you just missed," and will run through the end of the year.