Taking a hands-on approach
How interactive executions helped brands drive trial and smash stigma.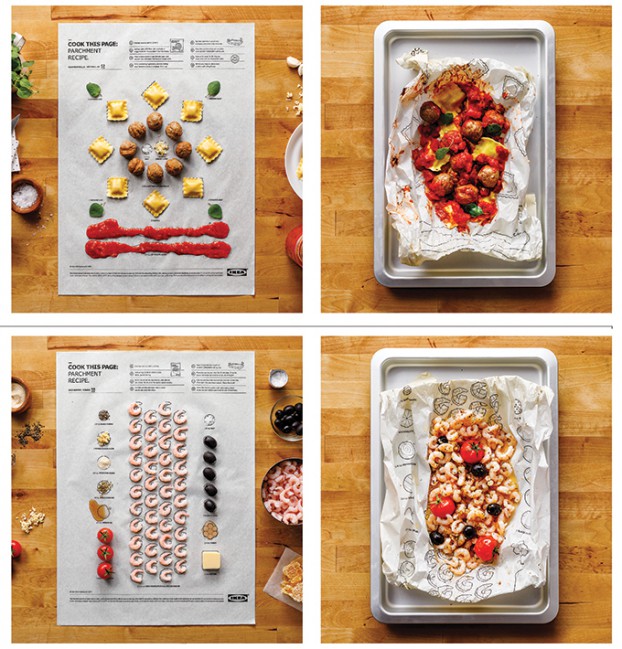 Over the coming days, strategy is taking a deep dive into the insights, trends and strategies that helped propel this year's Shopper Innovation Awards winners to success. Be sure to familiarize yourself with the full list of winners, and check here for any features you might have missed.
This story appears in the May/June 2018 issue of strategy.
Trial by participation
The thinking goes that if you succeed at trial, consumers will come back to buy. And while most brands get their products into the hands of shoppers the standard way – through samples in the mail and on the street – others, like IKEA and Cottonelle, are eliminating product unfamiliarity through more participatory programs.
To get shoppers excited to try (and buy) IKEA's food, the retailer and Leo Burnett developed a first-of-its-kind cooking method.
Most people struggle to get creative with meals and therefore hesitate to try new things. IKEA decided to show shoppers how easy it can be if they use its products, creating the "Cook This Page" parchment recipe series. The brand designed something entirely new with its interactive "fill in the blank" illustrated cookbook, allowing people to add ingredients exactly to measure, which they could then roll and simply bake.
The recipes incorporated IKEA food items and kitchen tools and were given away for free, generating excitement and traffic to its food and kitchen departments. Each of the 12,500 parchment recipe papers were available in 18 locations across the country, and were snatched up within hours by Canadians hungry to try something new.
Sampling can be as simple as putting ambassadors on the street with your product, but adding a layer of engagement can help convert shoppers.
Not only did Canadians not know about Cottonelle FreshCare Cleansing Cloths, but the few that did were only using it occasionally. Forty percent of Canadians aren't aware of these solutions for cleaning up after sex, so they typically turn to toilet paper and baby wipes.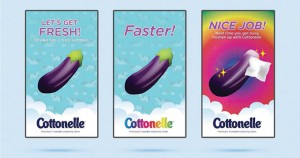 With Toronto Pride being one of the largest celebrations in the world, the brand took Cottonelle to the streets in the hopes of introducing a new way for people to use the wipes. It developed a gamified approach, creating digital boards that featured the eggplant and kitty cat emoji (two of the most popular emojis used for sexting). Pedestrians were invited to "work them over" (for a total of 17 seconds) in exchange for a Cottonelle FreshCare sample. Brand ambassadors also introduced the product by speaking to participants about the post-sex cleaning benefits.
In dating apps, the brand also placed interstitial ads that gave users the choice to play with either emoji. They would then rub the nose of the pussycat, or shake their phone in a stroking motion to stimulate the eggplant, in exchange for a coupon that could be used at partner retailers.
A total of 15,000 samples were distributed at Pride and people interacted with Cottonelle every 38 seconds. Also, more than 78% agreed they'd buy Cleansing Cloths after engaging with the brand at the festival.
A stigma-smashing pop-up resto

At the height of the AIDS crisis in 1988, Casey House was founded as a place where people could receive care without judgement. At the time, fear ran so deep that the first person to be taken in by Casey House was delivered to its door by medics wearing Hazmat suits.

Today, drug therapy allows people to live with HIV, yet the stigma still persists.

In a survey of Canadians, 70% said they'd be ashamed to tell anyone if they had HIV. And although the disease can't be transmitted through food, half of them said they would not eat a meal knowing someone with HIV prepared it.

The goal for Casey House was to expose the stigma and change beliefs. Working with Bensimon Byrne, OneMethod and Narrative, the team created June's, the world's first HIV+ pop-up eatery, run entirely by an HIV+ kitchen staff and supported by the "Break Bread Smash Stigma" campaign.

For three nights only, Toronto diners were given a meal prepared by 14 HIV+ volunteers-turned-cooks, who were trained by Fidel Gastro's Matt Basile. Tickets sold out in less than two weeks.

Using #SmashStigma, the digital team countered hate posts with myth-busting facts. Jars of soup made by the HIV+ cooks with statements like "I got HIV from soup. Said no one ever" were sent to media as invites to the resto. The social experiment led to coverage in 10 countries (generating 834 million impressions), with journalists interviewing the cooks to tell stories of the stigma they face.