Lay's brings the world to Canada
This year's "Do Us a Flavour" campaign tries to continue the brand's digital engagement with a focus on global tastes.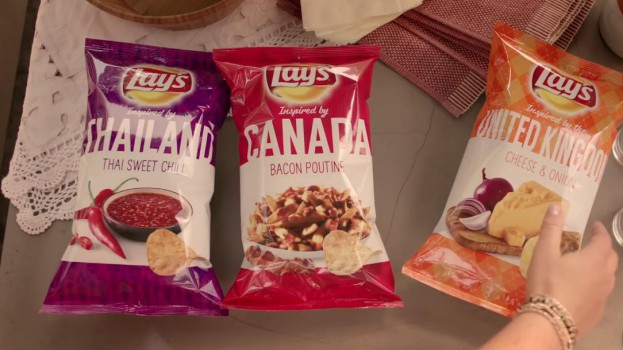 The latest edition of Lay's "Do Us A Flavour" program is using flavours from around the world to continue its engagement with social-savvy snack fans.
This year's winning flavours – Bacon Poutine (Canada), Thai Sweet Chili (Thailand) and Cheese & Onion (U.K.) – were voted in earlier this year by Canadians from 12 nominees, and landed on store shelves at the beginning of August. Last week, the company launched a campaign promoting their arrival, anchored by a tongue-in-cheek video guide to making yourself seem more cultured and well-travelled by serving friends one of the new flavours.
The campaign also features GIF content on social and a range of different in-store displays at retail partners. BBDO is leading creative on the campaign, with Citizen Relations handling PR and influencer engagement and OMD handling paid media.
Last year's contest was focused on Canadian favourites, encouraging fans to vote for flavours that represented iconic dishes from their region of the country. Shereen Yasseen, senior director of marketing at PepsiCo Foods Canada, says part of the idea this year was to capitalize on the pride they feel for other countries.
"People like to feel a connection to places they've either been to already or would like to go to, and this gets them one step closer," Yasseen says. "Every year we've seen that Canadians are really passionate about trying new flavours, but we're also really passionate about celebrating cultural diversity. So why not go one step ahead and bring them global flavours, but do it in an easy way."
Now in its fourth year, awareness of the contest is high among Canadians, so Yasseen says "simplification" was one of the goals this year, focusing more on the elements of it they enjoy and engage with the most. On the flavour side, that's meant putting out flavours that tap in to taste trends or emotional attachment, but also focusing more of the marketing efforts on digital platforms. The first years of the program were more focused on mass channels like TV to drive awareness, but digital engagement with the program has risen every year, to the point where it is now the brand's main focus outside of in-store channels.
"In-store is the moment of truth, because that's when we do or don't capture attention, but digital is important too," Yasseen says. "That's where the voting takes place, which lets us see how consumers are engaging with flavours, but if we're amplified in digital and take it to the next level on that side, then we can bring it to stores in the biggest way possible."