Just cause: the power and need of shared value
HSF's Geoff Craig says now is the time to build partnerships with charities that have a genuine influence.
By Geoff Craig
There's no sharper vision than that of the consumer eye. It sees everything.
Increasingly judgmental, consumers don't just want to buy something, they want to do something through the products they purchase. Or rather, they expect the companies to do something.
Fueled by the availability of information, they've become watchdogs, scrutinizing corporations – eager to see their dollars make a social impact.
Your company wants to do the right thing, but how? How does a corporation maximize philanthropy and sales under such a watchful and critical eye?
Cause partnerships are the obvious answer. But they can't be paper thin. Slapping on a "sponsored by" label is not enough.
I raise this issue having sat on both sides of the fence. Now I'm the CMO for the Heart and Stroke Foundation, but it wasn't that long ago that I was building brands as the SVP for Maple Leaf Foods and as the GM and VP of brand building for Unilever.
However, we were trying to do so much more. For example, the power of Dove wasn't the "Campaign for Real Beauty," but the investment in the self-esteem of young Canadian women that led to workshops and lectures designed to boost self-image and self-confidence.
Now as the CMO of a charity, I'm looking through a different lens. I'm knocking on the doors of corporate Canada and encouraging them to partner with us. And I can say with sincerity, this is the time to build brands and set in motion shared objectives that truly make a difference.
Success lies in the belief that charities and industry can and need to develop brands and strategies together for
the long term, not just the next quarter or year.
That's the new wave of thinking coined by U.S. competitive strategy expert Michael Porter, who believes today's successful companies are engaging in what he calls "shared value" – practices that help a company grow while addressing social conditions in the communities in which it operates.
Growing support of Porter's shared value philosophy was demonstrated at an industry focus group Heart and Stroke hosted in November to better understand corporate sponsorships in Canada.
Ten leading organizations, a mix of current partners and prospects, were at the table. Whether from the perspective of a major bank, a national retailer or a leading CPG brand, participants voiced a common desire for deep cause partnerships that resonate with customers and employees.
They wanted the flexibility to build multi-year engagements. And most importantly, they stressed the need to integrate the cause into their marketing and operations in ways that are authentic.
Imi International, a respected marketing consultancy, stresses companies need to "activate partnerships" that not only support the "mission" programs of the cause, but also involve investing in cause promotion and consumer engagement through their own communications channels.
When contemplating partnerships, consider that people trust charities. According to an Ipsos Reid poll, eight in 10 respondents felt charities play an important role in society to address needs not being met by the government or public/private sectors.
While encouraging, there's still that watchful eye of the consumer. We call them donors, but their expectations to deliver results are just as high.
That consumer eye wants to see your commitment to a good cause and our ability to bring about change. Your eyes will widen at the sight of stronger sales and a strengthened brand.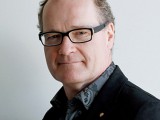 Geoff Craig is the CMO of the Heart and Stroke Foundation of Canada, which aims to significantly reduce the risk factors and death rate from heart disease and stroke by the year 2020.