Throwback Thursday: strategy in 1993
For our 25th anniversary, we're travelling through time. In '93, Ammirati Puris opened its doors and Walmart got help from Loblaws.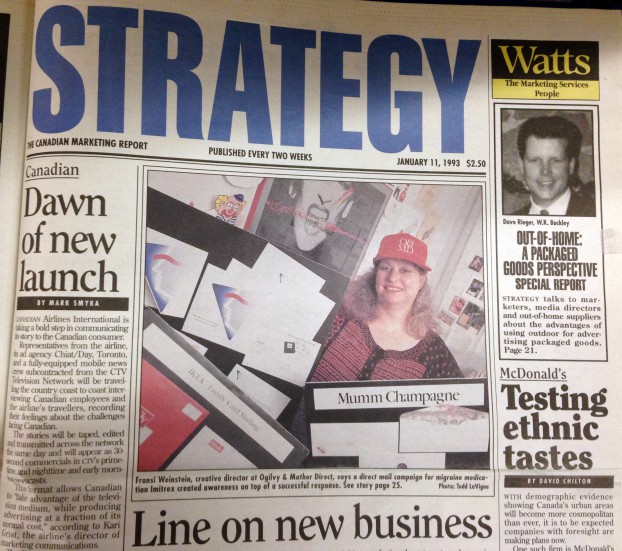 For strategy's 25th anniversary, we're travelling back in time, flipping through the pages of old issues to highlight some big news you may have forgotten, trends you wish you'd had a crystal ball to predict and marketing issues that never seem to change. Check back next Thursday to pick up some valuable insights into Canadian marketing history. This week, we tackle 1993. 
Headlines worth highlighting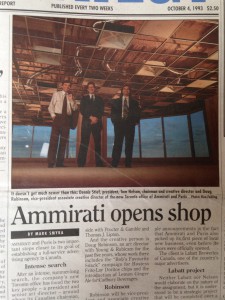 Ammirati opens shop Oct. 4, 1993
After Ammirati Puris announced in the summer plans for its first full-service shop, to open in Toronto, it named its key partners and first account win.
The new shop's president was Dennis Stief, a 12-year veteran of Ogilvy & Mather, while Doug Robinson, an art director with Young & Rubicam, was its VP and ACD, teaming with Nelson, the shop's CD. Ammirati also picked up its first piece of new business before even opening its doors…Labatt Breweries of Canada.
New shop Bensimon sets sail with Eaton's Nov. 1, 1993
"Bensimon Byrne will be opening its doors in Toronto on Jan. 1 with the broadcast creative assignment for the T. Eaton Co., estimated at $11 million, as its first account. The assignment had been with Robins Sharpe Associates of Toronto for the past five years. The new shop will be headed by Peter Byrne, vice-president of Einstein Brothers, and Jack Bensimon, vice-president, account director at Scali McCabe Sloves."
Scali, Deacon to merge Nov. 15, 1993
"Deacon Day Advertising and Scali McCabe Sloves, both of Toronto, will merge following The Lowe Group's acquisition of New York-based Scali McCabe Sloves Group."
Chiat the victor in Shoppers review Nov. 1, 1993
"It was a long, hot summer but well worth the wait for Chiat/Day. The Toronto ad agency won the coveted $20-million Shoppers Drug Mart account, the culmination of a review started this past May."
Perhaps they had a crystal ball?
McDonald's testing ethnic tastes Jan. 11, 1993 
"With demographic evidence showing Canada's urban areas will become more cosmopolitan than ever, it is to be expected companies with foresight are making plans now.
"One such firm is McDonald's Restaurants of Canada, which ran two short, important test promotions before Christmas in Toronto's large and lucrative ethnic market."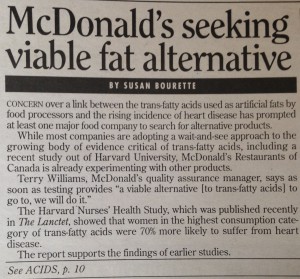 McDonald's seeking viable fat alternative April 5, 1993
Twenty years before it would launch its "Your Questions. Our Answers." campaign, McDonald's started looking at healthier food options.
"Concern over a link between the trans-fatty acids used as artificial fats by food processors and the rising incidence of heart disease has prompted at least one major food company to search for alternative products.
"While most companies are adopting a wait-and-see approach to the growing body of evidence critical of trans-fatty acids, including a recent study out of Harvard University, McDonald's Restaurants of Canada is already experimenting with other products."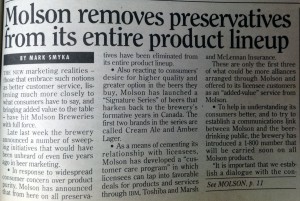 Molson removes preservatives from its entire product lineup Nov. 1, 1993
"The new marketing realities – those that embrace such notions as better customer service, listening much more closely to what consumers have to say, and bringing added value to the table – have hit Molson Breweries with full force.
"Late last week the brewery announced a number of sweeping initiatives that would have been unheard of even five years ago in beer marketing."
These changes included eliminating preservatives from all of its products, introducing a "Signature series" of beers and introducing a 1-800 number for the public to call.
Trends on everybody's lips
The tea category is set to boil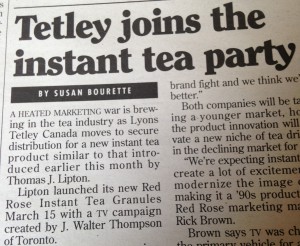 Tetley joins the instant tea party March 22, 1993
"A heated marketing war is brewing in the tea industry as Lyons Tetley Canada moves to secure distribution for a new instant tea product similar to that introduced earlier this month by Thomas J. Lipton.
"Lipton launched its new Red Rose Instant Tea Granules March 15 with a TV campaign created by J. Walter Thompson of Toronto.
"Lyons Tetley is also planning a TV campaign as the primary advertising vehicle for Tetley Freeze Dried Instant Tea." 
Competition steep with new tea lines May 3, 1993
"…Canadian iced tea marketers have long seen a potential for huge profits if they could shift Canadian consumption patterns to be more in line with those in the U.S.
"Last month, both Thomas J. Lipton in partnership with Pepsi-Cola Beverages and Nestle Enterprises in partnership with Coca-Cola rolled out new iced tea lines they hope will bring about that shift."
Lipton and Pepsi partnered for Lipton Original and Lipton Brisk, while Coca-Cola and Nestle launched a new version of its Nestea brand.
Private labels gain lustre 
Retail brands: Watt's in a name? May 17, 1993
The private label landscape had changed a lot since the introduction of Loblaws "No Name"  brand in 1978. But design agency Watt Group of Toronto was back at work, launching a new retail brand program for Walmart, just one year before Walmart would make its foray into Canada. Interestingly, Loblaws was providing help to  its soon-to-be competitor. A&P was also set to launch a private line.
"Private label used to mean low price and low quality. Today these products have a new name, retail brands, and a new brand image that says the only difference is the price, so why pay more?
"…The Watt Group of Toronto has just completed its third, and most extensive, retail brand program for Walmart, the largest retailer in the U.S. with 2,300 stores.
"Great Value is Walmart's everyday low price brand, in most cases equal in price and quality to national brands
And perhaps Watt had a crystal ball:
"At the time, Watt suggested that Walmart, which was then the general merchandise retailer, should begin stocking grocery items. He felt that Walmart could capitalize on Loblaws success in Canada with store brands and brought Loblaws in to consult on the product specifications for what resulted in Sam's American Choice."
Indeed, today, Walmart's grocery business is one of its fastest growing segments. 
Master Choice Promo Dec. 13, 1993
"The Great Atlantic and Pacific Company has launched a major marketing communications program in support of its Master Choice private label products… sold through A&P, Dominion, Miracle Foodmart, Ultra-Mart, Sav-A-Centre and Super Fresh food stores across Ontario.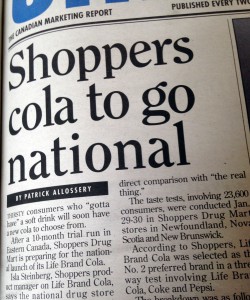 Shoppers Cola to go national Feb. 22, 1993
"After a 10-month trial run in Eastern Canada, Shoppers Drug Mart is preparing for the national launch of its Life Brand Cola."
Loeb launches new cola June 28, 1993
"As if Coke and Pepsi do not have enough troubles with the supermarket chains, they now have to contend with a new control label cola that is trying to steal their hip, teen-badge positioning.
"Last month, Ottawa-based Loeb introduced Loeb Cola and Loeb Diet Cola with English and French ad campaigns in Ontario and Quebec."
Finally, because everyone loves lists, take a gander at the top creative agencies, brands and creatives who graced strategy's annual Creative Report Card. See if you can spot any names still playing big today. (Marketel's Jo-Ann Munro, Brand Engineering's Phillippe Garneau, Cosstte's Glen Hunt and David Daga, Rethink's Chris Staples and plenty more appear.)
Want more strategy Throwback? Catch up on the headlines from 1989, 1990, 1991 and 1992.