The trouble with shareable content
Brands are using more graphic content to break through, but have consumers had enough?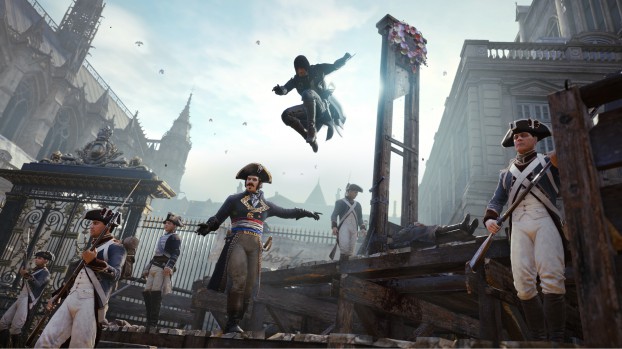 This story appears in the November 2014 issue of strategy.
Assassin's Creed Unity, Ubisoft's most recent release in its blockbuster videogame series, takes place during the French Revolution. So when the brand's marcom team was drawing up experiential campaigns ahead of the game's release, it seemed to make sense to feature the revolution's notorious guillotine.
"We wanted to make [consumers] feel what it was like to be among the revolutionaries at the time of the revolution and to understand [its reign of terror]," Lucile Bousquet, senior marketing and communication director, Ubisoft Entertainment, says of the guillotine simulation planned for Fan Expo Canada in Toronto.
Bousquet says the brand had made a significant investment around the campaign – for instance, it created an exact replica wooden guillotine. The brand also planned a social media push (the franchise has more than 700,000 Facebook fans) that included having a camera on site to capture video that people at the experience could download.
What Ubisoft couldn't plan for, however, was the release on Aug. 19 of a graphic, real-life video showing ISIS militants beheading American journalist James Foley.
Bousquet says when the brand and its agencies became aware of the video, just eight days before the expo, they quickly put a halt to their initial plan. Though the guillotine was still on site, the activation was tweaked to create "even more context" – a French flag stood near the guillotine and fans wanting to take a photo were asked to put on period costumes. Bousquet says on-site staff was trained to explain to disappointed fans why they couldn't put their heads in the device.
"We really discussed it a lot with our agencies," says Bousquet, who works with Bleublancrouge for creative, North Strategic for PR and ZenithOptimedia for media. Even though Ubisoft's experience was rooted in events from the 1700s, she says it was not worth chancing it.
"The videos, for instance, of people's reaction when being 'beheaded,' you could take it out of context and suddenly we'd have a big PR crisis," she says.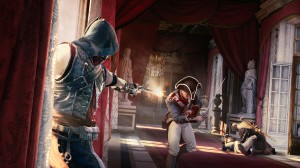 In fact, a few days after the expo, digital agency Think Jam and Twentieth Century Fox Home Entertainment issued an apology for running a promotion coined "Headless Day." The poorly-timed creative – part of a promotion for the season one DVD of Sleepy Hollow – was sent to the media the same morning of the release of the video showing the beheading of U.S. journalist Steven Sotloff.
You could write these two events off as poor timing or bad luck, since it's impossible to predict the news.
But the incidents are symptomatic of a deeper issue facing marketers determined to make content that's shareable. Viewers are inundated with portrayals of violence and offensive material, and less sensitized to it as a result, putting marketers in the position of needing to be more extreme to be heard, says Johanna Faigelman, founder and president of Human Branding, an applied anthropology consultancy. The internet has given creatives another route to air this more graphic material – think of Science World and agency Rethink's "Too violent for TV" ad, called "Positively Painful," depicting a man being shot in the back with an arrow and struck by a bus, all while smiling to prove "optimists feel less pain" – but it is becoming harder to get the traction to go viral spontaneously. Meanwhile, consumers have also become more aware of global events and, as the recent videos of beheadings or the "elevator video" of NFL player Ray Rice punching his then-fiancée show, have more access than ever before to real-life violence. The result is a wary consumer, Faigelman says. And they are expecting more accountability from brands.
"When companies turn to shock tactics that cross the bounds of acceptable content, it can often shake the trust and skew the perceived reliability of a brand," she says.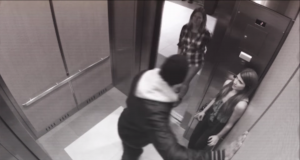 And distrustful consumers now have a bigger platform to speak out against brands.
"We are now in an extremely toxic environment with social media," says Bill Walker, the owner of MidtownPR and author of Crisis Communications in the 24/7 Social Media World. "It doesn't take much for a brand to be completely eviscerated."
In this atmosphere, even seemingly harmless ads can be impacted by cultural events. For instance, AutoTrader's "Parking Garage" TV spot to promote "the better way to buy and sell cars" – which depicted a driver entering his car to find another man inside inspecting it – took a dark turn when Ontario man Tim Bosma was kidnapped and murdered last year after listing his vehicle for sale on that site and Kijiji.
For brands trying to disrupt with shock tactics, Walker says PR teams should be integrated upfront to help mitigate the risk of major blunders. He points to examples like Omnicom-owned BBDO and PR firm Porter Novelli collaborating globally, and U.S.-based Virgin Airlines merging its marketing and PR departments or PR shops hiring creatives and making the content themselves. In addition, Walker says he knows of many brands that insist on PR having a seat at the table during campaign planning.
Walker believes brands should extend that to include government relations, when applicable, to keep that stakeholder in the loop.
But ultimately, Walker says the decision on whether to move forward with a campaign comes down to brands asking themselves what their main message is.
"Sometimes we get so far away from the original core brand message we almost lose sight of it," he says. "If we ask ourselves this question, oftentimes these campaigns rule themselves out."
That's a point that isn't lost on Bousquet, who says her company has a dedicated internal social and PR team, along with online tools for monitoring internet chatter so the brand can anticipate issues. In addition, on-site staff goes through training on how to interact with consumers at events.
Moreover, she says her brand tries to build a strong community, which can be helpful during moments of crisis. "It's even better if your fans are the ones answering for you," she says. "That's why we developed the strategy to make sure the community is there and we have direct feedback from them."
Correction: An earlier version of this story stated Publicis Montreal handles creative duties for Ubisoft. Bleublancrouge handled creative for Assassin's Creed Unity. We regret the error.