She the North
We're rolling out our Marketers of the Year this week. Today, learn how Shannon Hosford pushed the MLSE to one of its most standout years ever.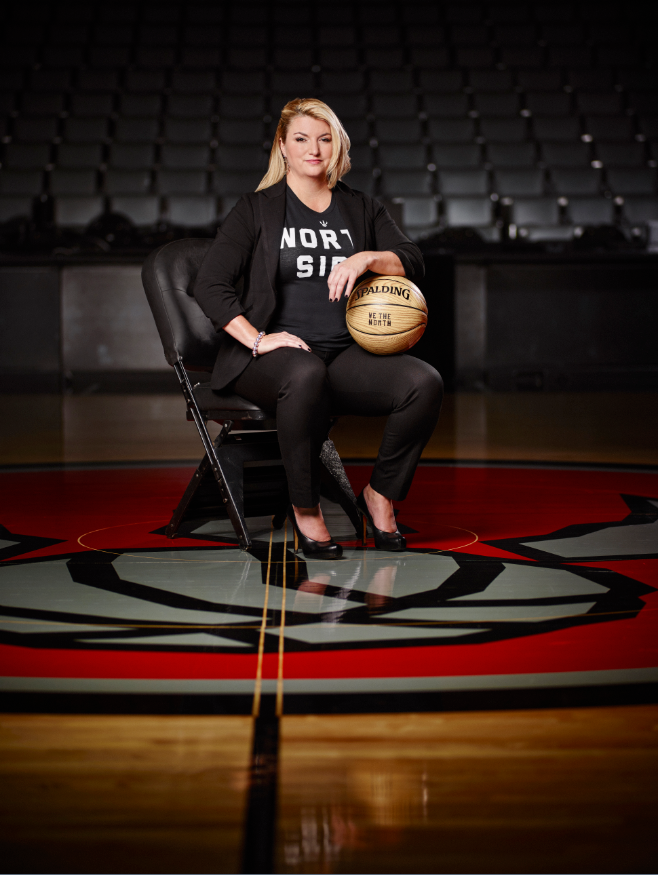 This story appears in the December/January 2015 issue of strategy. Each day this week, we'll be revealing one of five Marketers of the Year who are gracing our end-of-year issue — so make sure to come back tomorrow to find out who else made the cut.
It's the night of the Toronto Raptors home opener and the air is already electric, despite the fact that fans have only just started to enter the Air Canada Centre. The arena is awash with white – a T-shirt, reading "We the North," adorns each chair.
We're waiting in a loading zone for a black SUV to pull up. Out comes Drake, smiling and high-fiving the folks he passes. Just outside the Raptors dressing room, Shannon Hosford, VP marketing and communications for Maple Leaf Sports and Entertainment (MLSE), is waiting to give the Toronto rapper, and Raptors brand ambassador, a gift. It's a custom jacket with the basketball team's logo stitched inside. Drake gives Hosford a warm hug, and then poses for photos with the jacket and the Raptors' GM, Masai Ujiri.
The night feels important – like the start of something beyond just another basketball season.
There are high hopes for the Raptors this year, considering their impressive run last season when they made the playoffs, and it feels as though the stage has been set for the team to become Canada's darlings (there have even been mutterings that basketball could overtake hockey's popularity in Toronto, much to the chagrin of hockey fans – a prediction outgoing MLSE president and CEO Tim Leiweke made himself).
It's not often that the mainstream media, fans and even competing teams buzz about a basketball team's marketing strategy, but that's exactly what happened last season. You might say it all started with a brief.
Looking ahead to the Raptors' 20th anniversary in 2014/15, Hosford and her team were charged with coming up with a new brand identity. They invited agencies to pitch with a specific goal in mind: "We wanted to be significant to 35 million people across Canada, not eight million people in Toronto," says Hosford. "There's only one [NBA] team that sits outside of the States – how do we become Canada's team without saying, 'We're Canada's team'?"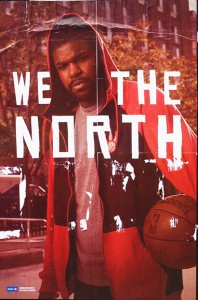 One of the agencies pitching was Sid Lee, which came to the table with an idea it called "We the North."
"There wasn't even a question – we saw it, that was it," Hosford says. "It was a brand manifesto; it was never supposed to be seen by the consumer. It was a concept about what we had identified and what we wanted this brand to be. And we said, 'We need our fans to see this.'"
Hosford, who oversees the marketing teams for the Raptors, Maple Leafs and Toronto FC (120 people total), watched as the Raptors' momentum started to build. She knew they had to act fast. Sid Lee created a spot in just two weeks, and the "We the North" campaign officially launched.
"It was a change for us – being brave and bold and looking at the moment in time and saying, 'We've got to do this now," says Hosford, who's been with MLSE for 14 years, first as a manager in corporate partnerships and rising through the organization's ranks.
"Shannon is first and foremost a fan of the teams and a marketer second," says Vito Piazza, president and founding partner at Sid Lee Toronto. "So that passion and the involvement and deep understanding of what we need to do is unequalled – she really gets the people we're trying to connect with."
"We the North" helped capitalize on a great year, and has resulted in the team selling out season tickets for 2014/15. At 12,500 sold, that's about 4,000 more than last season.
It's also resulted in plenty of copycats – perhaps the true litmus test for cultural relevancy – with the Montreal Canadiens creating their own cheeky version, "Oui the North," and professional golfer Mike Weir using "Weir the North," notes Hosford.
But "We the North" wasn't the only opportunity Hosford and her team jumped on this year. She applied that same quick thinking to marketing the city's soccer team, Toronto FC.
When Toronto FC brought in star players, namely Jermain Defoe, who came from the English Premier League, and Michael Bradley, it was a big deal for fans overseas, but not necessarily for the general Toronto audience, which doesn't follow soccer as intensely.
MLSE embarked on its first mass campaign for the team, including its first TV spot, as well as OOH and wild postings. Media was handled by MLSE's media AOR Maxus.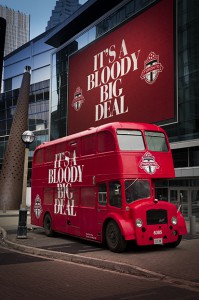 Piazza explains that the campaign Sid Lee came up with (the first piece of work the agency did for MLSE), "Bloody Big Deal," was the result of an all-nighter – conceived in only 24 hours. The spot shows people in the U.K. spitting out their beverages in shock after hearing the news of Defoe leaving for Toronto.
"I sent it over and they approved the whole thing within the day," says Piazza. "It's proof [that] when you're a fan first and you're passionate, you can go with what you feel is right, and move a lot quicker."
The spot garnered 60,000 views in the first day, and has since amassed more than 300,000. The new players, plus the campaign, resulted in the sale of 4,000 more season seats.
While Hosford is the first to admit TFC didn't exactly live up to its potential last season, she shrugs it off as a risk you have to take when marketing sports.
"We wanted to energize our fans, we wanted to put TFC back on the map and we had to take some risks," she says. "It's so different from packaged goods [for example] – you put your marketing plan out and you have to make [quick] decisions. Our product isn't consistent. We can't do a brand plan a year in advance, we do have our plans, but you have to be really fluid and flexible in sports marketing."
No doubt Hosford has been influenced by CEO Leiweke, who is often credited for instilling that culture of bold risk-taking throughout MLSE, and making key plays like bringing Drake on board. Back in August, it was announced that Leiweke, who joined the company in April 2013, will leave his role in June 2015. When his departure was first announced, some speculated that it would be a major blow to MLSE.
But Hosford isn't fazed, noting that the spirit of Leiweke's leadership will live on through those who remain. "It's like sports marketing in general – there's always ups and down and we're always dealing with some form of controversy. Tim is a great leader and he brought great things to the organization, but we'll continue on."
Hosford also appears unfazed (if not a little excited) when she checks off the laundry list of major MLSE events she'll be working on in the next few years. There's the official launch of the Raptors rebrand (including new uniforms and logo) in the new year, and Toronto will host the NBA All-Star game. Also coming down the pipe is the 100th anniversary of the Maple Leafs in 2016/17 (which is also the 100th anniversary of the Stanley Cup), as well as hoping to confirm the World Cup of Hockey in 2016 (there hasn't been one since 2004) and the Winter Classic in 2018.
Demonstrating that she truly is a fan first, when asked which accomplishment she's most proud of this year, Hosford talks about what has become a passion project for her – Legends Row in Maple Leaf Square. It's a series of bronze statues of legendary Maple Leafs players, created by Chicago-area sculptor Erik Blome. There are three so far, with more to be added over time.
"We know we have millions of Leafs fans but a lot of them don't get access to the building, so [it's important to have] things like Fan Fest [when the Leafs invite fans behind the scenes] and statues, things that the average Leafs fan can come down and enjoy," says Hosford.
"It's just been such a long process to get them in place, but for sure it's something when I'm 80 that I'll still visit," she says. "It's a lasting legacy."
The Drake effect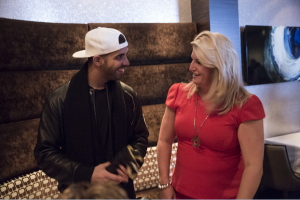 Signing Toronto-born rapper Drake as the official Raptors brand ambassador in 2013 means he's been a fixture at
the team's games, with plenty of scrutiny about what he does and wears (and does to what he wears). Case in point, the great lint roller incident of last season.

For those who were living under a rock, Drake caused a frenzy when he used a lint roller to clean off his pants in the middle of a playoff game back in April.

"We called [his team] and said, 'We have a sponsor here that will give out OVO (Drake's clothing line) lint rollers next game, are you guys into that?' And they said, 'That's amazing, let's do it,'" recalls Hosford.

The sponsor was P&G brand Bounce, and it handed out 1,200 rollers. Hosford points to the promotion as an example of how her team has had to work fast to jump on opportunities as they arise.

There were even competing rollers being handed out outside the stadium.

"That was the most massive thing that's happened in lint-roller marketing," says Hosford. No doubt about that.

But aside from keeping his pants clean, what does Drake actually do in his role as brand ambassador? One area he's been heavily involved in is the in-game entertainment, with a Drake Zone officially launching again in the new year with OVO merchandise from the rapper's team, as well as guest DJs.

While he didn't design the upcoming new uniforms or logos, he's given his input into the designs.

"He knows our fan base and what they're looking for," says Hosford. "It's smart for us to be using him and working with him for these details."

Catch up on the stories behind our other Marketers of the Year: Aritzia's Oliver Walsh, Kraft's Tony Matta and Canada Bread's Connie Morrison.