Connected everything gets polished at CES
How has the internet of things evolved for 2015, and which companies have new toys to show off?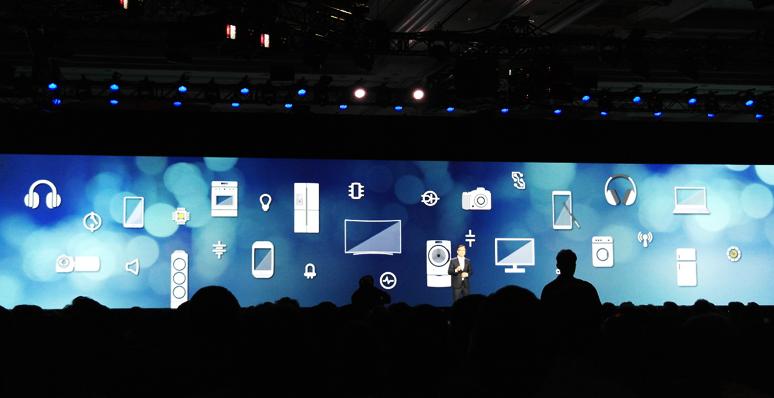 Beyond the talk of thinner smartphones, rocket shoes and UHD 4K OLED TVs (yes, all those letters are on purpose), the connecting thread at CES in Las Vegas this week has been connected devices. Smart appliances, cars and wearable tech have popped up at CES in the past and the "internet of things" continues to be a major buzz-term there. But the key to staying power is continued evolution, so here's what companies brought to this year's CES to show that their smart products are more than passing fads and have a place in people's everyday lives.

Home

Companies like Samsung and LG seem to have planted their stake in attempting to dominate the connected appliance space. While LG was vague about exactly how immersed into the home its HomeChat system would be or when it would be available, Samsung revealed its broader plans for SmartThings, its connected home platform acquired in August. At the company's keynote, Samsung's chief executive BK Yoon said every device the company makes will be connected through SmartThings by 2020 and use the company's TVs or Galaxy mobile devices (including a smartwatch) as the hub that connects it all together.

Both companies unveiled high-ticket items like fridges and ovens, with one particular appliance (washing machines) getting the most attention for "why didn't they think of that before" features (LG's Twin Wash features a second, smaller washing machine that allows two loads to be done at the same time, and Samsung's Activewash features a flip-open sink on top for prewash that drains into the machine when finished).

Between these practical features, Samsung's improvements to SmartThings, and dozens of other companies unveiling products including smart bulbs, air vents and mattresses (yes – internet-connected mattresses) that are stylish enough to fit into a home's decor, the message for those in the connected space is clear: usability and compatibility is paramount. Which brings us to…

Wearables

With uptake of wearable tech expected to continue its rise this year, companies at CES seemed to have moved past the "look at what this can do" honeymoon phase to enhancing the features that consumers have been responding to and tweaking their products based on their concerns.

Japanese eyewear brand Jins showed off its Meme Smart Glasses, which might not have the full functionality of something like Google Glass, but takes what have so far been the most popular features on other wearables – fitness tracking and health monitoring – and fits them into a more stylish package. Also hearing the pleas for a less bulky, more fashionable pair of smart specs, Sony showed off a prototype for its SmartEyeglass Attach, which has more of the futuristic capabilities we imagine smart glasses to have (such as a built-in camera or Wi-Fi connectivity) and contain them within a lightweight module that can be clipped on to any pair of glasses you already know and feel comfortable in.

And speaking of fitness trackers, Garmin's watches, particularly the Vivoactive, gained the most attention this year, bringing full-colour touchscreens, GPS maps and Bluetooth phone connectivity to the expected features, as well as support for non-running activities like swimming, biking and golf.

Cars

Manufacturers like Audi and Mercedes, plus third parties like Delphi, are turning heads with their self-driving cars, but potentially more interesting is how smart cars appear to be taking off. While Android's Auto and Apple's CarPlay systems – which allow a smartphone and its apps to be controlled while driving – were first announced in 2014, some of the offerings at CES show other companies are now taking the ball and running with it, giving legitimacy to the concept.

Manufacturer Hyundai announced that both Auto and CarPlay would be integrated into some of its lower-end models, as well as a smartwatch version of its Blue Link app that allows users to unlock, remotely start and locate a vehicle. Volkswagen also announced both systems would be integrated into the company's "Connected Golf" concept vehicle, which includes similar mobile and wearable integration as well as automatic parking.

Oh, and if you have a boring, dumb car like the rest of us, don't worry: Parrot, JVC's Kenwood and Pioneer all announced their own devices that can be installed directly into the dashboard of any relatively recent vehicle model, with all three running both the Android and Apple operating systems.

Interested in more unique tech? Check out our roundup of some early buzz-generating products from Tuesday.

Featured image courtesy of Samsung Tomorrow.