Koodo gets satisfaction
El Tabador steps out of the ring (sort of) as the telco looks to differentiate itself with a new platform emphasizing happiness.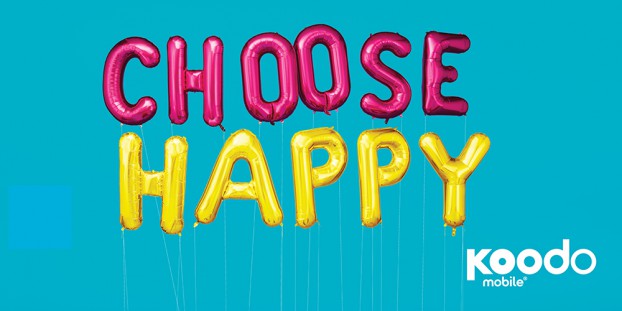 Koodo Mobile is hoping customers will look to it as a source of happiness in what can often be a frustrating mobile world in its new creative platform.
With "Choose Happy," the mobile carrier is emphasizing joy and positivity, building on the vibrant colours of its past creative, while adding illustrations, messages and short chunks of animation that celebrate things like the feel of grass between your toes, the perfect parallel parking job and goofy internet videos.
The launch campaign for the new platform includes 15- and 30-second TV spots, a 60-second cinema spot, digital and static out-of-home, painted murals, print and social media. Vision7′s recently-launched Toronto agency Camp Jefferson, which won the Koodo account last summer, led the new platform and campaign, with adaptation for the French market handled by sister agency K72. Cossette Media handled the media buy.
"When you have a platform called 'Choose Happy,' you can fall in the trap of being too cute or too kid-like," says Paul Little, ECD at Camp Jefferson, of the almost surreal nature of some of the creative. "What we really wanted was to keep the tone and feel of Koodo, making sure it stayed adult and had an attitude, but was still fun."
"There's a rising tide of discontent within the [telecom] industry," adds Andre Louis, VP, director of planning at Camp Jefferson. "There are a growing number of complaints to the CCTS, and that's just one example of a lot of the frustration a lot of people are feeling. Rather than continuing to play the game in the same way as everyone else, we just changed the conversation and focused on showcasing a positive customer experience instead."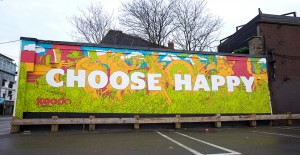 While many mobile providers have been experiencing a rise in customer frustration, Koodo has apparently been the exception, leading standalone carriers on JD Power's customer satisfaction ratings for the last three years and having the lowest number of complaints to the CCTS among national providers. Louis says the brand also has very good customer retention, despite not locking them in to fixed contracts. He says the idea for the new platform came from that difference, something that was very important for Koodo to find as a brand.
"It's an industry-wide issue in that more and more, it has become a homogeneous offering," adds Lise Doucet, director of marketing at Koodo Mobile. "We all seem to have the same devices and prices, so customer service is the one area we feel strongly we can stand above the rest."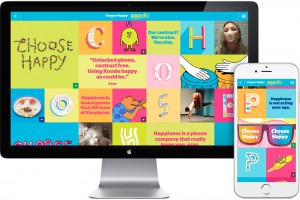 Much of the content has been collected on the "Happy Hub," a mobile-friendly landing page that also includes "time-waster" games. Despite the many platforms the launch campaign utilizes as part of an "always-on" strategy, Little says it's also looking to be mobile-first. Most of the pieces of the campaign were created to be very modular and simple, from the images that make up the posters to the chunks of animation, which can be consumed on their own or compiled together into things like TV spots or banner ads.
"The very heart of Koodo is a cellphone, so for us it became a no-brainer to make that our primary vehicle," Little says. "Being modular is very in-line with how people are used to consuming pieces of content on mobile from any source, but we can still build those together and make those into traditional advertisements as well."
Doucet says in the coming weeks, Koodo will be rolling out more specific brand statements that reinforce different elements of the brand's value proposition, like its prices or the lack of a fixed-term contract, things that are important to its value-minded target customer.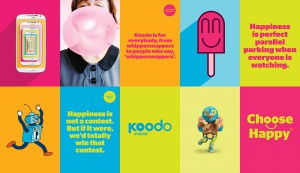 "There isn't one magic bullet message because we need to communicate a lot of different messages," Little adds. "We're starting with 'Choose Happy' so when the value messages come out or new policies and offerings come to market, they all have that idea of happiness and people know Koodo is thinking about the customer first."
El Tabador will still be featured in the company's campaigns, though he will no longer be the symbol and spokesperson for the company. Little says the mascot will be part a larger mix and as something of a "punctuation" when he pops up in creative, utilizing the happiness and humour people associate with him while letting the brand's message speak for itself.
"El Tabador has been a great, effective spokesperson for us over the years and using him in a different way wasn't an easy decision," Doucet adds. "But practically, animation like this can be super time-consuming and expensive, and we are at a stage where we need to get more messages in market faster and be more responsive."