Up to the Minute: Dentsu Aegis ups its data game
Plus: New hires at Zulu, Unitas and Brad, and more news you may have missed.
Hires, promotions and other news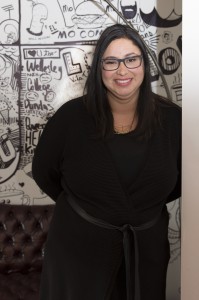 Zulu Alpha Kilo has hired Christina Hill (pictured, right) as its creative operations director, a new role within the agency. Hill joins after a brief stint at Innocean Canada, and she previously spent three years as managing director at Proximity and had a six-year stay at Taxi, where she held various roles including general manager of its Telus team, managing director of Taxi 2 and helping to establish the agency's Calgary office. Her new role was created to alleviate some of the administrative and management duties of Zulu's creative directors, and all of the agency's different creative disciplines (including digital, print production, broadcast, studio, creative resourcing and recruitment) will now report in to Hill.

Dentsu Aegis has acquired data consulting firm Cardinal Path in an effort to enhance the network data services offering in Canada and the U.S. Cardinal Path, which has offices in Chicago, Vancouver, Toronto and Phoenix, was created in 2011 after the merger of three separate data shops: Ottawa's PublicInsite, Vancouver's VKI Studios and Phoenix's WebShare. The full team of 80 staff will continue to work under Cardinal Path's existing leadership.

Brad has hired long-time retail exec Chantal Glenisson. Glenisson, who has previously been an SVP and general manager of Réno-Dépôt at Rona and SVP of operations for Eastern Canada at Walmart Canada among other roles, will be an advisor on the agency's strategic committee.

Dave Hamilton and Bob Goulart, creative partners at Grip, have signed in to be partners and creative directors at Unitas, rejoining Mike Robitaille, a co-founder of Grip who left the agency in 2007 to launch Unitas. In an email to strategy, Goulart said the pair were leaving to "build something new" with Robitaille by deepening Unitas' creative offering and make the agency a more visible player.

Apex PR and digital partner shop Ruckus have made four new hires. Shane McKenna joins as a senior consultant focusing on lifestyle media relations, coming from Faulhaber Communications. Justin Gaul has been hired as an account coordinator on the corporate and consumer teams, having previously worked at MSLGroup and Veritas. Dimitri Bariamis has been hired as a digital social media specialist, following three years as communications coordinator at TSN. Laura Zechel has been hired as account coordinator, having previously been at Rock-It and Lotus Leaf. McKenna and Gaul will be working at Apex, Bariamis will be working at Ruckus and Zechel will work across both.

The Tite Group has hired Daniel Langer-Hack as director of strategy and Alana Salsberg as group account director. Langer-Hack, who will be responsible for all brand and content strategy across the agency's clients, joins after several years in planning roles at The Hive, having also had stints at Taxi and Cossette. Salsberg, who has spent the last year as a freelance account director after stints at Teehan+Lax and Y&R, will lead the agency's business on Microsoft and recently-won Mappedin.

Vancouver's Carter Hales Design Lab has added two new staff members. Joanne Henderson, previously of Edelman, Hangar 18 and Wasserman + Partners, has joined as studio manager, while Sherry Jang has been hired as senior designer, joining from Danica Imports and having also previously worked at Hangar 18.

Rock-it Promotions has launched an influencer management division dubbed Fourth Floor Management. Rock-It founder and president Debra Goldblatt-Sadowski has been personally advising influencers since 2014, which has evolved into its own division within the company. Fourth Floor's roster at launch includes Alexander Liang, Justine Iaboni, Deanne Wilder, Gracie Carroll, Daniel Ocean, Chef Cory Vitiello and Jill Lansky.

The Canadian Football League has promoted Christina Litz, VP of content and marketing, to SVP of content and marketing.

The North American Effies completed its final round of judging in New York last week. Canadians on the juries include Mary Chambers, chief strategy officer at MacLaren McCann; Stephanie Nerlich, president and CEO at Grey Canada; Emily Bain, executive director of strategic planning at John St.; Franke Rodriguez, CEO at Anomaly Toronto; Malcolm McLean, EVP of strategy at Cundari; Melanie Johnston, president at DDB Canada; Tim Bowen, CEO at FCB Canada; Robin Heisey, consultant and creative advertising professor at Humber; Arthur Fleischmann, president at John St.; Matt Hassell, CCO at KBS Canada; Maxine Thomas, head of strategy at Rethink; Alex Panousis, CEO at Starcom MediaVest Group; Rob Guenette, CEO at Taxi; and Mark Tomblin, chief strategy officer at Taxi.  The Effies will be awarded at a gala on June 2.
New business

BICOM has been given the national communications mandate for Iogo Nano by parent company Ultima Foods. In partnership with French agency Boîte à contenu, the agency will be rolling out a multi-platform national plan to support the product, a yogurt in travel-friendly packages targeted to families with young children on-to-go.

Nova Scotia's Fox Harb'r Resort has selected Toronto's TCG PR as its public relations consultants of record and Markham's McOuat Partnership as its agency of record.

The Aboriginal People's Television Network has selected Winnipeg's Think Shift as its new agency of record. The agency was awarded the multi-year contract following a competitive RFP.
Media

The ongoing changes at Publicis Groupe have again come to its media division. Publicis Media, which was created in December as part of a broader realignment within the holding company, has consolidated what were previously six agency brands in four larger global agencies. Starcom and Zenith will continue to operate as their own global network, while MediaVest will merge with Spark and Optimedia with Blue 449. Each agency has been given a global brand president, with leads for Canadian offices to be named in the coming weeks.