Coca-Cola shares musical moments
The brand evolves its "Share a Coke" campaign by offering summery Spotify playlists through unique labels.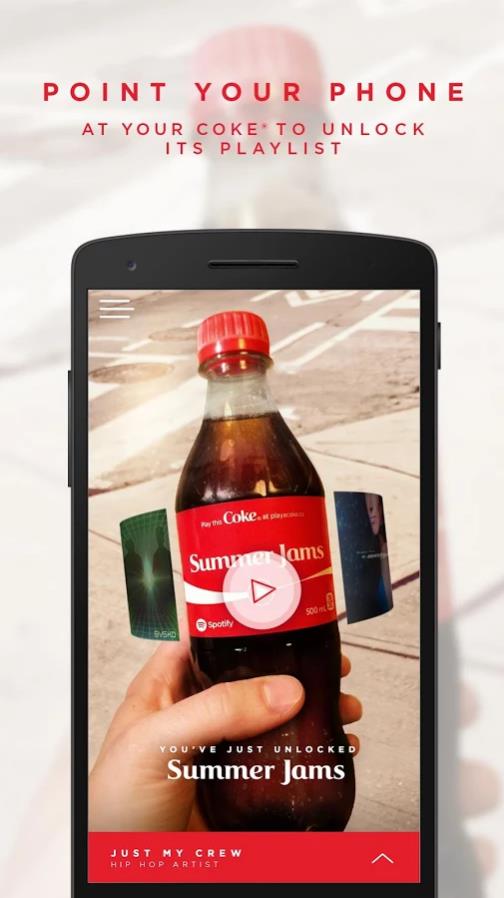 Coca-Cola Canada is taking a musically-inspired approach to evolving this year's "Share a Coke" campaign.
This summer, Coca-Cola fountain cups and 500ml bottles of Coca-Cola, Diet Coke and Coca-Cola Zero will have 185 different musical phrases and "summer moments" – like "Summer Jams," "Road Trip," and "Throwback" – added to their labels in a fashion similar to its hugely popular personalized bottles. Through the new "Play a Coke" app, users can scan their Coke to unlock a Spotify playlist specific to the moment, heavily featuring Canadian artists. The app also allows users to play, pause and skip through songs in the playlist by turning their bottle or cup. Coca-Cola has worked with Spotify on initiatives globally, but this is the first time the company has done something of this nature in the Canadian market.
The app and campaign was developed specifically for the Canadian market, and will feature experiential activations, public sampling, online paid media, a social push and in-store marketing as the summer rolls on, as well as an influencer push featuring personalities including Lilly Singh and Nanalew. The campaign will also include limited releases of Vanilla and Cherry Coke, two varieties the company says are the most-requested among Canadian consumers. The second phase of the campaign will launch in July, featuring the release of more "moments" on bottles.
The extensive list of Canadian agencies on the program includes The Hive on the creative concept, development of the "Play a Coke" app and in-store merchandising; UM on media buying; Mosaic on experiential; Hill + Knowlton on PR and influencer relations; Perennial on packaging design; Gravity Partners on website build and community management; and Ogilvy & Mather handling digital, social and creative.
Though this particular execution is exclusive to Canada, the program is an extension of the global "Taste The Feeling" platform, launched earlier this year as part of the company's "one brand" strategic shift that saw marketing of all Coca-Cola brands organized under a single campaign. Music appears to be a focus across markets this summer: in the U.S., the "Share a Coke and a Song" campaign is taking the lyrics from 70 iconic songs and incorporating them into the packaging across its products.
"The root of ["Taste The Feeling"] is about the simple pleasure that makes the moment special, which is really our rallying cry, and the core of this program is an extension of that, and sharing that moment, which music provides the soundtrack to," says Michael Samoszewski, VP of the sparkling beverages unit at Coca-Cola Canada. "What we're excited about is that we made it Canadian. The moments themselves are based on things Canadians will identify with and the playlists feature artists Canadians will be proud of."
Featured image via Shutterstock