Nabob and the coffee kerfuffle
How the 120-year-old brand managed to maintain its challenger status.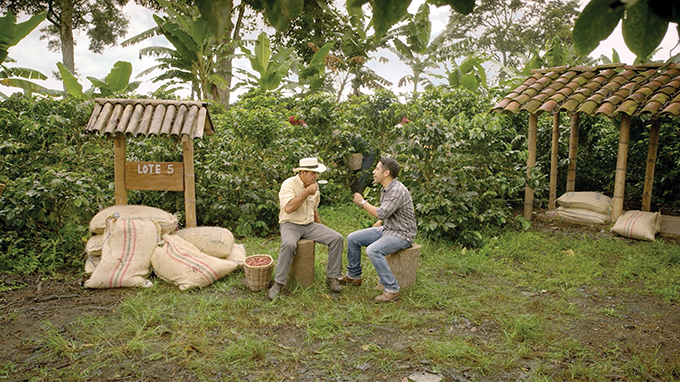 This article appears in the June 2016 issue of strategy.
Nabob, you're a feisty fella. In the '80s, you famously smashed the paper bags of rival Maxwell House in ads to prove your own superior packaging. Not long after, you took aim at the coffee bean itself, ruling out the seeds that didn't quite fit your strict flavour and aroma standards.
And today, you're crossing swords with society's (arguably) pretentious coffee culture. Does the world really need another creamy, cinnamony macchiato, you ask in a campaign that implores specialty coffee connoisseurs to "Respect the Bean" by choosing a no-frills black cup of Nabob instead.
As Ogilvy's Ian MacKellar, who helped develop the current creative platform, would say: "For any campaign or creative idea, it helps to have a conflict, a tension, an enemy." Nabob has seen many during its 120 years in the coffee biz.
Nabob survived near-bankruptcy in the '70s by making the tough decision to streamline its business and become a specialist (versus the generalist it was originally set up to be, once carrying a myriad of product lines from coffee to jams to spices).
Years later, it took on bigger players by introducing new innovative packaging to the market, and subsequently carving out a double-digit share when few thought it could be done.
Today, Nabob faces yet another challenge: finding its place in the quickly dilating coffee industry. Speciality coffee shops are competing with retail brands for consumers' attention in the grocery aisle, new coffee formats are being introduced (such as single-cup brewing systems), and U.S. competitors are entering the market.
"There is exponential growth to be had. And everyone is trying to climb to the top of that to get ahead," explains Heather Fadali, senior brand manager for coffee at Kraft Heinz, Nabob's parent company. "It's a mature category that is still trying to figure itself out… Because it is so competitive, it really is about understanding who you are, what you stand for, and what you don't."
It's a lesson Nabob learned early on (and continued to learn over the years), particularly when it was drowning in red ink nearly five decades ago.
From grocery generalist to coffee specialist
Before things got so complicated – before "consumers [could get] their coffee when they want, how they want it, where they want it" (as Fadali puts it, likening the shift to the evolution of personal tech) – Nabob was itself considered complicated. The Vancouver-born brand wasn't always just premium roast coffee beans. At one point, it was "kind of like the Kraft Foods of Western Canada," says former Nabob CEO John Bell.
It actually used to play in 12 different product categories. What is today a coffee specialist was once a grocery generalist, with Nabob carrying an assortment of teas, spices, desserts, peanut butters and jams (to name a few) in its product portfolio. Nabob was a big supplier of its original owners Kelly, Douglas & Co. wholesale grocers (prior to Bell's arrival in 1977), which meant its market share inside competitive retailers was, naturally, quite low.
"By stocking and supporting Nabob, [competitor retailers would be] basically fortifying their competition," he explains. "But when the company was purchased [in 1976 by Jacobs], we were in a free world of competition, and then suddenly we didn't have the support of Kelly Douglas anymore. It raised the cost of the company substantially."
Nabob, says Bell, was in hot water. When he was asked to join the company as VP of marketing, along with Hugo Powell as president, the company's costs were eating at its profits. Its wages were 15% higher than then-competitors Kraft and Nestle, market share was down, employees were desperately unmotivated and the company was simply overextended, he says. "We were virtually bankrupt, except for one shareholder who kept us alive because they believed in us."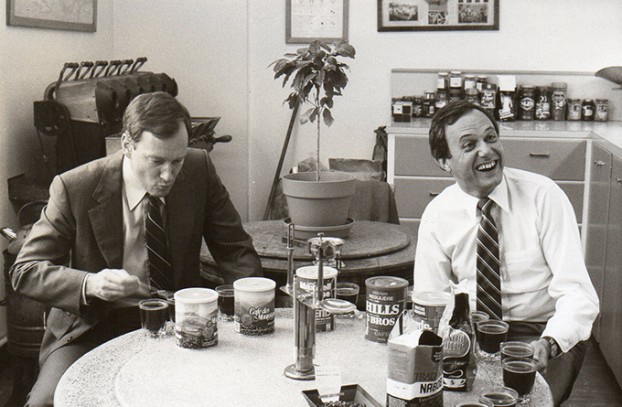 Desperate times called for desperate measures. The change in management, which included Bell and Powell, meant a big change in how the company would operate in the following decades. In 1977, the year the two executives joined, Nabob decided to sell and dissolve eight of its 12 product lines. This led to the loss of more than 300 jobs and the closure of a plant. For a while, the team tried to save its peanut butter brand, Squirrel, and its jam product line, says Bell, but after a few years, they too were cut, with the peanut butter business sold to Canada Packers in 1981.
So, the company was down to two product categories: coffee and tea. While the former was used as a "strategic brand to invest in," the latter was seen as a "cash cow, which we used to fund the strategic business" (it, too, was eventually dissolved). The aggressive cuts were a huge gamble, considering it meant the company's portfolio would go from $70 million to $40 million in value, says Bell.
The team also had to go through the pangs of training its employees to be strictly coffee experts, conducting "cuppings" (otherwise known as coffee tastings) and product knowledge courses so that "when a neighbour asked them about coffee, they would be able to talk about the origins, the roast, the grind."
When management looked at all the categories it was playing in, they realized Nabob would have a strategic advantage in coffee compared to its competitors Kraft and Nestle. "We felt by becoming a coffee specialist, we could win," Bell says.
"I came from the packaged goods industry, and when [I arrived at Nabob] we were looking at it as just another packaged product, like a soap or a detergent. And yet when we became a specialist, we looked at it more like a wine. So we could start to understand the connection to coffee, the same as people who own wineries do."
Its strategy to get out ahead of the competition rested on the innovative, hard, vacuum-sealed packaging its then-parent company, Jacob Suchard, was using in Europe at the time. Nabob brought the new packaging – which stored coffee beans inside a foil vacuum pack so no stale air would get in, while also ensuring none of its flavour and aroma would get out – to Canada in 1978.
"The communication [of the new packaging to consumers] was the most difficult part," admits Bell. "We tried with one campaign, and failed. We put the vacuum pack on shelves along with [Nabob's] soft paper bags and tin cans [which is what the competition was also using]… and, of course, the consumer settled on what they were used to."
They simply ignored the new packaging. "So another bold step was required. We decided to discontinue all of our paper bags, and only give the consumer one choice – the vacuum pack – and come out with bold advertising." That was the year Nabob went on the offensive and brazenly tried its hand at comparative advertising.
This means (packaging) war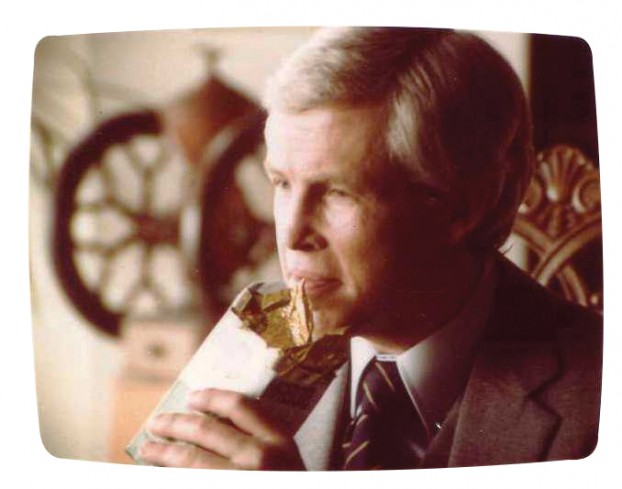 Working with agency Scali, McCabe, Sloves in 1979, Nabob launched what became one of its more famous TV spots, called "Microphone." It featured a winsome, grey-haired fellow (an actor by the name of Michael Reynolds, whom the brand continued to use as its spokesman for about a decade) gamely introducing its vacuum pack by taking a dig at rival Maxwell House's paper packaging.
Reynolds conducts a "smell" test, telling the audience that the competitor's "ordinary, old-fashioned, soft paper bags" allow you to smell "the coffee inside, on the outside." Then he compares it to Nabob's hard vacuum box, which has no smell at all (proving that its aroma and taste is locked in and can't escape).
He also knocks Nabob's box with his closed fist to demonstrate the pack's durability, and opens the two brands' packages under a microphone to demonstrate the flat sound the Maxwell House bags make when being opened, compared to the fresh sound from Nabob's boxes. "Now I ask, which one do you think makes a better, fresher cup of coffee?" At the end of the 60-second spot, before taking a sip, Reynolds haughtily answers: "You're absolutely right."
This type of aggressive, competitive advertising went on for a couple more years, says Bell. The brand created various other ruthless ads where Reynolds took the hard Nabob box and broke Maxwell House's paper bag in a single blow before pushing its coffee beans off the table.
What's important (and interesting to note) is that these ads didn't actually impact Maxwell House's business. But they did affect some of the other smaller brands that Nabob competed against, which helped it become "the rallying brand for everybody who didn't like Maxwell House" and "the standard as the competitor to Maxwell House," Bob Bryant, then-chairman and CEO of Bryant, Fulton and Shee told strategy back in 2001, when he was asked to name the best product demonstration he had seen during his career.
"Within two years, the brand went from a small share to 25% of the Canadian market," notes Bell. In Ontario specifically, he says, the share sat at about 4% before jumping to 25%, two years after it initiated the advertising war. In the West, where Nabob had a much stronger penetration, the share sat at 35%. That number increased to 40%. The brand wasn't originally in Quebec or the Maritimes, but after a few years, it managed to enter and carve out about 15% of those two markets, adds Bell.
The marketing strategy became a case study, which was added to the curriculum at places like Harvard and the London School of Business. The brand also went on to win industry accolades such as the BCAMA's Marketer of the Year award in 1981.
"We were big believers in creativity and we had a culture of big ideas. It made sense, because we looked at the competition as our well-financed enemy, and so there was no way we could win at the spending war," says Bell. "So we had to make sure our advertising was [intrusive], our promotions were better and to continually innovate with new things."
Not just your average quality Joe
It wasn't long before the competition matched Nabob's vacuum pack, says Bell. Within a couple of years, others like main rival Maxwell House had started launching their own hard boxes. "We went, 'OK, so now what point of difference do we have?'" That's when the brand shifted its strategy, once again, and developed the long-standing "Better Beans. Better Coffee" positioning.
The original spokesman introduced the platform with the famous "yardstick" in tow. The ruler in the spot was used to remove all of the coffee beans (which sat stacked up in rolling mounds on a boardroom table, representing all the harvested beans in the world) that did not fit Nabob's quality standards. The beans had to be grown high enough on the mountain and they had to be ripe enough, with "only a precious few chosen." The physical yardstick was integrated into spots for years to come. (In fact, it still makes an appearance in the brand's creative today, such as at the end of its more recent "Respect the Bean" spots.)
That original 1985 "Yardstick" commercial, says Bell, saw the highest day-after recall the brand had ever tracked at the time. "The [industry] average recall was about 20%. And all of the commercials we made – we made about 40 to 50 in the 17 years I was there – our average recall was about 28%."
Capturing a brewing cultural tension
Ogilvy's MacKellar, who worked on the brand for about four years (the agency held the account almost twice as long, before it moved over to Taxi 2 last year), says people still remember the ruler spot that fortified Nabob's positioning around "quality coffee" years later.
"People really remembered that and understood that Nabob always believed in the quality of the beans that they would put in the bag," he says, pointing out how quality continues to be called out in Nabob's current platform. In online and TV spots, Nabob is shown visiting Colombian coffee bean farmers and asking them to taste various specialty coffees, from cappuccinos to macchiatos to iced coffees, with the subjects showing their (polite, to a point) disgust after taking a sip. "It says the same thing, [showing how the brand offers] a line of full bean coffee that is stringently picked and identified by quality growers in Colombia."
Sure, research showed that Canadians have an affinity for the brand, and remember its positioning around quality coffee. But before "Respect the Bean" was launched, Nabob wasn't enjoying the relevance it once had, says MacKellar. Positive association with the brand was there, but it wasn't very strong, adds Fadali at Kraft Heinz, which purchased Nabob in 1994.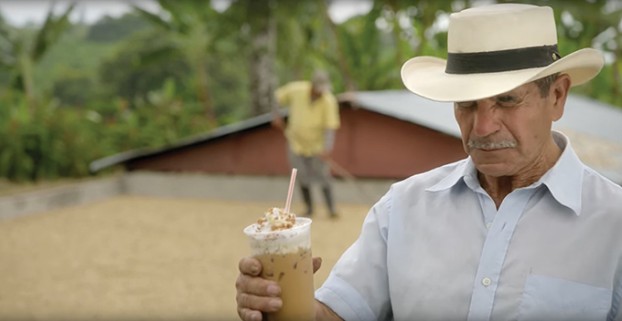 "What sets campaigns apart is really having a cultural tension that resonates with your target audience and one you can effectively communicate your brand through," she says of the approach her team is taking. "The [current] POV is quality coffee without pretence. We're talking to our consumers in a no-nonsense voice. [And] the cultural tension is the absurdity and complexity of the current state of our coffee culture."
Stephanie Santiago, group account director at Taxi 2, adds that the team will continue to build on Nabob's quality message in future creative. "You'll see us have some fun with the ridiculousness of coffee culture and how Nabob is the antithesis of that," she says, adding that it's juxtaposing the brand with the "increasingly pretentious and complicated coffee culture" to stand out.
"Respect the Bean" plays into one of two coffee culture trends that Johanna Faigelman, cultural anthropologist and CEO of Human Branding, has seen in her research of the space. The first revolves around millennial palates, with the younger gen growing up on sweet specialty coffee drinks — making expectations of what they want out of a cup of Joe very different from the consumer Nabob is after (who Fadali describes as "someone who believes substance trumps style" and who doesn't "buy into brands because of their badge.")
Faigelman believes Nabob is making a push toward the "artisanal-everything" trend. "If anything, people are trying to get back to the simple roots, the true intentions of food and beverage," she says. "That's a good [trend] to hook onto as a coffee manufacturer in terms of where our psyches are when it comes to the ethics of food.
"The great things that Nabob has stood for from the beginning has allowed us to have credibility with consumers today," says Fadali. "If we didn't have that relevance around authenticity, consumers would be demanding that of us."
In other words, Nabob is still playing the part of the scrappy brand on a soldierly path to stand out in its corner of the coffee space. It's gone from combative advertising, to adopting an austere stance on quality control, to a movement against the follies of conceited coffee culture. And it's still fighting to outflank the competition, one no-frills black cup of coffee at a time.