Shikatani Lacroix gets in shoppers' heads
The design agency is combining neuromarketing with VR and AR to measure emotional responses to digital prototypes.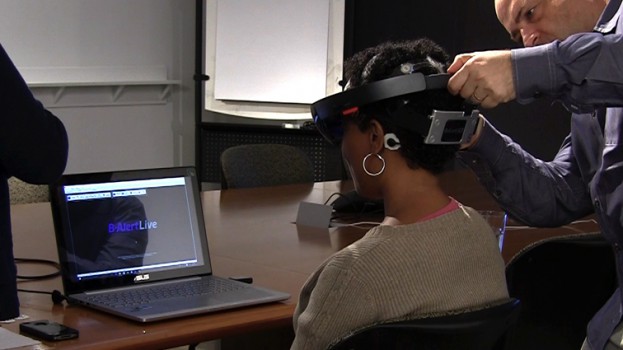 Branding and design agency Shikatani Lacroix and neuromarketing research company True Impact have partnered, combining VR, AR and neuromarketing to create immersive prototypes for retail and CPG clients and provide them with research that explains emotional responses and decision making.

Using Microsoft Hololens, a store concept can appear on a regular boardroom table much like a digital version of a physical scale model, giving users a birds-eye view of the entire concept at once. Using VR powered by Samsung Gear, users can "enter" the concept and walk around it. Marcos Terenzio, director of digital experience at Shikatani Lacroix, says the digital models are built using most of the same files and designs used when developing the concept, meaning they can be created in a fraction of the time as a regular scale model would take.

Shikatani was already using similar tech to test concepts and show them to clients, and Terenzio says the offering will add new capabilities and greater levels of interactivity as the technology that powers it continues to evolve.

What's new is that the agency has partnered with True Impact to outfit users with EEG-measuring headsets. They measure biometrics, like heart rate, as well as brain patterns that can measure emotional response. This helps to determine users' short- and long-term engagement with their environment, as well as the cognitive effort people use when interacting with it.

"We can do interviews, but there's often a difference between what someone says and what they are really feeling," says Diana Lucaci, founder and CEO of True Impact.

She adds that there are a range of responses EEG devices could measure, but the research will focus exclusively on ones that are backed up by academic research to have a link with certain emotions.

"When you use a full EEG headset, you can measure areas of the brain that are responsible for different things, like motivation, decision making and comprehension. The best way to link a cause and an effect is to bring it together with other data points, which this provides."

Lucaci says neuromarketing research in physical stores is becoming more and more common. But when it comes to concepts that haven't been created yet, Jean-Pierre Lacroix, president of the agency, says this kind of offering allows it to do the most in-depth testing available today on the effectiveness of a concept before a client spends millions of dollars to build a physical flagship. The digital models can also be altered and changed based on the research, and then re-tested within a matter of weeks.

"The old way of doing it was to either build a physical prototype and use ethonography research to validate what you've done, or do online studies with animated walk-throughs of a concept," Lacroix says. "The issue with both of those is we only know how they act, not how they feel. It'll tell you a consumer is confused about something, but not where that's coming from, or even if that's a positive or negative thing. This allows us to iterate designs in a controlled environment and get learning that can be rapidly prototyped and fine tuned as much as we can."

One of the first applications of this offering was for a new branch concept for a banking client. Subjects were asked to find different locations in the bank while wearing the Hololens to determine how efficient the store layout was, while their responses to and engagement with different design elements were measured while immersed in the concept using VR. The research also showed that a user's heart rate responded to movement in the VR concept much like it would in a physical space, suggesting the responses in a digital environment are applicable to an actual store.

Lacroix says the applications for this kind of offering aren't limited to store concepts for retail clients, and can apply to everything from package and product design to shelf placements and product assortment.