True patriot branding
As July 1 approaches, here's how brands are taking part in Canada's 150th birthday celebrations.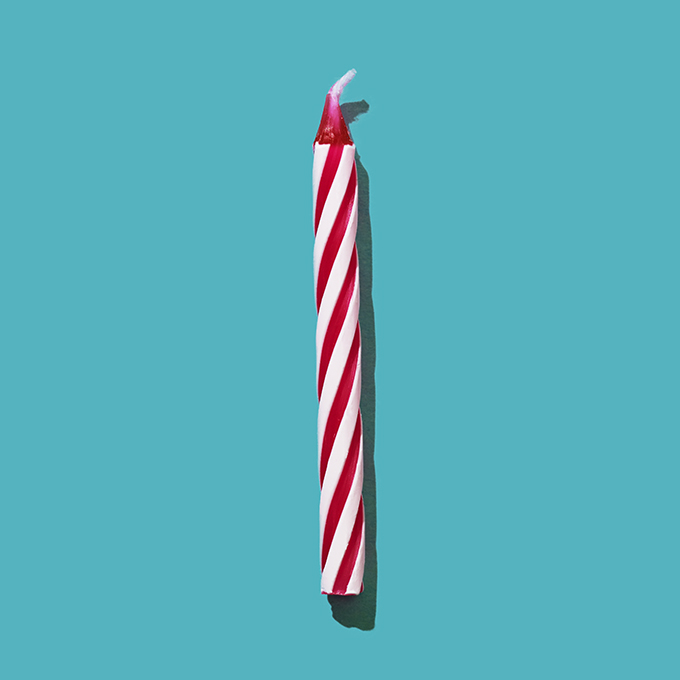 This article appears in the June 2017 issue of  strategy.
Tim Hortons has a special cup. Walmart has gotten into Tom Thomson prints. Researchers at Toronto's Hospital for Sick Children sequenced the genome of the Castor canadensis – the Canadian beaver. Dedicated online vendors are hawking playing cards and mints, ice scrapers and commemorative pins (so many commemorative pins), canoe paddles and canoe paddle key chains, all bearing the official Canada 150 logo.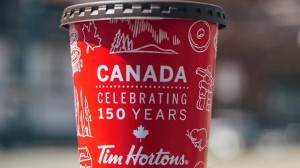 The marketing push around Canada's 150th birthday has so far featured a mix of trinkets, curiosities and pay-it-forward initiatives. As July 1 nears, campaigns looking to capture and reflect what it means to be Canadian in 2017 (while selling merchandise, vacations and – obviously – beer) are gearing up for a prideful sesquicentennial summer.
The anniversary coincides with what Ela Veresiu, assistant marketing professor at York University's Schulich School of Business, describes as a wave of "unapologetic patriotism." As other Western nations lurch to the extreme, inward-looking right, Canada has distinguished itself from its long-time role models by standing out as an open and inclusive alternative.
Brands from Air Canada to Toronto Tourism to Canadian Tire have picked up on this over the past year with campaigns featuring Syrian refugees being welcomed and diversity celebrated in various ways. CIBC's "#StandforCanada" 150 campaign is built around a digital mosaic – an animated maple leaf made from aggregated social media posts, featuring images of Canadian landscapes and kids in hockey jerseys alongside messages about diversity.
"You get a synergy between what people feel and what brands can do," says David Soberman, marketing professor at U of T's Rotman School of Management.
National pride has become a reliable marketing card for brands to play just in time for the national birthday party.
"It definitely opens a window for companies big and small, and not only Canadian, to become involved in advertising campaigns through this idea of Canadian identity and Canadian patriotism," Veresiu says.
Mining Canadian heritage
An IMI report released last fall put Molson and Roots among the brands Canadians expect to "do the best job" of celebrating the anniversary (fifth and sixth, respectively, behind Tim Hortons, Canadian Tire, HBC and, curiously, Coca-Cola). Both launched campaigns this spring around history, values and recognizing the contributions of both exceptional and everyday Canadians.
The Molson brewery was established in Montreal in 1786, and the Molson Canadian brand – known for iconic patriotic ads, from 2001's "The Rant" to the more recent "Beer Fridge" spots – is going back to its founder for its 150 campaign.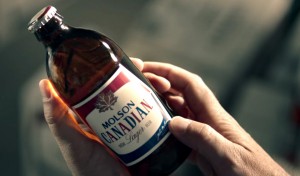 John Molson was a leading 19th-century Lower Canadian entrepreneur, involved in railroads, steamships, hotels, beer and politics. The brand is playing up the founder's values around community and individual contribution to the public good, tracing its roots through seven generations to current chairman Geoff Molson, who is starring in the campaign by Rethink.
Looking back at the company's founder inspired the whole campaign, says marketing director Chris Blackburn.
It asks Canadians to nominate their compatriots (using the hashtag #ATasteOfWhoWeAre) who represent "the best of Canadian character," he says.
It also targets consumers' nostalgia. A fleet of old, red trucks will deliver 150 Molson beer fridges to the chosen Canadians, and those fridges will be filled with vintage stubby bottles of Canadian, which were re-launched in May.
But focusing too much on historical figures can create challenges for brands, as parts of the country's history are contested or abhorred by some Canadians. John Molson was a member of Lower Canada's "Château Clique," the small group of Anglophone businessmen who wielded power in the French-speaking colony.
"The balance we always strike is consumers aren't looking for a history lesson," Blackburn says. "The things that will resonate are the types of values: core human truths that might lie in your brand and company's history that are still relevant in the world today."
Roots's "Nice" campaign is also values-based, incorporating elements of Canada's recent history in an attempt to encapsulate the national character while subverting the "polite Canadian" stereotype, says Shane Ogilvie, co-founder of The Garden, the agency behind the creative.
The campaign video (narrated by actor Kim Cattrall) seeks to shift the definition of "nice." It covers the "polite nice" with a Mountie and the "funny nice" with John Candy and Dan Aykroyd before entering more charged territory, from gay marriage to race in the NHL.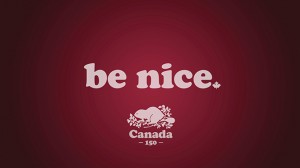 The work "celebrates the fact that a tremendous amount of things have been nice about Canada, as well as some things we recognize that we haven't done well enough," says James Connell, VP of e-commerce and marketing at Roots.
While Romeo Dallaire represents "the kind of nice that takes guts," and Greenpeace stands in for "disruptive nice," scenes of indigenous protests show that "Nice is knowing when sorry just isn't enough."
Ogilvie says it was important, while promoting this new definition of nice, "to call out those moments where we still probably have some work to do."
As for using images of the Highway of Heroes, the funeral route for convoys carrying soldiers who died in Afghanistan, and vigils following the 1989 shooting at Montreal's École Polytechnique, Ogilvie says it's about showing how Canadians reacted and adding that context to the definition of "nice."
"Using those things was necessary to show the depths and the courage that Canadians are willing to go to – to be Canadian and to continue living the way we do," he says. "So we were comfortable with it."
The campaign also includes a social media search for Canada's nicest person, with 10 finalists put to a vote, and the winner receiving $10,000 for the charity of their choice. Roots is also selling "nice buttons and pins," with all the proceeds going to WE's indigenous youth program.
Giving back
Several campaigns around the anniversary have a heavy CSR element, looking forward at ways to improve the country rather than focusing on its history.
Tying the work to a cause "makes it easier to think of these campaigns as more authentic and endearing, and really speaking to the Canadian identity," Schulich's Veresiu says.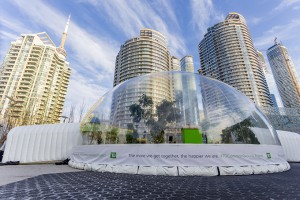 CN and TD, both companies with long histories and nation-building claims, are looking forward with environmental initiatives. The national railway gave $25,000 grants to 50 communities for greening projects, including a ceremonial 150th anniversary tree, while the bank's "#TDCommonGround," with agency Diamond, is investing in green spaces for 150 communities.
RBC's "#Make150Count" campaign, by Grip, is giving $150 for community projects to more than 3,000 young Canadians, and asking the recipients to share their stories, which will be used as content for social, digital, TV and print ads.
The strategy of making consumers participants in the content creation process is especially effective for the anniversary when it aligns with a brand's focus on celebrating Canadians, Veresiu says. For Molson's aforementioned #ATasteOfWhoWeAre campaign, Blackman says, "The task wasn't 'How do we create a big piece of advertising?' It was 'How do we take actions that feel substantial and make a real contribution?'"
Apparel, novelty items and so much beer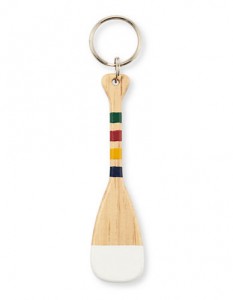 And then there are the novelty items. The Hudson's Bay Company is tying a special anniversary apparel and souvenir collection to a CSR program – the Great Trail project, connecting 24,000 km of trails across the country into one artery this year – by donating 10% of sales to the initiative (50% for the mini canoe paddle and key chain).
Toronto's Drake General Store is partnering with HBC and advertising agency Sid Lee on a t-shirt line designed by 10 influential Canadians (including Blue Rodeo's Jim Cuddy, chef Susur Lee and designer Hayley Elsaesser), called One Fif Tee. A percentage of sales will go to the t-shirt designers' charity of choice.
While Molson dug into its past for the return of the stubby, Swedish vodka brand Absolut has a limited edition Canada 150 bottle with a graphic by Toronto designer Elizabeth (Libs) Elliott.
And of course there are other beers. Beau's, the official beer of Ottawa's 150 celebrations, is partnering with organizations across Canada to create a special 150 brew for every month of 2017. Surrey, B.C.'s Central City Brewers has a special 150 12-pack featuring a dozen beers from across the country. And Halifax's Propeller Brewing Company is hosting The Great Canadian Lager Challenge, inviting Canadian craft and home brewers to submit their most patriotic lager for judging in July.
While the space gets more and more crowded with contests and initiatives around the July 1 celebrations, Rotman's Soberman says it's important for brands to not get carried away or overreach. "The challenge as a marketer is to not always hit a home run, but to avoid doing bad marketing," he says.
The 150 wheelhouse
In addition to the CSR-driven campaigns giving out $150 or recognizing 150 people, some brands have cleverly used the number to highlight their purpose.
ParticipAction and Zulu Alpha Kilo created the 150 Play List, an online encyclopedia of Canadian physical activity, from raking leaves to scavenger hunts to Snowsnake, a javelin-like toss practised in indigenous communities. The site contains origin stories, how-to-guides and locations for the activities.
The Toronto International Film Festival developed "Canada on Screen" to showcase the country's "150 essential moving-image productions." It promoted the initiative through its internal agency, Department 30, and Isobar with the "We Made It" campaign, which used geo-fencing for hyper-local creative (Toronto's Degrassi Street, for example).
April Fool's Day winners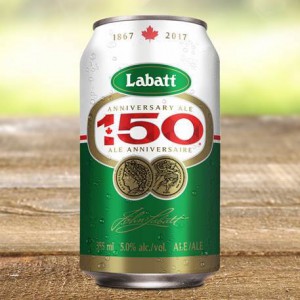 The ad world's day for mock campaigns proved useful for 150 campaigns. WestJet, refusing to cede the patriotic ground to rival Air Canada, rebranded as "Canada Air" in an online video developed in-house with campaign help from Publicis. The brand used humour to make the point that its values are sufficiently Canadian.

Labatt, meanwhile, stumbled into marketing gold when Prime Minister Justin Trudeau tweeted that the beer company had rebranded his "favourite beer" as Labatt 150, making it "three times as patriotic" (he even included a photoshopped bottle). It turns out the brand was already on it. It responded by prematurely announcing its Labatt 150 launch in May, including an improvised beer can image.