AToMiC 2019: The brand (content) bandwagon
Check out award-winning work from Lg2, Cossette, Rethink, DDB, Initiative, Zulu Alpha Kilo and Bensimon Byrne / Narrative / OneMethod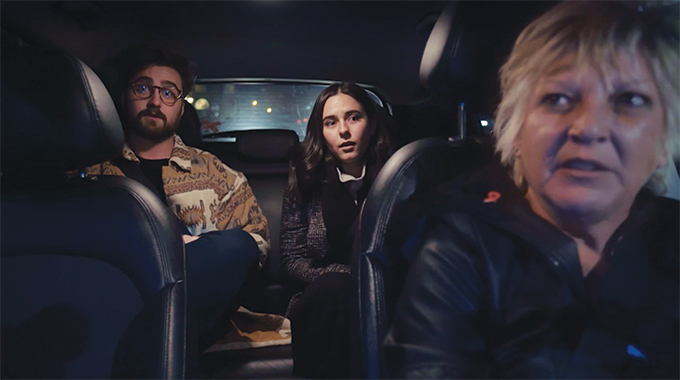 This article appears in the March/April 2019 issue of Strategy.

Uber/MADD
The Wins: Uber Canada/MADD's "Motherhood" & "Uber Moms" by Zulu Alpha Kilo
Silver Cause & Action; Silver Collaboration; Silver Experiential Engagement
People have become desensitized to ads around impaired driving. Many don't want to hear about the personal risks. So the idea behind the joint Uber and MADD content piece was to instead focus on the loss of motherhood. Zulu Alpha Kilo found Shelly, an Uber driver who had lost her daughter to impaired driving. The team rode along with her one night as she picked people up at local bars, filming her sharing her story. People could donate $1 to MADD each time Uber's "Compliment" badge was used.
Harley-Davidson
The Wins: Harley-Davidson's "Common Ground" by Initiative/Zulu Alpha Kilo
Silver Brand Content; Bronze Online Video
Harley-Davidson was thought of as an aging brand. To give it a youthful jolt, and bring new Harley-riding enthusiasts into the family, it created rich narratives in a series that demonstrated Canadian adventure and camaraderie. Three episodic videos were created by Zulu Alpha Kilo and targeted to those with an affinity toward motorcycles. Working with Initiative, the team pitched the episodes to Bell Media, where they were repackaged as a doc for Discovery. It also aired branded pieces leading into the channel's programming for up to six hours.

Fenplast
The Win: Fenplast's "Metalproof" by Lg2
Silver Online Video
Fenplast is a Canadian door and window manufacturer. Its specialty is soundproofing. The brand wanted to remind homeowners that silence is something to be considered when choosing a window. What better way to tell people about its effectiveness than to demonstrate it? During a heavy-metal festival, Fenplast and Lg2 set up a room made entirely of the soundproofed windows. The team put babies inside and filmed them sleeping peacefully to showcase the power of the product. Within the first few days, the content piece generated 117,000 views.

Skittles
The Win: Mars Wrigley Confectionary's "Skittles #GIVEaDAM" by DDB Canada
Silver Brand Content
Skittles and DDB wanted to give Gen Z a reason to give a damn about Canada Day (an event that's met with apathy among the demo), by letting them "#GIVEaDAM." It turned the iconic beaver into an ironic Canadian Beaver-man and had him build a dam in real-time. Then, on Canada Day, the 4.5-hour stream of a Beaver-man building a dam beside a stream went live. For every view, Skittles gave money to the David Suzuki Foundation for actual beaver dams, plus 800,000 teens watched on the day.

Tabasco
The Win: Tabasco's "One-Star Restaurant" by Rethink
Bronze Brand Content
Tabasco was created to awaken and elevate flavours. But that's difficult to convey using just words. So the brand decided to demonstrate the sauce's flavour-enhancing power with the "One-Star Restaurant" and film. Working with Rethink, the brand documented Chef John Mike Leblond as he turned the worst-rated takeout food into four-star dishes using only a few drops of Tabasco. The meals were then served at L'Étoile, with the pop-up selling out fast. The experience was turned into a two-minute social spot and seeded out by food bloggers.

SickKids
The Win: SickKids Foundation's "Milk & Cookies" by Cossette
Bronze ROI
During the holidays, patients at SickKids worry that Santa won't be able to find them at the hospital. This heart-breaking insight drove the strategy behind the "Milk & Cookies" content piece, which included a giant glass of milk and cookie that acted as a beacon for Santa. The Cossette team filmed the food being created by SickKids' staff, and then placed on the hospital's rooftop. The Toronto Maple Leafs also created their own "Milk & Cookies" video, which aired in-arena and online. All of the content pushed to the "SickKids Get Better Gifts" program, with the campaign generating 20% more donations than last year.

CAMH
The Win: CAMH's "Mental Health is Health" by Zulu Alpha Kilo
Silver Brand Content
The majority of Canadians don't believe that mental health is as important as physical health. This insight led to the Centre for Addiction and Mental Health's (CAMH) "Mental Health is Health" content series that questioned why society treats mental and physical health so differently. A series of videos by Zulu featured real stories. One woman shared how she received less support for her mental illness than for her bouts with cancer, while retired NHLer Corey Hirsch opened up about his own debilitating struggles. #MentalHealthIsHealth has since been used 11,000 times, generating 30 million earned impressions and increasing online donations to CAMH by 41%.

Casey House
The Wins: Casey House's "Break Bread Smash Stigma" by Bensimon Byrne / Narrative / OneMethod
Silver Diversity; Bronze Brand Content
In November 2017, Casey House launched the world's first HIV-positive restaurant and called it June's HIV+ Eatery. The name of the eatery was an homage to the founder of Casey House, June Callwood. The pop-up was designed to put HIV stigma in the spotlight and generate social conversation. It did just that: one billion impressions were generated. To keep the conversation going, Casey House created a film that profiled the sometimes sad, but often uplifting stories of the HIV-positive chefs. The film premiered in front of 500 patients, donors, media, and influencers. It also caught the attention of HBO, with the network acquiring the rights to air the documentary in 2018.