General Mills cheers a little louder for Olympians
The company is boosting its "Cheer" Olympic platform with a new ad, bolder designs, promos and custom retailer programs.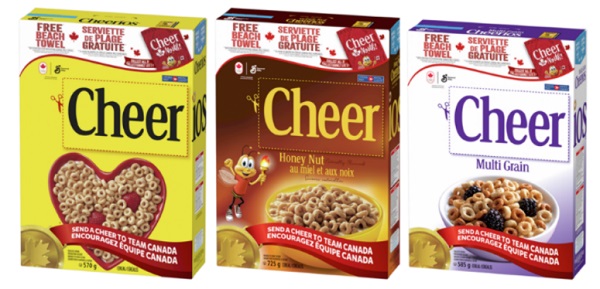 You are reading a story from Strategy's Shopper Marketing Report, which covers the retail partnerships, in-store programs and consumer insights brands are utilizing to influence consumers at the shelf. To have the stories delivered to your inbox every other Wednesday, subscribe to the newsletter.
If your brand has "cheer" in its name, it is likely a no-brainer to rally around athletes.
General Mills brand Cheerios is backing Team Canada's Olympic ambitions in Japan by bringing back its decade-old "cheer cards," once again encouraging Canadians to write heartfelt messages of support to athletes gunning for gold.
Cheer Cards can be cut out on boxes of Honey Nut, Multi-Grain and original "yellow box" Cheerios, while supplies last, marked with a consumer-facing "Cheer" with the "ios" wrapping around the side.
The "Cheer" effort first began in 2009 and has been a fixture of General Mills' Olympic activations since then. Emma Eriksson, VP marketing at General Mills Canada, says that over 100,000 Cheer Cards have been delivered to athletes since the program's inception, and this year, it is launching new ads and bolder packaging in order to inspire Canadians to send the biggest delivery of Cheer Cards yet.
The target is families with kids, who have traditionally been the biggest participants in the program, but also Boomers who have high interest in the Olympic games.
But given that this is an activation based around packaging and buying a box, the in-store element is vital. That's why the campaign includes things like large end caps, as well as new retailer-customized shopper marketing experiences.
"We have worked with each of our retailers to come up with a unique way to bring the campaign in store and to bring it to life to encourage Canadian pride," Eriksson says.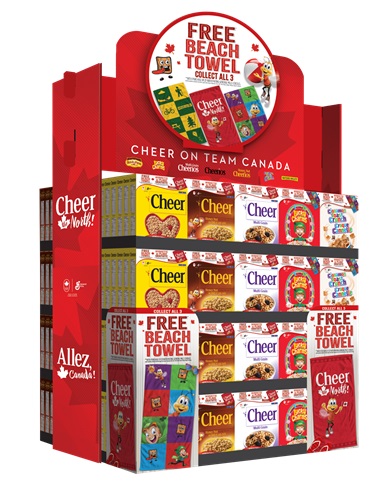 For example, at Sobeys – a fellow Olympic sponsor that is making its own effort to send words of support to Olympians – General Mills is serving up a special "Champions' Pack" that has a selection of different Cheerios products, as well as an exclusive "cheer the North" t-shirt.
While ecommerce has grown exponentially, Eriksson says 95% of its cereal sales come from in-store, so it's important to close the loop with consumers at the point of purchase.
In fact, Eriksson says, since lockdown began, it's seen a big consumption boost with more at-home occasions: she reports Cheerios sales are up 6% from the year prior, a definite trajectory change, she admits.
Part of the in-store activation is an opportunity to win one of three beach towels, including one amplifying the "cheer" messaging. Eriksson says promotions have always been a big part of its marketing mix and that branded merchandising has one of its highest redeemed offer rates.
On the box, there are what she calls two waves of packaging: the first being a brand name wraparound with "cheer" visible and front-facing, so cards can be written and sent to athletes in time for the games. The next wave will be in June, closer to when the Olympics begin, and is all about putting athletes in the spotlight on pack. Cheerios and other General Mills cereals will feature Olympic athletes Andre De Grasse (athletics), Penny Oleksiak (swimming), Rosie MacLennan (trampoline), Matt Berger (skateboarding) and Jennifer Abel (diving).
Those athletes were also featured on cereal boxes last year. Even though the 2020 Olympics ended up being postponed due to the pandemic, General Mills pivoted its platform to instead cheer on frontline workers, using the voice athletes have to deliver personalized messages to ones that were particularly deserving.
Shopper marketing was done with in-house, with Cossette leading the overall campaign, Narrative on PR partner, So.da developing social strategy and content. The "cheer" box design was done by Graham Design, with the athlete-focused boxes done by Mosaic.
With the help of Canada Post, cards will be delivered free of charge to the athletes at the Olympic Village in Tokyo. The last day to send physical cards is June  30th.