Cause marketing to the extreme
The desire to break through the clutter has many charities aiming for a major emotional response. Strategy examines the risks and rewards of marketing messages that teeter on the fringes.
When Philippe Garneau's son was four, he spotted a homeless man on the street. "He saw the man in front of him and was heartbroken," says Garneau, president of Toronto-based GWP Brand Engineering.
His son pulled out his only loonie and handed it to the man, effectively cleaning out his weekly allowance.
"He didn't understand that this little [bit of] change wouldn't make a dent [in the man's situation]. Adults have coping mechanisms to say 'I can't help everybody,' so we blunt ourselves."
Garneau points to ongoing daytime commercials for charities that infamously feature skeletal children in third world countries with "flies pulling at their eyelids," as an example of campaigns that have desensitized people. "You just shut off. It's too much."
And in today's digitally cluttered space, it's much easier to opt out, meaning brands – especially cause brands that often rely on donated or earned media – need to work even harder to get a response from the audience. Ryan Holiday, author, consultant and former marketer at American Apparel, says to get traction, brands need to elicit a strong emotional response from audiences. He points to a New York Times study, which found stories that provoked strong feelings were the ones that got shared.
While brands can't do middle of the road advertising anymore, this is especially true in the cause marketing space, says Angus Tucker, partner and ECD at John St. As a result, he says we're seeing more über-grim or hilariously funny ads as charities move more toward the extreme emotional fringes.
But the more brands move to the fringes, the more likely people will be offended by the message. An overly grim or scary ad might cause people to tune out, while a funny ad may make people feel an issue they are passionate about is being trivialized.
So while extreme marketing tactics can break through the clutter, there are a few caveats.
Garneau says if brands choose to go grim, they'd do well to learn from the 2007 Workplace Safety Insurance Board videos by Draftfcb, which highlighted workplace accidents in a very graphic way. One ad, for example, opens with a sous-chef talking about her career plans, before slipping and pouring a vat of hot liquid over her body. The final shot of the commercial is of her burnt and peeling face as she screams in agony.
It's gruesome and gory, but effective, Garneau says. It weaves a story, teasing the message while drawing viewers in before the horror comes on screen.
"It suddenly feels like this could happen to me," he says. While the commercial could have taken a very rational approach by highlighting statistics of workplace accidents, it wouldn't have resonated as much.
"Stalin once said, 'The death of one person is a tragedy. The death of millions is a statistic.' So you can distance yourself personally from it. It's got to be relevant to the person who is watching it."
The Heart and Stroke Foundation's 2011 "Make Death Wait" and 2013 "Make Health Last" campaigns by Lowe Roche are other examples of commercials made relevant to audiences, he says.
For "Make Death Wait," one spot features "Death" talking about how he'll take one in three men, while another features the voice of the Grim Reaper as he stalks women who don't realize that heart disease is a top killer for ladies.
"Make Health Last" took a slightly more optimistic tone, featuring a split-screen depiction of a man in his last 10 years of life, one side showing him in good health while the other shows him in decline.
The campaigns play into the foundation's long-term goal of creating a healthy-living movement and reducing deaths by heart disease or stroke by 25% by 2020. It's a broad and ambitious goal, says Geoff Craig, CMO at the Heart and Stroke Foundation, and one that necessitated a wake-up call for Canadians.
The science around preventing the diseases (such as the need for exercise and a healthy diet) has been widely discussed for the past decade, he says, yet people are still living unhealthy lives.
"I just don't think a soft message will drive behaviour change," he says. "If you don't present people with a grim reality, it's hard to motivate a moment of 'holy shit, I really need to think about this and make some changes.'"
While "Make Death Wait" acted as the jolt to Canadians to start paying attention, "Make Health Last," was designed to move the needle and actually address the issue. The video drove viewers online, inviting them to assess their health, and offered up customized plans to help people lead healthier lifestyles.
"It's not just about presenting [people] with that choice [of life or death]," Craig says. "It's about giving them tools to make the changes."
Since its launch, he says hundreds of thousands of Canadians have visited the website, while 100,000 have taken the survey, exceeding benchmarks.
He admits the reactions have not been 100% positive (largely from people and families of those who suffer from non-preventable forms of the disease), but it's all part and parcel of his ambition of creating a movement.
"Our intent is not to cast judgment or invoke ill will in that regard," he says. "But to have a movement, you have to have an enemy. [And] the enemy is the reality of bad health."
Of course, going grim or creating a villain doesn't always work.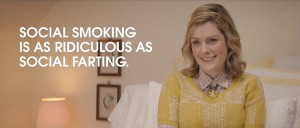 While anti-smoking commercials tend to veer toward "incite-the-fear-of-God" messaging, it's a tactic that wouldn't have worked for the target in Ontario's Ministry of Health and Long-Term Care's latest campaign.
To reach social smokers – those who don't define themselves as smokers, only grabbing a cigarette occasionally among friends – the Ministry and its agency BBDO faced a unique challenge: getting people to quit a habit they won't admit to having in the first place.
"We needed to take away the safe space, which is the word 'social,'" says Peter Ignazi, SVP/ECD at BBDO. "We wanted to make [social smoking] seem ridiculous."
Three online-only videos were launched in early March, one featuring a woman who socially farts while around friends, another who picks ear wax in public because it looks cool and a third with a man who steals food off of other people's plates. Each parallels habits of the social smoker, highlighting how ridiculous the excuses sound. Follow-up videos showed how the social habit of farting or bumming food devolved into full-on addictions, and it's all part of a three-year campaign with creative details currently being ironed out.
The point was to force a conversation and provoke a reaction from social smokers, Ignazi says.
"They didn't feel like they needed to be part of any conversation, because they weren't smoking."
The videos have received almost two million views (with a larger concentration on "Social Farting," which got the bulk of the media coverage), and people have been talking about it.
While some social smokers decry the spots and defend their habits over social media, others – including admitted smokers – have taken up the fight against the act, which was exactly what the Ministry and BBDO wanted.
It's too early to tell whether or not the campaign will have the desired effect of stemming social smokers before they become addicted, but Ignazi says the reaction is on par with expectations.
Beyond generating awareness, hilarity can be used as a call to action. For example, cancer has almost universal awareness, says Tucker, but while women know they need to check their breasts each month, getting them to commit to the act is difficult.
In 2011, John St. launched the Your Man Reminder app (which uses hunky guys to remind women to perform monthly exams) for Rethink Breast Cancer, a charity that raises awareness in the under-40 crowd. To promote the app, it released a tongue-in-cheek video featuring half-naked and muscle-bound men illustrating the basics of a self-examination and highlighting the app's features.
While some organizations might have considered the spot too risqué, Rethink jumped on the campaign, turning down other, less out-there ideas. 
"There doesn't seem to be any sacred cows with them," Tucker says. "The only discussion [we had] was that we didn't want these guys to appear sleazy or cheesy."
The video has garnered more than five million views on YouTube and was named one of TED's Ads Worth Spreading in 2012, while the app itself has been downloaded more than 150,000 times.
Not all the YouTube comments were positive, Tucker says, but he adds many defended Rethink and the video. "Rethink hasn't had to be involved," Tucker says. (In fact, a glance at comments shows that most of the negative debates have nothing to do with people feeling breast cancer is being trivialized, but rather about unrelated conversations over other issues.)
Of course, different audiences require different tactics. The Trillium Gift of Life Network, for example, ran back-to-back campaigns, each targeted at two completely different groups of people, resulting in one extreme campaign and one more traditional, mainstream approach.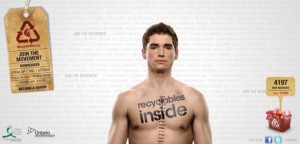 In 2009, Bensimon Byrne, Narrative PR and Trillium ran a mass media and PR campaign called Recycleme.org, that drove people to an interactive website. The campaign featured cheeky ads that equated organ donation with a new recycling program, while the website dissected a living person who explained the importance of each organ.
It was specifically geared at youth under 29, who had little or no knowledge of organ and tissue donation, says Amanda Alvaro, managing director, Narrative.
"Be A Donor" launched a year later with a more emotional approach, and featured people who had been saved by organ donation, including personal stories from real people who had received transplants. The campaign drove to Beadonor.ca, where people could – for the first time – register online to be an organ donor, and was geared at 30- to 55-year-olds who were aware of organ donation, but hadn't signed up for it yet.
"So, [for Be a Donor] we had high levels of awareness, we just didn't have high levels of behavioural action," Alvaro says. "In the case of Recycleme.org, we were dealing with much lower levels [of awareness], so we had to break through with a more extreme tactic to even get on the radar."
Both campaigns were considered a success. Be a Donor resulted in more than 44,000 online registrations, while the total (including offline) grew to more than 280,000, a 69% increase over the year before. Recycleme.org, launched before online registration was possible (registrants had to mail in forms), led to 11,000 new organ donors – a 400% increase in the under 29 crowd. The program also garnered more than 19 million media impressions and 118,000 unique visitors to the site.
In the end, charities and agencies need a strategic reason to go funny or grim, says Garneau.
"It's not that we have social permission to be dark because [lots of people are doing it]. You have to raise the stakes. You want them to do more than recoil in horror."
On the flip side, it's not just a matter of being funny for the sake of being funny, adds Tucker.
"People don't respond to something just because it's kooky. People will respond to something because it's a different way of presenting a very smart idea."
The 'movement guy' takes on Heart and Stroke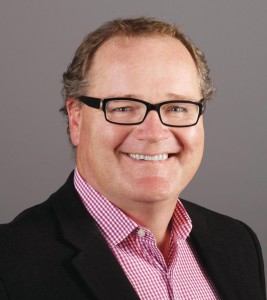 Geoff Craig, the marketer who led Dove's "Real Beauty" movement and Hellmann's "Real Food Movement," has set his sights on creating a healthy living movement for the Heart and Stroke Foundation. He joined the organization as its first-ever CMO in May 2012 after serving as VP marketing at Unilever, by way of Maple Leaf.

To spark the movement, Craig is focused on creating an enemy of the diseases, giving Canadians something to rally behind to lead healthier lives. But getting everyone on board for his movement will be no easy task. His first step will be corralling a fragmented marketing team, because up until two years ago, the Heart and Stroke operated as 10 different organizations (including 10 different marketing heads, whose remits still include local fundraising and campaign activation).

"To do a national program with a partner, you basically had to strike 10 deals, which is not very partner-friendly to say the least," says Craig. "At one point there were 44 different television commercials running for Heart and Stroke across the country. It's absurd when you think about it. You don't need 44 different messages. That doesn't drive to a common theme."

In 2011, the foundation got a unified boost from CEO David Sculthorpe, organizing everything under one national banner.

During Craig's first year at the helm, Heart and Stroke set out its long-term strategic plan to re-emphasize the goal of a heart disease and stroke-free world and working towards a healthier Canadian population.

"It's an ongoing challenge. I've got a meeting coming up where, for the first time, all the marketing VPs from the provincial foundations are going to get together and sit down with one very clear agenda," he says.

To measure its success, the foundation set out clear targets to measure against – such as decreasing death by heart or stroke by 25% by 2020 or reducing preventable causes of the disease by 10% – with all messaging driving towards that long-term goal.

While still hammering out the details (including how many agency partners it will need and which provincial organizations will be handling what), Craig says the brand's marketing message will be much more focused going forward, with emphasis placed on a handful of campaigns that really resonate, rather than a mishmash of work that doesn't tie together.

"This is not about taking work away from people," he says. "This is about sharing work so we don't do it 10 times, but that we do it once and do it very well."