General Mills, Mondelez and P&G cheer for Canada
The Olympic sponsors are using digital and mobile tactics to bring the Games closer to Canadians.
The time of year where Canadians show their red and white colours in support of Olympic athletes is here. And General Mills, Mondelēz and P&G, partners of the Canadian Olympic Committee (COC), are hitting stores with programs that bring consumers digitally closer to the Canadian team.
Yesterday General Mills Canada launched  its Olympic on-pack promotion in partnership with New York-based image-recognition platform Blippar.  Six million packages of General Mills cereal, such as Cheerios, Reese Puffs, Oatmeal Crisp and Lucky Charms, as well as its snacking products, including Nature Valley and the Betty Crocker line, are embedded with Blippar technology. This is the first time the tech company has created a campaign across an entire line of products, according to Blippar's CEO, Ambarish Mitra, in a release.
The campaign invites consumers to download the Blippar app on any mobile device, and then use it to scan the product packaging and activate an augmented reality experience. Using the app, consumers will be able to play games, take a photo beside a virtual image of one of eight Canadian Olympic athletes as well as view complete profiles of each.
"By using the virtual reality technique, which we have never used before on our packaging, we are able to make Canadians feel much more connected to the athletes," said David Struthers, director of promotions and digital marketing, General Mills. "We are using the very broad reach of our on-pack real estate to bring the athletes and consumers closer together."
In drug, grocery and convenience stores, first-time sponsor Mondelēz has launched its "Pride & Joy" campaign (executed by agencies Jungle Media, The Hive, MediaVest and Edelman) with new limited-edition SKUs, colourful displays and an interactive app. The company is introducing animated characters "Pride" and "Joy" with the app, which sends real-time push notifications the minute Canada wins a medal (and other big moments). The brand will also randomly select winners from those who have downloaded the app and alert them with message saying they've won a prize, such a Team Canada jersey.
Until Feb. 26, in-store displays featuring Canadian flag-embossed packs of Oreo, Chips Ahoy!, Ritz Crackers and Maple Leaf cookies call out the app and encourage shoppers to download and follow the Canadian team's journey to the podium. Cadbury, Dentyne and Maynards in also push the app on-pack.
"Because we're a new organization [having split from Kraft in 2012], we want to make sure we always speak about our company with iconic brands, to give an idea of what Mondelēz is about," says Aditi Burman, senior consumer promotions manager at Mondelēz, adding that the creative speaks to the pride fans have for their country's athletes and the joy that takes place when eating its snacks.
"We're taking a more light-hearted and fun approach to the Games. [Whereas] a lot of other brands, because they've been doing it for longer or they're inherently related [like Sport Chek and Canadian Tire], they talk more about performance. Our whole platform is based on joy and fun… because of the nature of our brands; we thought that was a natural place for [them]."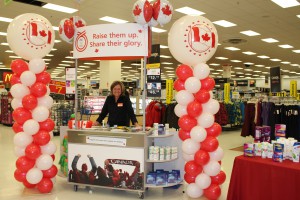 Long-time sponsor P&G is similarly bringing consumers closer to the Games with its "Raise Them Up, Share Their Glory" campaign, which includes interactive displays in Walmart stores where shoppers can write messages of support for the Canadian team. The installations will be in participating stores until Feb, and the messages of encouragement will be displayed in the "P&G Family Home" in Sochi where the brand provides athletes and their families with products from Pantene, Cover Girl and Gillette.