Top Cannes contenders: Creative Effectiveness
Strategy is counting down the campaigns most likely to win big at the Palais at this year's festival.
As we count down the days to the Cannes Lions submission deadline (March 28), strategy is rounding out the most likely contenders for each category, tapping the top folks in the industry to help us narrow down the list. This week, we're taking a gander in the Creative Effectiveness category. Check back regularly until the deadline to see which campaigns have the best shot in Cannes.
Creative Effectiveness
Campaign: Milk Carton 2.0
Brand: Missing Children Society of Canada
Agency: Grey Canada
Chosen by: Rob Sweetman, founder and CD, 123W
There were quite a few strong Canadian contenders to choose from this year like the WestJet "Christmas Miracle" with 35 million views and counting, or the "Surrender Your Say" campaign for Tourette Syndrome Foundation of Canada, or the Doritos Locos Tacos "Eat Your Words" stunt.
But I'm hedging my bets and going with a 2013 Cyber-Lion winner now eligible for an Effectiveness Lion: "Milk Carton 2.0." It's a simple idea that uses social media to form a digital search party and get the word out to over 70% of the country as soon as a child is reported missing. I love this project on a lot of levels. First, they didn't abandon a good idea after the original 'The World's Most Effective Social Network," a Facebook-based tool, launched. Instead they pushed the idea into new places, and really extended its effectiveness and reach. It went into Google search, Foursquare, and Pinterest to give people as much information about the child as possible to further aid their efforts. Nothing's a lead-pipe cinch when it comes to Cannes, but it's hard to argue with the results. The campaign was directly responsible for helping find six missing children in the first five months after it was launched.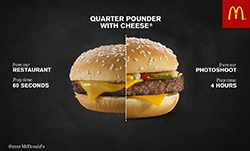 Campaign: Our Food. Your Questions.
Brand: McDonald's
Agency: Tribal Worldwide

Chosen by: Cory Eisentraut, group creative director, Cundari

In an effort to challenge the public's many misperceptions about its products, McDonald's created an integrated campaign centred around taking consumer questions head on.

In an era when so many marketers are preaching transparency, no brand actually did it with more grace or volume. Rather than making honesty a corollary to their campaign, McDonald's and Tribal made it the entire campaign. To be eligible in the Creative Effectiveness category, you need to be awarded or shortlisted in the previous year's Cannes Lions. With one Gold, one Silver and two Bronze Lions in 2013, this brave campaign certainly fits that bill. And with 20,000 questions answered, 14 million video views and ultimately huge gains in food quality and brand trust scores, it also clearly demonstrated extraordinary effectiveness. I will personally be very surprised, and disappointed, if "Our Food. Your Questions." isn't honoured alongside Dove "Real Beauty Sketches" and Metro "Dumb Ways To Die."

Campaign: Make Health Last
Brand: Heart and Stroke Foundation
Agency: Lowe Roche

Chosen by: Ted Boyd, president, One Advertising

This campaign does an excellent job at demonstrating  that more than any other single factor, personal choice dictates the state of health in which one will live out the last 10 years of one's life. The 30-second spot is powerful and visually arresting, using a split screen wherein the same individual both in healthy and unhealthy conditions goes through a series of moments which are radically different as a result of his disparate physical states.

The online component is also highly interactive and allows the visitor to do a self-assessment while browsing through the site.

PSAs of this sort can often be preachy, maudlin or down right morbid, but Lowe Roche cleverly avoids this trap by tapping into the insight that personal choice, not the health care or insurance systems, is the key driver of sustained health and quality of life over the long term.

Cloaking the message of personal responsibility with such a stark contrast of outcomes also underscores the enormous benefit to us all of making the right choices during our lifetime.

All in all, the campaign is effective and highly engaging in reminding us that we are our own health advocate, as no other.

Are we missing a strong Creative Effectiveness contender? Weigh in below. 

Check out the contenders in the Film Craft, Promo & Activation, PR, Mobile and Film categories.