Top Cannes contenders: Media
With (another) extended deadline, strategy continues to count down the campaigns most likely to win big at this year's festival.
Hey creatives: Cannes has announced another extension. Make sure you get your cases submitted by April 25. Strategy has been rounding out the most likely contenders for each category, tapping the top folks in the industry to help us narrow down the list. This week, we're taking a gander in the Media category. We're wrapping up our coverage. Check back next week for Titanium and Integrated contenders and our take on who's got a good shot at a Lion.
Media
Campaign: Rib Stain Camo
Brand: Boston Pizza
Agencies: Taxi and PHD
Chosen by: Mike Rumble, VP, managing director, Cossette
Knowing that great ribs are messy, Boston Pizza invented a T-shirt designed to hide all those embarrassing spills and splatters. Rib Stain Camo was launched on TV with an unbranded infomercial and sold at Ribstaincamo.com. When rib fans received their T-shirts in the mail, they discovered Rib Stain Camo was made by Boston Pizza and they got an invitation to try their new ribs at a great price.
Boston Pizza left the food porn in production and ran with a spot selling T-shirts instead. It's never easy to break through on television and when your name is Boston Pizza, it's even tougher to break through with diehard rib fans. They sold thousands of T-shirts to their core audience who weren't shy about literally wearing the brand and expressing their love for the campaign to friends and followers on Twitter, Facebook and Reddit. Rib sales went up 70% and the sale of the T-shirts nearly paid for the cost of the campaign itself.
When the summer finally hits, expect to see your best friend wearing one of these T-shirts at a backyard BBQ as you debate the merits of a BGE and Kamado Joe. At that point, feel free to reconsider the power of television, innovation in traditional media and the influence of great insight.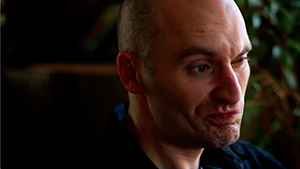 Campaign: Surrender Your Say
Brand: Tourette Syndrome Foundation of Canada
Agency: Saatchi & Saatchi
Chosen by: Bruce Neve, CEO, Starcom MediaVest
One of my personal  favourite media campaigns was  "Surrender Your Say" created by Saatchi & Saatchi for the Tourette Syndrome Foundation of Canada. It delivered on what our network deems great work – an experience that ultimately will enhance people's lives.
In the year that was "Twitter," this campaign used the social platform in a simple, low-cost, creative and effective way.
Those who signed up to #Surrenderyoursay experienced the same lack of control and anxiety as those living with Tourette Syndrome when they temporarily lost control of their Twitter accounts.
The results saw thousands signed up and this allowed the foundation to tweet posts directly into their Twitter feeds for the next 24 hours.
The campaign generated huge awareness by capitalizing on the amplification and connectivity of Twitter, as 9,000 participants tweeted to four million followers, driving over 100 million impressions.
The campaign generated earned media coverage and scale when it was reported in Canada by the Globe and Mail, National Post, CBC, Huffington Post and CTV News; and internationally via CNN and others.
Campaign: Ice Truck
Client: Canadian Tire
Agencies: Touche!PHD and Taxi
Chosen by: Lauren Richards, principal, Pollin8
To clearly illustrate Canadian Tire 'gets' what Canadian winters are like and what Canadian cars and trucks have to tolerate, Touche! and Taxi created a fully functioning truck made out of ice to house the MotoMaster Eliminator battery with AGM.
To make sure Canadians realized the ice truck was authentic, it went on a two-kilometre drive through town. It was filmed, of course, to expose the whole initiative and its resulting documentary to the masses. In fact, the demise of the truck was what was used as the hook to elevate interest – people could view the truck melting in real-time. A 60-second spot was also created from the footage and aired during the NHL Winter Classic.
What immediately struck me when I was exposed to this campaign was what a strange coincidence this event happened in a similar time frame as the Molson "Beer Fridge" and the Budweiser "Red Lights" program. Talk about reinforcing Canadian stereotypes! We – the nation of ice, hockey and beer. Such a sophisticated nation we are. We are what we are I suppose, and an ice truck to magnify that our cars "get as cold as ice," an authentic Canadian basement beer fridge that only opens for Canadians, and a real hockey goal and a blimp that help us celebrate our teams all deserve to be applauded. All exemplify our uniquely Canadian spirit and, dare I say,
our innovative ad culture.
Did we miss a top Media contender? Weigh in below. 
Check out the contenders in the Branded Content, Product Design, Design, Cyber, Direct, Radio, Innovation, Creative Effectiveness, Film Craft, Promo & Activation, PR, Mobile and Film categories.