Throwback Thursday: strategy in 2001
For our 25th anniversary, we're travelling through time. In '01, the economy posed a challenge and John St. was born.

For strategy's 25th anniversary, we're travelling back in time, flipping through the pages of old issues to highlight some big news you may have forgotten, trends you wish you'd had a crystal ball to predict and marketing issues that never seem to change. Check back next Thursday to pick up some valuable insights into Canadian marketing history. This week, we tackle 2001.
Legacies lost
Sadly, it seemed that not everything introduced in 2001 was long for this world.
Krispy Kreme begins assault on Canada Jan. 15, 2001
Krispy Kreme Doughnuts made its arrival that month, with Roly Morris at the head of marketing. The former Starbucks, Gap and Roots marketer was tapped to introduce it to Canadians.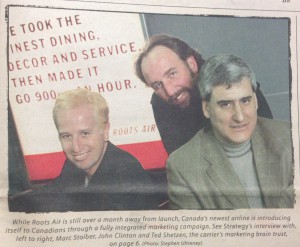 Roots: Clothes, shoes and…vitamins? Jan. 29, 2001
"Toronto-based Roots Canada is broadening its reach into the lucrative healthcare market with the launch of Roots Multivitamins for children, teens and adults."
Roots Air charts its flight plan Feb. 12, 2001
"Make no mistake, despite its earthy name and casual clothing, the people behind Roots Air are serious air industry types." After the launch of Vitamins, the clothier got into the airspace, with a new charter jet in partnership with Skyservice Airlines.
Retailers say hello
Old Navy sets course for Canada Feb. 12, 2001
"When Old Navy sails into Ontario this spring, it's bound to crowd some Canadian retailers out of the cheap-and-cheerful clothing segment, say retail experts."
Electronic shops need new marketing gameplans May 21, 2001
'The launch of Best Buy stores in Canada raises the spectre of an industry shakeout, the likes of which the electronics industry here has never witnessed, analysts say." We predicted the store would shake up the industry heavyweights, taking share from the likes of Sears, The Brick and Canadian Tire, yet ironically said Future Shop was safe, largely because it had already started to undertake preemptive measures. Of course, Best Buy bought Future Shop later that year, and today, the pair's biggest challenge is in the form of Amazon.
Among other big American chains that opened up shop that year: Krispy Kreme and Williams-Sonoma.
The more things change, the more they stay the same
Are AORs going the way of the dinosaur? Feb. 26, 2001
"Why get married to your ad agency when all you really want are a few memorable dates?" Brands like Sony had recently made headlines moving its AOR to Zig on a contract basis.
It's a conversation people are still having today, as brands navigate the best path to having a nimble responding structure in place to deal with the new digital/mobile/social reality.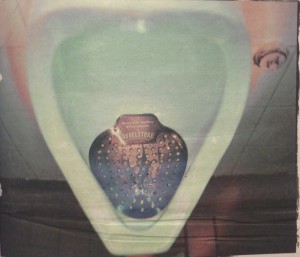 Revelstoke gives guys a place to gawk – at the urinal May 7, 2001
"In the age-old quest to put the message directly in consumer's sight lines, Revelstoke Canadian Spiced Whisky may have found the Holy Grail – right at the bottom of the pisser."
Like many brands today, it seems like a urinal was a hot spot to capture guys' attention – after all, where else would they look? – with Revelstoke placing an ad on the rubber net at the bottom of the urinal in pubs where the whisky was sold. Since then, plenty of brands, including Telus, Alberta Office of Traffic Safety and Sober Ride, have all marked their territory where guys do their business.
Below-the-line outpacing traditional July 2, 2001
"Companies are increasingly devoting a greater portion of marketing spending to below-the-line activity as opposed to their traditional above-the-line media spends. Some studies suggest those efforts are on pace to overtake traditional spending by a factor of nearly two to one."
Media buying companies tread on creative ground Nov. 19, 2001
"Canadian media companies are dabbling in creative territory as more and more global, American-based brands ask them to re-jig ad campaigns for local markets." Today, media companies, PR firms and social shops are increasingly adding creative heft to their employee lineup, proving some things remain constant.
We're not afraid to admit when we were wrong
Youth switching to web radio: marketers are starting to tune in June 18, 2001
"Maybe video didn't kill the radio star after all, but streaming media may indeed sound the death knell for the FM dial as more and more Internet channels draw new listeners, particularly among the younger crowd."
Of course, FM/AM radio is still kicking along just fine…so we admit, we were wrong.
Agencies, on the move
Cossette still bullish on U.S. move July 2, 2001
"The economic slump south of the border has not deterred Claude Lessard from his plan to take the Cossette name into the U.S. via the acquisition of a major-market agency. In fact, the state of the U.S. industry makes it an even more attractive time to buy, and he expects to announce a purchase in the next few months."
In August of that year, Cossette would acquire Post & Partners in New York, which it then shut down in 2010 when it was acquired by Mill Road.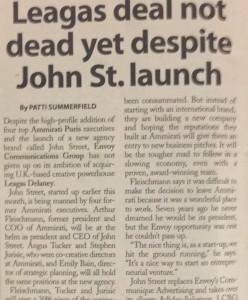 Leagas deal not dead yet, despite John St. launch July 16, 2001
"Despite the high-profile addition of four top Ammirati Puris executives and the launch of a new agency called John St., Enjoy Communications Group has not given up on its ambition of acquiring U.K.-based creative powerhouse Leagas Delaney…
"John Street, started up earlier this month, is being manned by four former Ammirati executives. The team at John Street had already agreed to take over Leagas Delaney Toronto if the [Envoy Leagas] deal had been consummated. But instead of starting with an international brand, they are building a new company and hoping the reputation they built at Ammirati will give them an entry to new business pitches."
Ammirati puts positive spin on Labatt loss, Sears drop Nov. 19, 2001
It was the beginning of the end for the upstart that made waves only a few years earlier for nabbing one of Canada's biggest clients without barely an office on the ground.
After the agency lost four of its key creative and strategic folks to John St., it lost Labatt and then Sears (to John St., no less) and then Canada Bread, and went through some major structural changes at the top end, including the replacement of the agency co-founder. It would close its doors in 2002.
It's the economy, stupid
The year marked the beginning of a small dip in the market and then took a hit on Sept. 11 when terrorists attacked the U.S., and brands and agencies seemed to have a hard time contending with the slump. We wrote pieces on how agencies were navigating the downturn, how brands were prepping for the slump, how retailers could woo customers back to stores and how youth could be the saving grace for car cos in bad economic times. It wasn't all bad of course.
Sluggish economy isn't slowing product launches May 7, 2001
"The threat of economic slowdown has not dampened the 'damn the torpedoes, full steam ahead' spirit of Canadian marketers – or their new product launch activities."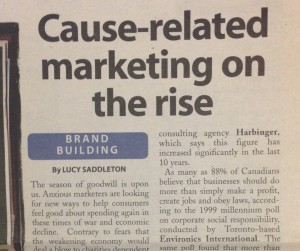 It seemed like all the brands were trying their hands at new products, with Kellogg's, P&G, Polaroid and Clearly Canadian Beverage all coming out with extensions and launches.
Cause-related marketing on the rise Dec.3, 2001
"Contrary to fears that the weakening economy would deal a blow to charities dependent on donations this Christmas, a growing consumer desire to give something back to the community has led to a recent splurge of cause-related marketing campaigns."
Creative Report Card
And as always, we'll wrap up our time travel with the top creative agencies, brands and creatives who graced strategy's annual Creative Report Card. Sadly, since we kept tinkering with the layout on the newsprint, running shots of the list didn't really work. Check out the top clients, agencies, creative directors, art directors (the copywriters seem to have been lost in the poor-formatting ether). We spy big names like Zak Mroueh and Christina Yu on the list. Which other big players do you see?

Want more strategy Throwback? Catch up on the headlines from 1989, 1990, 1991, 1992, 1993, 1994, 1995, 1996, 1997, 1998, 1999 and 2000.