Weekend reading: Aeroplan grows up
As it celebrates its 30th birthday, here's how the brand learned to spread its own wings.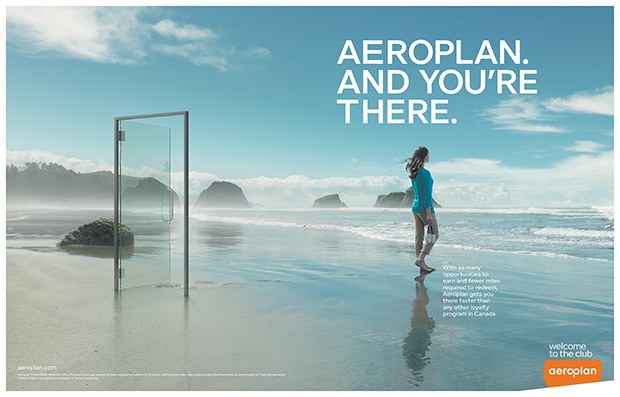 This story appears in the October 2014 issue of strategy.
Aeroplan could make a great coming of age flick…assuming people wanted to see a movie about a frequent flyer program growing up, of course.
The points program started as a small element of Air Canada's overall marketing mix – a way of enticing flyers to remain loyal. It didn't have much of its own brand identity, being heavily tied to the airline. As it navigated the '80s and '90s, it explored new partners, and even had a fling with the Diners Club card. But still, its identity was limited and undefined.
It wasn't until the brand cut official ties with its parent company in 2002 and struck out independently that it started coming into its own. And now, at 30, Aimia-owned Aeroplan is all grown up with a distinct personality. And as the industry salivates at the potential of big data, and customers demand personalization, the frequent flyer-turned-travel-rewards-turned-coalition program wants to be the company that makes everyone, from consumers to brands, happy.
In the '80s, the loyalty space was nowhere near as saturated as it is today.
It wasn't until 1981 when American Airlines introduced AAdvantage, which rewarded frequent flyers with special airfare rates, that the modern frequent flyer program was born. After that, airlines started introducing their own programs rapidly, says Kevin O'Brien, SVP and chief business development officer, Aeroplan.
Aeroplan's 1984 launch marked the first time an airline in Canada offered such a program. "Airline margins have always been extremely difficult," O'Brien says. "[Frequent flyer programs] were based on the idea that you could be much more effective in how you deployed your money if you knew more about your customers." The program amassed very basic personal information, allowing Air Canada to create more personalized marketing and giving it a way and reason to talk directly to consumers, he says, something that wasn't very prevalent in the early '80s.
Aeroplan launched as a department of five. In the early days, it was a very manual process to receive points, says Christa Poole, manager, external communications. Members were sent stickers, which they placed on their paper tickets after the flight. They would then have to send the ticket to a fulfillment house, which would enter the flight data into a system for crediting. If a member wanted to redeem points, they would have to call and request a certificate by mail.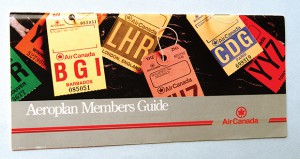 The Air Canada subsidiary really didn't have much of a brand identity of its own, relying on the parent company for all marcom. No distinct advertising existed, says David Klein, former VP marketing and innovation, who has worked on the brand since the '90s while he was at FCB, one if its agencies during that time. Member acquisition was handled almost exclusively at the boarding gates, where Air Canada employees asked if people were already part of the program. If not, he says travellers were signed up on the spot.
But despite this, Aeroplan quickly took flight, growing to include new travel partners, such as car rental cos and hotels. Other companies were enticed by the concept of rewarding loyalty, O'Brien says, so evolving into spaces related to travel simply made sense. By 1985, more than 100,000 people had enrolled in the program.
The first time Aeroplan really started exploring outside the Air Canada "nest" was its partnerships with CIBC in 1991 and Diners Club in 1993.
It marked the brand's first shift from a frequent flyer program (earning points while travelling – and for distance) to travel rewards program (earning points while spending money to help pay for travel).
O'Brien says bringing credit cards on board was, again, a natural evolution for the brand into the travel ecosystem.
"People were starting to catch on that airlines had unique relationships with people that maybe they could hitch their wagon to," O'Brien says.
Indeed, when CIBC first allowed people to sign up, he says there were lines around the block. In fact, he says anecdotally some branches had to extend their hours, with early adopters being those who were already travelling for work and earning points. A credit card simply allowed them to do it on everyday purchases. After bringing CIBC on board, membership in the program doubled, and it gained roughly 200,000 new members each year.
Yet the brand still didn't have much of its own ID, says Poole. Though it was active in print (the Globe and Mail being a preferred vehicle to reach the business audience), it shied away from masterbrand campaigns on TV. In fact, Aeroplan's first foray into television in '91 was led by CIBC and designed to inform people about the new card – rather than Aeroplan's benefits.
Much of the brand's activity throughout the '90s and early 2000s was led by CIBC, with Aeroplan enjoying the fruits of the bank's labour. For example, in 2001, the bank partnered with Advantex to create an online portal that allowed people to earn Aeroplan points on their CIBC Visa when they shopped online. The portal included a widget that tracked people's points accumulation. However, this was more of a play to encourage online shopping in the early days of digital retailers, rather than to build up the Aeroplan brand.
Aeroplan faced some competition in the '90s: Air Miles, its biggest adversary, opened its Canadian operations in '92, while other banks caught wind of the popularity of travel rewards program, each launching their own travel reward cards in turn. By 2000, Canadians were well familiar with the concept of "earning points," meaning Aeroplan had difficulty differentiating itself from the competitors.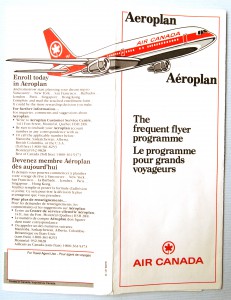 In fact, it wasn't until Aeroplan split off from Air Canada in 2002 that it started exploring its own identity.
The split from the parent company was difficult for the brand and came on the heels of Air Canada's merger with Canadian Airlines.
"It was an absolutely crazy time, to put it mildly," says Rupert Duchesne, who was president and CEO at Aeroplan at the time of the split, and now group chief executive at Aimia. Just prior to Air Canada's acquisition of the competition, there had been a strategy meeting looking at what parts of the business could be expanded, he says. "The one that made most sense was Aeroplan [because] it had the most revenue from outside sources."
Aeroplan was spun out from AC to extract the value from the program and monetize the asset, says Poole. The logic was that loyalty programs are more stable than airline profits, so splitting it off created a cash-producing business. (Even today, Aeroplan continues to be a source of revenue for the airline through Air Canada's tiered reward program and seat purchases.)
It required completely splitting off the company, which at the time was made up of eight employees, to create and fill rolls in all departments from finance to the call centre.
Beyond losing the comfy perks of working at Air Canada (such as a generous pension plan and free flights), there was also the risk that Aeroplan wouldn't survive on its own. (Ironically, in 2003, Air Canada went through bankruptcy protection, says Duchesne, and as a separate entity, Aeroplan wasn't adversely affected.)
And while the rewards program was well on its way to its independence, the events of Sept. 11, 2001, threw the entire travel industry "off kilter," Duchesne says, forcing the brand to delay until mid-2002.
But the transition allowed the company to brand itself – the first time it had its own identity since its creation. Early positioning focused on the tagline "Have a dream," while marketing efforts were geared at growing the appeal of the brand to reach a broader group of "better off" Canadians, says Duchesne. That meant bringing in new partners to broaden the appeal even further (beyond the business traveller), including Esso and Amex.
Klein says the job for the marketing team wasn't to distance the Aeroplan brand from Air Canada (though he says they consciously stopped using AC's famous roundel mark). Rather, he says focus was on communicating that AP was no longer just for travel to a customer base that only knew it as such, while also bringing in new general consumers. Messaging shifted towards "this notion of integrating Aeroplan into your everyday life, your everyday spend," Klein says.
Branding efforts touted a "joie-de-vivre positioning," introducing the tagline "Rewarding life" in 2007. By 2008, it had launched a program that allowed people to "shop" with their points online.
However, despite its foray into its own identity space, Aeroplan faced a number of obstacles: with banks now in the loyalty game, one 2010 study by Maritz Canada found loyalty programs run by financial institutions had higher member satisfaction rates than coalition programs, and Air Miles enjoyed an 81% awareness rate, compared to 60% for Aeroplan. One survey by Frequent Business Traveler, a trade publication in the travel rewards space, found Aeroplan was the least-liked program in Canada, with less than 30% of survey respondents saying they were satisfied or very satisfied – 43% said they were unsatisfied or very dissatisfied, largely due to the point redemption process.
"We [started] looking for a way to drive more emotional engagement of what the member experience was meant to be," says O'Brien. In 2010, the points program brought in Toronto-based consultancy Hazelton Group to do a deep-dive into the brand's positioning and place within the industry. It also brought in Cossette as its AOR (after working on a project basis with Diesel – later Sid Lee, FCB and Rapp over the years) to handle both creative and media.
By this time the program had nearly 4.5 million members and a marketing team of 75. It had also gone through myriad owners, transitioning from a subsidiary company to a privately-owned one to publicly-traded (in 2004) and finally a privately-owned company in 2008 when Air Canada divested its final shares. (In 2011, the company renamed its parent group Aimia to distance the Aeroplan brand from the global expansion into other loyalty networks.)
In 2009, the company identified the need for a more comprehensive blueprint for its growth over the next five years, examining its relevance to both members and partner companies. As a result of this deep-dive, O'Brien says they identified an opportunity to become a more elite program.
The emphasis was on the idea that being an Aeroplan member should grant people privileges you can't get elsewhere.
"As we looked at it 'joie de vivre' wasn't broad enough," he says. "It didn't fit with this spirit we were trying to create, that Aeroplan is something members aspire to get more out of."
O'Brien says they identified an opportunity to play in the exclusivity space, resulting in the brand's 2011 identity iteration, "Welcome to the club."
It wasn't about acquiring new cardholders, he adds, but rather engendering more loyalty among shoppers to the coalition partners.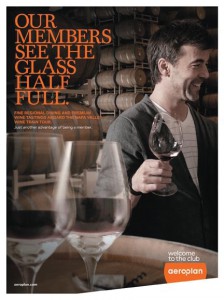 "We had members who were flying with Air Canada, but not necessarily holding an Aerogold Visa," he says. "We had members who had the Visa, but they were spreading their flights around. We had people who were being promiscuous with where they got their gas. But if they were really buying into the club, they would have consolidated their behaviour."

As a result, a mass campaign was created pointing back to the fact that as an Aeroplan member, consumers were part of a unique group of people with access to unique things. When Aeroplan started embarking on this rebranding journey, Klein says they came to the realization that the journey (physically going from point A to point B), while important, wasn't a key factor for consumers. It was the experience people had when they reached their destination that mattered most.

The brand started introducing exclusive experiences – such as getting one-of-a-kind guitars or trips to world sporting matches – to complement the existing reward structure. "[We] dialed up the communication of rewards based on experiences," he says. "So it wasn't just about flying from Toronto to Vegas on your points. It was about the helicopter ride you booked when you got to Vegas."

The brand also benefited from even more partners. It was no longer just CIBC spreading the word about Aeroplan, O'Brien says. "Try to watch a baseball game and not see Home Hardware ads with the Aeroplan logo on them. It's impossible," he says. "Shop.ca is all over TV right now talking about Aeroplan offers."

The brand's net promoter score – its main form of customer satisfaction measurement – has done well, he says. The system, which measures whether someone would recommend a product or service to a friend and averages it out to a score, tends to reward the most favoured companies in the world in the 60% range. Prior to the changes, Aeroplan would typically run in the positives (meaning more people were saying positive things than negative) but would receive less than 20%. Now, the brand is consistently running 15 to 20% higher.

So what does the future hold for Aeroplan? In a word, data.

The company renegotiated its two-decades-long partnership with CIBC to bring in TD as another credit card partner, and a big factor in renegotiating the deal was to build in agreements around things like the banks identifying places members were spending money where Aeroplan didn't already have a retail partnership.

"As you can imagine, a contract put together in 1991 didn't really conceive of data as a primary reason for having a relationship," O'Brien says. "It was all about the currency exchange."

But having something of value for consumers is simply no longer enough for Aeroplan – or its business partners.

More and more brands – especially retailers – are launching their own loyalty programs, enticed by the possibilities of data. As a result, Aeroplan has to create more value for its partners or risk losing them.

For example, it could help manage things like partner inventory – such as tailoring product selection based on member preferences in an individual store – something Aeroplan is working towards for its partners.

The brand has also expanded its data-crunching capabilities internally, adding employees to its predictive analytics teams, not to mention adding entire departments dedicated to handling clients' marketing, and it launched a digi-specific team handling social and digital marketing.

From a consumer-facing perspective, the brand continued to evolve its exclusivity messaging by launching its latest platform called Distinction – a tiered service that rewards people with certain point levels (the basic being 25,000 points), with even more exclusive rewards. Until recently, only frequent flyers received any preferential treatment for mass reward collection.

"The bulk [of members] aren't frequent flyers anymore," O'Brien says. "There's one guy who earns 20 million [points] a year because he runs his business through his Amex card – what do you for that guy? You have to recognize him in some way, and we weren't."

The Distinction program is designed to address this issue, such as rewarding members with bonus miles or chartered flights. The program is also designed to encourage people to level up, with three distinct tiers in the program ( Dsilver, Dblack, Ddiamond) with different types of rewards in each.

The ultimate goal, O'Brien says, comes down to a ménage à trois of loyalty. "We want our members to be loyal to us, our partners to be loyal to us, and our members loyal to our partners."