John St. opens Montreal office
Say bonjour to your new agency, Montreal. The Toronto-based shop is the fourth to open a French office this year.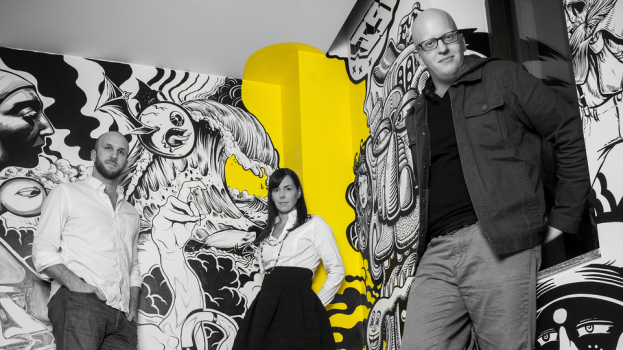 Is there something in the water in Montreal? After 10 years of eyeing the Quebec market, John St. is taking the plunge, opening up its first office outside of Toronto in Montreal, the fourth agency to do so in 2015.

The agency is bringing on board Sebastien Lafaye and Cedric Audet, formerly of Bleublancrouge, to lead the office creatively as ECDs. The duo's award-winning work caught the attention of the Toronto office, including the pair's recent campaign for the Church of Montreal, "Say your prayers," placed above a high-traffic crumbling bridge.

Mylene Savoie joins as managing director of the office, coming from Taxi where she worked as a group account director.

Arthur Fleishmann, president and partner at John St., says the decision to open the Montreal office was made largely as a result of client demand.

"We've always offered French services," he says. "But it's been largely sufficient to use account leadership out of Toronto and a tight-knit group of creative and account service people on a freelance basis out of Montreal.

"But as we started getting larger and more complex clients, their asks became more strategic and more about unique thinking and work in Quebec. And the best way to do that is to have some of the best and brightest we can find in Montreal."

While brands are trying to maximize their reach across Canada, many are realizing there a more than just subtle differences between the Quebec consumer and English Canada, he adds (pointing to their affinity for smaller cars and less of a focus on saving money, for example).

But more than client demand, the new office is an opportunity to tap into the rich creative talent pool that's been bubbling up in Quebec, says Angus Tucker, partner and ECD at the agency.

"I think over the past 10 years, Quebec is really punching above its weight from a creative standpoint across all sorts of entertainment-based media," he says, adding it can often be harder for folks with French as a first (and sometimes only) language to move to new markets, meaning it can be difficult to attract that talent out of the province.

The agency has currently carved out a space in a shared WPP office (sadly, not on a street called John, but only a closely-named rue St-Jacques), and will continue to expand based on client need, however at this time there is no set headcount for the office.

(Check out the new digs in the video below.)

Some of John St.'s major clients will work with it in Quebec to some degree for original and adapted work, Fleishmann adds. John St.'s clients include Mitsubishi, Winners and Tangerine.

This news comes on the heels of Union's move into la belle province as a result of its Infiniti win and evolved Kraft portfolio. DDB also opened up shop in Quebec this month, following its Volkswagen account win last summer, while Rethink is moving into the province in March.