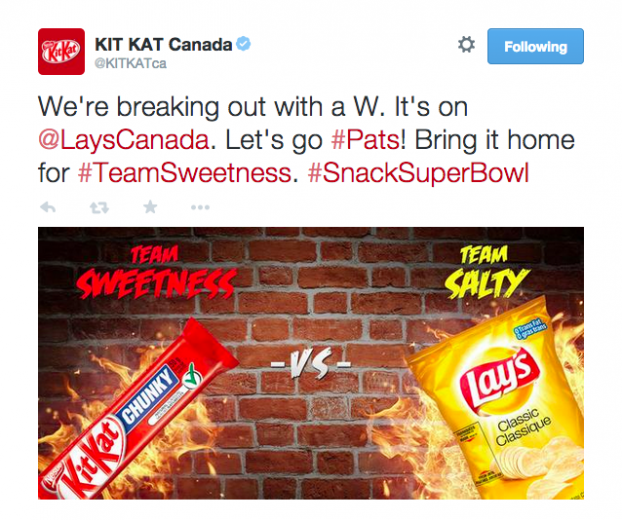 Over the weekend, two somewhat competing food brands (as in, they both compete in "snacks") teamed up for a Twitter battle of Super Bowl proportions. Or, rather, a friendly throw down during the Super Bowl.
It all started when Nestle and PepsiCo were teamed up in an unrelated promotion around Loblaws and PC points.
Nestle's digital agency OneMethod brought forward the idea to the team, and decided the big game might have been a perfect opportunity to work together again. Kit Kat, which has only been on Twitter a year, was selected, while OneMethod and Nestle approached the Lay's brand to see if they'd be up for the challenge. Each brand picked a team, and the losing side has to change their profile pic.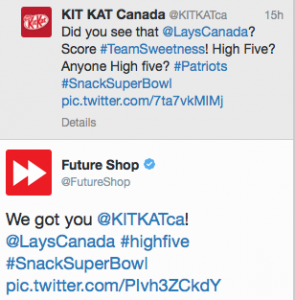 PepsiCo brand Tostitos, which is an official Super Bowl sponsor, was invited to "referee" the throw down. And as the day went on, other brands like Future Shop and Best Buy jumped into the fray. In the end, Lay's sported Kit Kat's profile picture.
Though results are still coming in, Mark Hewitt, business lead at OneMethod, says the early numbers are very promising, with more than 100 new followers for the Kit Kat brand (which wasn't the goal, he says), and nearly 500,000 impressions.
This isn't the first Twitter throw down, of course, with brands like Taco Bell and Old Spice engaging with competitors and complementary brands over the past few years.
As it becomes more prevalent and popular in marketers' tool kits, we check out four lessons from this past execution to help you plan your next battle.
1) Pick your brands based on the battleground
Kit Kat was the pick for Nestle because it's a well-followed brand internationally, but locally its social presence is young, so it made sense to partner with another well-established brand with an active Twitter following (like Lay's). But the Kit Kat Chunky brand is the one that's most closely associated with football, says Hewitt, so the brand narrowed its focus on that line extension.
And though Tositos was the official PepsiCo sponsor (and thus resulted in its ref status), Lay's is a natural fit for a Super Bowl battle because the chip brand is so prevalent in people's homes during the game, says Max Sawka, copywriter for OneMethod. "It's absolutely a snack you have during the Super Bowl," he says.
What's more, while both brands typically target a wide array of Canadians, Kit Kat Chunky and Lay's game-day sweet spot typically skews towards young men, so there was synergy between the target audiences.
Finally, the brands were selected based on their taste profiles. They aren't directly competing brands, so this helped keep things friendly – consumers might favour one versus another, but they can and often do choose both.
2) Have a jam session 
This may seem obvious, but the battle did not occur spontaneously on the day of. In fact, Nestle approached PepsiCo a few months ago to have a few "jam sessions," Hewitt says.
The pair decided when the challenges would be issued, who would engage first and some general posts to get the ball rolling.

"When you go into a public forum, there are so many examples of tweets that have gone wrong," says Hewitt. "And when you're dealing with a big brand like Lay's or Kit Kat, you want to make sure what you're saying it approved by both brands. Early on in the process of setting up the Super Bowl challenge, we had guardrails in place. They knew and we knew exactly what we were going to do, what the outcome was. The staged tweets were written and approved ahead of time, and their community manager and our community manager were both online at the same time watching what was happening."
3) But plan for spontaneity
Hewitt estimates that 30% of the content was pre-planned, while 70% was on the fly. In fact, the brand's most engaged-with piece of content revolved around Katy Perry's half-time number.
"It's important that the conversation is organic and natural," says Tracey Cook, director of creative at Nestle. "If it is too contrived there is less likelihood that it will resonate with consumers. And millennials especially can smell disingenuousness a mile a way."
4) Consider paid media support
Cooke says she was very happy with the outcome of the whole battle, and would "definitely" consider a follow-up throw down. But if there's one thing she'd change, it would be more paid support. "Moving forward, strategically placed paid support behind the tweets could created greater engagement and buzz," she says.