Happy Meals, with a side of thanks
Ronald McDonald House strikes a grateful note in its latest spot.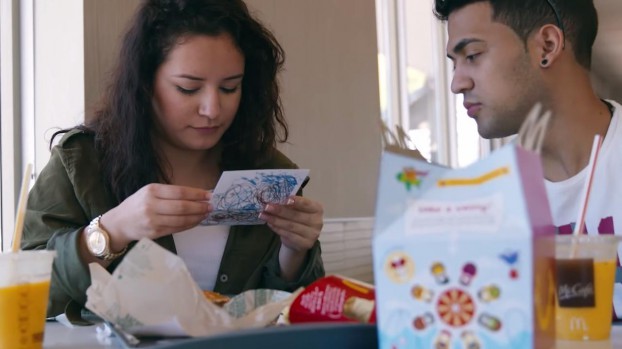 Ronald McDonald House Charities is finding a way to show appreciation for those who support its work, even if they don't know they're doing it.
The charity, established by McDonald's, gives families with children affected by serious illness a place to stay when treatment forces them to go to a hospital far from home. For the past 10 years, a significant portion of its funding comes from Happy Meals, with 10 cents from every meal going directly to RMHC.
On Sept. 17, every Happy Meal served from 6 a.m. until the early afternoon contained a hand-written thank-you note from a family, child or parents that RMHC has supported. Nearly 80 cards were received from families, which were replicated nearly two million times to be include in the meals. Reactions from customers were captured in a video that was launched the next day, which will be pushed online through Ronald McDonald House and McDonald's Canada's social media channels.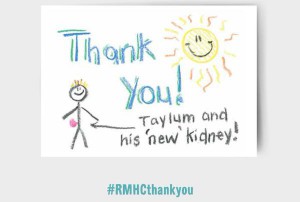 All of the cards have been collected on a special microsite, along with the stories of the kids and families that made them. The cards also link to the site of the local Ronald McDonald House the family stayed at, so Canadians can find ways to support their local branch directly.
Creative on the campaign was handled by Cossette, with Tribal handling the digital elements and OMD on media buying. Weber Shandwick handled PR for English Canada and National PR for Quebec.
Cathy Loblaw, president and CEO of Ronald McDonald House Charities Canada, says the organization felt the 10th anniversary of the Happy Meal program was the right time to highlight the kids' meal's role in fundraising, which had been "quietly operating" until now.
"The families are always sharing their thanks with us, but it's really the customers who have made that program so successful, so we thought it'd be nice to connect that thanks directly to them," she says. "No one ever expects to be a Ronald McDonald House Charity, but that can be turned upside down in a second, and it never occurs to us that if our child gets sick, we might have to be away from home for a long time."
Much of RMHC's previous public awareness work has focused on the service it offers and stories of the families it supports to drive awareness about what exactly the charity does. But this is the first time RMHC has shown its appreciation for those that simply buy a Happy Meal, many of whom don't know that it supports the charity, in the hopes that will open up more avenues of support and awareness.
"'Ronald McDonald House' is a term Canadians are familiar with, but unless you've actually been a family or know one that has, people don't always understand what it is," Loblaw says. "Learning that, in addition to the fact that they've already been helping us, grows the circle of support."