Android Pay launches in Canada
Which banks are on board and what features should you expect from Google's mobile wallet?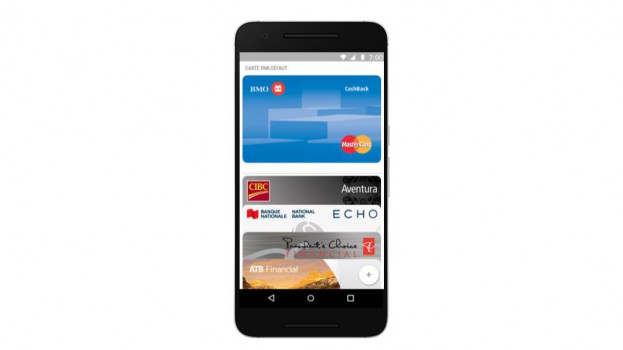 Google has brought another mobile payment service to the Canadian market, launching its Android Pay mobile wallet here on Wednesday.

Android Pay works on any mobile device running the Android KitKat (4.4) operating system or higher and has NFC capabilities. After linking a card from a participating financial institution to their Android Pay account, customers can use it to pay by holding their phone up to any terminal that accepts NFC or "tap" payments. The phone only needs to be unlocked, and the Android Pay app does not need to be open.

Android Pay also promises easier purchases when shopping online or through an app, letting users tap an Android Pay button instead of entering their payment information. Online partners supporting Android Pay payment include Uber, 1-800-Flowers, Shopify, Ritual and Lululemon.

At launch, the product is compatible with Visa and MasterCard credit cards issued by BMO, CIBC, National Bank, Scotiabank, Desjardins, President's Choice Financial, ATB Financial and Canadian Tire Financial Services. On Monday, support will be added for Interac debit cards issued by BMO, CIBC, Desjardins and Scotiabank. Google says support for American Express credit cards and Tangerine bank customers are expected to be added in the near future.

Notably absent from the list are TD and RBC. In Canada, TD and RBC both offer mobile payment through Apple Pay and their own apps. In a statement sent to strategy, an RBC spokesperson pointed to the availability of the RBC Wallet app on Android devices, though also said the company sees "significant potential" in both RBC Wallet and third-party mobile wallets as the technology continues to mature in Canada. Similarly, a statement from TD said the bank does not intend to sign on for Android Pay at this time, but added it is "always looking for ways to enhance [its] existing offerings" to customers.

While some banks seem content to play wait-and-see with how clients adopt mobile wallets, others have made the commitment to embracing third party apps going forward. Last month, CIBC – which touted its status as the only bank to offer customers Apple Pay, Samsung Pay and Android Pay in a press release yesterday – pulled its own proprietary mobile wallet app, largely due to the positive response it saw among clients for the offerings from Apple and Samsung.

Paying with Android Pay will earn customers the same points and rewards they would have by using the physical card. A Google spokesperson also told strategy that Canadian users will be able to store loyalty and gift cards in Android Pay and make payments, use gift cards, redeem offers and claim loyalty points from select merchants.

Apple has said it will add loyalty support for Apple Pay in Canada in the near future. Samsung Pay rolled out loyalty card support in Canada earlier this year, though that service is still only available to CIBC customers.

At the Google I/O developer conference in May, the company also announced its Card Linked Offers API, which allows merchants to engage with and send offers to customers who have linked a loyalty program to Android Pay before and after entering a retail location. Google was not able to confirm by press time whether this feature would be available to merchants in Canada.

What remains to be seen is if the availability of more options will help jumpstart the desire among Canadian consumers to use their phone as a payment device in-store. A survey from Accenture last fall showed that regular usage of mobile wallets has remained flat year-over-year at roughly 11%, with 13% reporting using it weekly. The most common reason cited for not using mobile wallets was that physical cards adequately served their existing needs. However, the respondents expressed optimism at using them more by 2020 (20% for options from established card networks and 15% for options from tech companies).