KBS wins Epica Grand Prix
The agency's design work for Innocence Canada is among 11 Canadian winners at the show.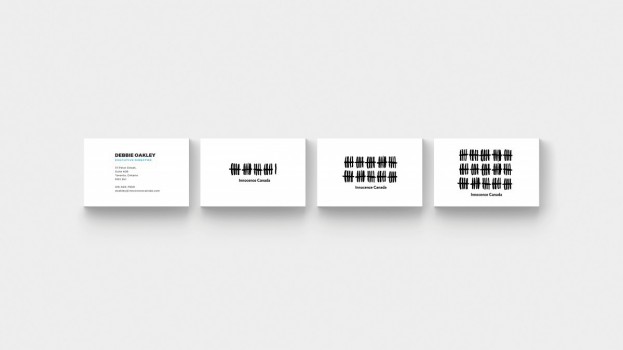 KBS Canada has won one of the top prizes at this year's Epica Awards, winning the Design Grand Prix at the awards show judged by members of the industry press.
The agency created a new brand for Innocence Canada, a non-profit that works to advocate for and exonerate those convicted of crimes they did not commit. The logo was created by having each of the 21 people Innocence Canada has helped to exonerate paint a single black tally mark. The logo is meant to be dynamic, with new tallies being added every time Innocence Canada successfully gets someone wrongfully convicted exonerated and showing the impact of its work.
The work also won Gold in Design and Silver in Graphic Design.
While KBS picked up a Grand Prix, it was Cossette that led Canadian agencies in total award wins. It picked up a pair of Golds in the Film category for the SickKids "Undeniable" spot, while also getting recognition for its work with McDonald's and the Banff Centre for Arts and Creativity.
Other Gold wins went to Brad, Rethink and Leo Burnett.
The Epica Awards are judged by members of the advertising and marketing industry press from around the globe. Members of strategy's editorial team were among this year's judges, though jury members are not able to vote on entries from their own country.
Elsewhere at the awards, BBDO New York was named Agency of the Year on the back of a Film Grand Prix win for the "Evan" spot it created for non-profit Sandy Hook Promise, as well as wins for Mars, Bacardi and GE. McCann was named Network of the Year, an honour helped by a Bronze win from McCann Canada.
Overall, 11 Canadian agencies were recognized at the award show. The full list of winners can be found below.
KBS Canada: 1 Grand Prix, 1 Gold, 1 Silver
Grand Prix
Innocence Canada, "Living Logo": Design
Gold
Innocence Canada, "Living Logo": Design
Silver
Innocence Canada, "Living Logo": Graphic Design
Cossette: 2 Gold, 2 Silver, 4 Bronze
Gold
SickKids, "Undeniable": Film, Direction & Cinematography
Silver
Banff Centre for Arts and Creativity, "Piano": Film
McDonald's, "Is It Still A Big Mac?": Film
Bronze
Banff Centre for Arts and Creativity, "Piano": Online Campaigns
SickKids, "DadStrong": Film
SickKids, "Momstrong": Film
SickKids, "Undeniable": Online Campaigns
Brad: 2 Gold, 1 Bronze
Gold
Friends of Canadian Film, "Spaceship at the Border": Film
Pendopharm, "Long Time No See": Film
Bronze
Friends of Canadian Film, "Spaceship at the Border": Post-production & Visual Effects
Leo Burnett Toronto: 1 Gold
Gold
IKEA, "Cook This Page": Promotions & Incentives
Rethink: 1 Gold
Gold
Branch Out Neurological Foundation, "Brothers": Radio
BBDO Toronto: 2 Silver, 2 Bronze
Silver
FedEx, "Stress Management": Film
Take Note, "Notes": Copywriting & Storytelling
Bronze
Girl Talk HQ, "Uninterrupted": Radio
Take Note, "Notes": Online & Viral Films
Lg2: 1 Silver, 1 Bronze
Silver
Farnham Ale & Lager, "Office": Film
Bronze
SAAQ, "Emma": Radio
Sid Lee: 1 Silver, 1 Bronze
Silver
Fuel Transport, "Fuel Transport Branding": Graphic Design
Bronze
Fuel Transport, "Fuel Transport Branding": Brand Identity
Zulu Alpha Kilo: 2 Bronze
Bronze
Harley-Davidson, "Common Ground": Product & Brand Integration
Self-promo, "Say No To Spec Buttons": Corporate Image
McCann Canada: 1 Bronze
Bronze
Prostate Cancer Canada, "Your Mom": Radio
No Fixed Address: 1 Bronze
Bronze

Boom 97.3, "Mixtape of You": Online Campaign