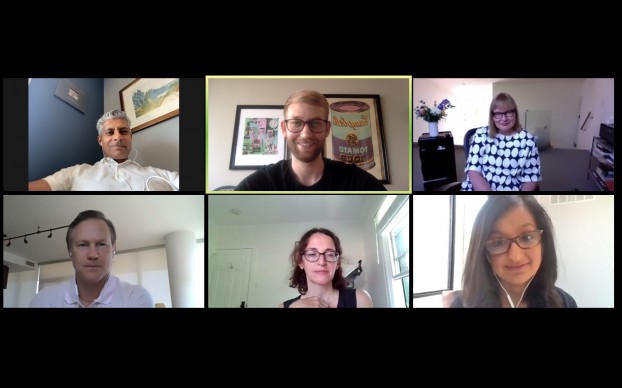 This article is part of an ongoing series on diversity and inclusion, with a particular focus on Black, Indigenous and People of Colour representation in advertising. It is based on a recent virtual roundtable with members of strategy's CMO Council that featured Antoinette Benoit, CMO at McDonald's Canada; Clinton Braganza, CMO at Scotiabank; Neetu Godara, founder and chief growth officer at Social Lite Vodka; and Jon Mamela, EVP and CMO at Destination Toronto. You can read parts one and two of the series here. This week, strategy focuses on making marketing communications more inclusive and diverse.
This story first appeared in Strategy C-Suite, a weekly email briefing on how Canada's brand leaders are responding to market challenges and acting on new opportunities. Sign-up for the newsletter here to receive the latest stories directly to your inbox every Tuesday.  
How are you thinking through the process of being more inclusive and more representative of Canadian society when it comes to your marketing communications?
McDonald's Antoinette Benoit: That's something we have been working on for a while, which is to try to show people as they are. Sometimes, people think you're doing it too much, and you become no [longer] credible. [The question is], how do you do it without giving the feeling that you're simply trying to do the right thing? How do you do the real right thing? Not just the nice, right thing.
I was watching an ad from the Netherlands [recently], where white grandparents who have been confined for a long time in their house decide to go to McDonald's. On the way back, they meet with their grandkids and their daughter, and the grandkids are black. You decode quite quickly that the dad is black. But there's one second where you think, 'Is it too much, too forced?'
Scotiabank's Clinton Braganza: What I aspire with our marketing is to be authentic storytellers. I agree with you and that sometimes it can feel forced, and sometimes it just fits so naturally. Whether [you're using] people of colour, or whether it's sexual orientation, the [decision-making] process needs to feel authentic, it needs to feel part of the story, versus check the box. If you're trying to check the box, then you're going to come across as inauthentic. Or at least, you increase the odds of coming across as inauthentic.
The first few times you do it, you obsess over the details. But once that ball starts to roll, it starts to feel very natural. And then you realize we live in a nation as diverse as Canada, and as marketers, we need to make sure we're representing the population. It doesn't need to be any more complicated than that.
Destination Toronto's Jon Mamela: As representatives of the destination of Toronto, we would be foolish not to be looking [at this] seriously, and we have – not only in the stories we tell, but the content creators that we engage. To Clinton's point about authenticity, we put the story in the hands of the creator to tell it through their eyes and their view of the destination.
We've got an obligation to be more inclusive of other neighbourhoods in the city; we might under-represent stories [coming from certain] neighbourhoods and corners of the destination. We recognize we can continue to get better at this. For us, that comes not exclusively through a single agency or through my team alone – rather, that engagement with the broader community is core to how we best tell the story of the destination.
Social Lite's Neetu Godara: On the thought of being authentic and not feeling forced, I agree. We all see ads sometimes and almost cringe at the forced nature of it. Part of it is, who's at the table making the creative? Who on the team is writing the brief? Who's the copywriter? Who's casting?
We work in a very different way as a small company, but coming from the corporate side, it's like, who are all the people at the different levels of the creative process? And is there an environment where people can have honest conversations about whether it feels authentic to people's experiences? And if there aren't people with different experiences at that table, then there's no one to ask. It starts with, 'Does this feel good to the people creating it, and do the people creating it represent the Canadian diversity to begin with?'
How do you know if you're being diverse enough? How can you make sure you're reflecting Canadian society, when there's diversity within diverse communities? 
Braganza: Organizations that do a fair amount of testing before deploying assets ask a series of questions designed to predict the effectiveness of the asset in market. Modifying some of those questions in order to cover what you're suggesting is one technique.
Certainly having a diverse team – whether it be the marketing team, whether it be the agency team – puts the odds in your favour. But that's a much longer time horizon, because talking about the need for more diversity on teams will take time. It's not going to happen overnight… And I'm not sure there's ever an end game or destination, given the makeup of Canada. This will constantly be a journey based upon the knowledge that we're gathering during times like this, as both human beings and as marketers.
Benoit: It's not only what you show in your ads; it's what you do in reality. It's easy to [show diversity] in your ad. The question is, is your brand inclusive? Does your company invest in diversity? Do you have special policies? That's the [unseen] path, which is probably much more important. And it's when you take that path that we evolve the culture and then, at some point, you can also showcase diversity in a meaningful and true way.
Braganza: To that point, a lot of brands, particularly in the U.S., were taken to task for being supportive of Black Lives Matter. Because when you peel back the layers of the onion, they have no representation at the senior levels of their institutions. It's challenging, right? But that's going to need to change.
When you look at the industry as a whole, do you think a lot of this work towards more inclusive marketing is going to be carried out by clients or by their agency partners?  
Braganza: It's got to be both. I don't think you can put this responsibility on a person, on a department, on an agency. It needs to be all of the above. I know we're a group of marketers talking about marketing, but I firmly believe this is beyond just marketing. We have to forge stronger relationships with human resources as it pertains to our hiring practices and our promotion practices. But when given the question of, 'Is it agencies or marketers?' I choose option C – both.
Mamela: I agree, there isn't going to be any degree of progress with only one of the parties in that two-party scenario. The expectation that one is going to push it and one would be opposed or not committed to it certainly wouldn't make for a long-lasting relationship.
The expectation of the agency [has to be] as a partner to the client in terms of appreciating where we come from, our values, the direction we take, and the intentions we have relating to diversity and being authentic to the stories we want to tell. Maybe in some instances an agency is pulling the client along. But I'd say it's going to be rooted by both and go beyond just the marketing side. It's got to be right in the ethos of the organization, across all departments.
Benoit: To me, it's part of my relationship with the agency, how much I appreciate their values. If I don't appreciate their values, then I'd stop working with the agency. When I joined [McDonald's], we were working with Cossette. Six years later, we are still working with Cossette. I think we've been working with them for 40 years. Because there's something in common in the values.
When I joined, I saw everything they were doing around trans issues, which I thought was really amazing. Now, on the topic of racism, they're having discussions with us, inviting us to attend calls to listen to really interesting people. You can decide who you work with… A diverse agency is a better agency, so you want to go with the best ones.
This transcript has been edited for clarity and length.