Old Style Pilsner welcomes you to 'Pil Country'
The beer brand builds a bar in an ice fishing shack to bring new and old drinkers together.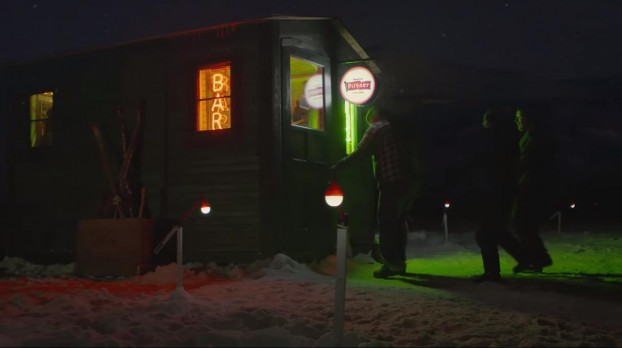 Old Style Pilsner is looking to bring new consumers to the old-school beer brand, and it's given them a place to do it.
A new campaign by the Molson Coors brand goes up to L'Anse-Saint-Jean, Que., drilling deep into the ice others more commonly use for ice fishing to create one of the world's deepest beer coolers. The brand then built its own ice fishing shack on top, creating a tiny bar where the local fishermen that have been drinking the beer for years could have a drink with the brand's newer fans.
Rethink handled creative on the campaign, with MEC on the media buy and Citizen Relations providing PR support. While the current campaign is limited to this spot, more activities around the brand and the "Yer in Pil Country Now" tagline are currently being planned for later this year.
Old Style Pilsner, which has been brewed since 1926, has spent most of its history as a favourite of working-class beer drinkers in Western Canada, where it was created and brewed. After being available in Ontario in the 1990s, it was brought back to the province's Beer Stores in 2013 and turned into a national brand when it arrived in Quebec last year.
The brand has not had a great deal of above-the-line marketing support prior to this campaign, having done some sponsorship activities, including for the CFL's Saskatchewan Roughriders. But Christine Jakovcic, VP of marketing at Molson Coors Canada, says Old Style Pilsner has seen a great deal of organic growth on its own, particularly with younger beer drinkers. The brand has maintained the same recipe since it was first brewed, as well as its working-class connection and largely the same positioning. Even though that seems to mirror the way Pabst Blue Ribbon became a popular millennial beer in the U.S., Jakovcic says the positioning is one-of-a-kind among Canadian beers.
"It's authentic in what it stands for," she says. "People who are hunters or fishermen or outdoorsmen are still drinking it, and new consumers are picking up on that and saying, 'That's cool and authentic. They're not trying to market to me because they've always been the same beer with the same label.' That's what really connects with that consumer group, which doesn't want to be marketed to."