The next wave of branded content
Here's a crash course on fusing branding and entertainment from Koodo, Dempster's, Molson and more.
In today's hyper-connected, link-sharing, Buzzfeed-devouring world, it seems every brand has "content" coming out of its SKUs.
But is it really as simple as partnering with a well-known publication? Making a movie? A four-part, star-studded TV show?
With so many brands playing in the content space, it's easy to get lost in the noise. If you want to create a TV show, you're not only competing with primetime hits, but you've got the likes of Chipotle and Hulu's Farmed and Dangerous series to contend with as well.
And with Canada's relatively small audience, it's harder to get a wide viewership afforded traditional mass-market media when an execution lives online.
So how do you balance the cost? Does your content play have to be slick to get viewers? Is it even worth it?
Read on to learn how a few brands took their branded content to the next level. From a novel approach (really… it's an actual novel) to always-on newsrooming, they're learning what it really takes to break through.
So you want to write a novel: Dempster's lessons for breaking into the book biz
Would you want to star in your own romance novel? Can bread make you feel sexy?
From those two unlikely questions, Dempster's latest branded content play was born.
But first, the setting: following the successful launch of its Healthy Way line in November (which used James Brown's "I Feel Good"), Dempster's wanted to evolve the messaging for its latest February launch of its Dempster's Zero line.
The TV spots used "I'm Too Sexy," by Right Said Fred to help promote the fact that this healthy bread could make women feel good about themselves. To bring this to life online, the brand and its digital AOR Cundari created a customizable, 120-page romance novel, set in a bakery, complete with a mysterious fire, love triangle and only 16 mentions of Dempster's. It's available through Facebook as a PDF or a Kobo download.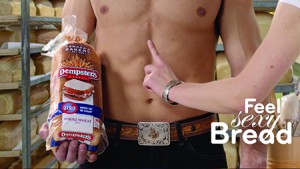 The branded content approach came out of Dempster's focus on helping women feel "sexy." It also wanted a breakthrough idea – something that hadn't been done before – as well as more engagement with its Facebook fans, says Bryan McCourt, senior marketing director, healthy breads, at Canada Bread (Dempster's parent company).
When first presented with Cundari's idea, he says, "My first [reaction] was, 'How much is this going to cost?' Because you've got to develop the content and figure out a way to make it customizable."
It turns out the cost wasn't particularly high – a third of the cost to produce an online video, McCourt says. "We knew we wouldn't get the same amount of reach [as a YouTube video] so we didn't want to spend the same amount of money," he adds.
The brand bypassed working with traditional publishers (such as Harlequin) to maintain creative control of the product, working directly with an academic who also happens to write romance on the side.
They originally found her through a community of authors online, says Sean Ganann, group CD at Cundari. He, fellow group CD Brian Murray and the author set out the initial chapter-by-chapter framework, and then she filled in the blanks.
McCourt's second concern was whether or not people would actually take the time to read a full-length novel.
The solution was to create three levels of engagement: people could view the supporting online video (featuring a woman on horseback with a shirtless man) that drives to the novel; they could create a customizable cover; or they could go the whole shebang and customize the book, filling out a simple questionnaire (which asked for the consumer's best friends' names, eye colour, favourite guilty pleasure song, and whether she likes good guys or bad boys). To date, 50% of those who created a cover went on to customize a book.
There is no way to actually track whether people read to the end of the novel, McCourt says. However a digital coupon was included, so they will track how many are redeemed, what level people chose to engage with the campaign (watch the video, create the cover or download the book) as well as pre- and post-tracking to figure out whether someone who read the book would be more likely to purchase the bread than someone who hadn't (compared to, say, only seeing the TV ad).
But why a romance novel?
A book made perfect sense, says Ganann. No one, to the best of his knowledge, had done a branded book before, helping to spread the word with some innovation and talk value. They could have done a video of some form, but videos that pull in Facebook content (such as photos or posts) had been done before and they couldn't necessarily figure out how to approach the video to emphasize the "sexy" aspect of the brief.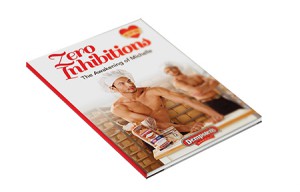 "With video, [we] found that while you have [consumers'] attention for a minute or two, you don't really engage past the end of the video," adds McCourt.
Plus, romance novels were having a renaissance, especially among the brand's core of suburban moms, he says, with books like Fifty Shades of Grey and the Twilight series still receiving record sales.
Lessons learned
1. When looking for ways to create custom content, don't be afraid to think outside the customized box. Consider going beyond consumer-generated video or a vid that pulls in Facebook photos. Be different.
2. Work with a pro. Never wrote a book? Maybe writing your first novel for a brand isn't the right time to try your hand at authorship.
3. Give consumers multiple ways to engage. Not everyone is going to want to read a novel or watch
a full-length movie.
How to create ambiance 101: WestJet's approach to always-on content
To help consumers experience travel from the comforts of their own home, WestJet, with help from media co Media Experts, took on a different approach to its branded content: 24/7 channels.
Late 2013 and into February 2014, the Calgary-based airliner rolled out a branded "atmospheric" channel on Rogers and a branded playlist on music app Songza.
While both mediums had their unique challenges, they both helped create immersive "ambiance" experiences with the brand, says David Soyka, director of marketing, WestJet.
The idea for an all-WestJet, all-the-time channel on Rogers was born after Swiss Chalet and BBDO's (which didn't work on this execution) Cannes-winning campaign two years prior.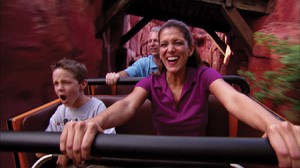 But rather than rotating chickens on a spit for days, the airliner focused on repurposing footage from various WestJet destinations and the actual flight experience itself – including the documentation of a four-hour flight from loading to unloading.
The brand was limited in what it could show on TV, hampered by CRTC regulation deeming the Rogers channel 206 as "atmospheric" (think fireplace), which is meant to only show background footage and excludes scripted and unscripted shows as well as the sale of products. Compounding this were Rogers' limits on how frequently content can be swapped out.
"When we first entertained the notion of our own dedicated channel, a lot of people immediately brought to mind some things we could do to promote a particular sale or message at a particular time," says Soyka. "But [we] recognized fairly quickly the limitations."
When asked why they chose this approach (a traditional channel, requiring lots of content to fill the time) versus another type of branded content (such as a YouTube channel or a sponsored/co-created TV show), Soyka says they were hoping to leverage existing video footage of its destinations (which previously lived on the brand's YouTube channel). "Also, we'd never think to post a four-hour video of a flight on YouTube," jokes Soyka.
To fill 24 hours a day with content, the brand repurposed much of its existing footage, mostly found online or at the start of flights, keeping production cost to a minimum. Most of the new footage, handled in-house, came directly from filming WestJet planes.
Plenty of people tuned in, says George Huovinen, director, account planning, Media Experts. Over the 13-week run, between 300,000 and 400,000 people tuned in each week.
Over at Songza, it was markedly easier. WestJet went to its social following and asked for help in curating three playlists, getting people to name a type of vacation (city versus beach), a particular destination (New York versus Los Angeles) or choose their favourite song. Then WestJet turned things over to the app, which has been making a push for more integrated brand partnerships, to create the lists and deal with the musicians and labels. The cost, Soyka says, was minimal, but the reach was huge: 4.7 million minutes were spent listening to the content, with the playlists started more than 112,000 times.
Lessons learned
1. Because of broadcast regulations, be aware that when it comes to TV channels, there will be limits to the content you can show and how easily you can switch it out.
2. People will watch a four-hour video of a plane in flight…at least for a little bit.
3. New players on the block, like Songza, can be easy to work with, especially when they're hunting for brand partners.
When your brand becomes the celebrity partner: El Tabador's rise to stardom
Two years ago, former pro wrestler Carl Demarco, now founder of Camillion Corp., had a simple request for Koodo: to make a family sitcom cartoon around the brand's mascot, El Tabador. The show is currently being shopped around by the entertainment company, and would see the lucha libre wrestler pursue a celebrity lifestyle with an offbeat entourage.
Though Koodo recognized this could be a great opportunity for the brand, there were a number of hesitations. "This pushes the envelope of our comfort zone," says Kate Robb, manager of marketing communications, Koodo Mobile. "The first thing we thought about was how do we protect El Tabador?"
Unlike most deals, Koodo doesn't have a financial stake in the program (other than ensuring a positive light remained around El Tabador), with the production costs sitting on the shoulders of Camillion Corp. So while the brand doesn't maintain complete creative control, there were lots of discussions around how the show and character were to be handled. (For example, it was decided the show would not mention cellphones or Koodo, and would revolve strictly around El Tabador.)
"We needed to make sure the measures to control were in place," Robb says. "We didn't want to sign over El Tabador and say, 'here, go run with him and do whatever you like.' We wanted to make sure what he says and does would reflect on him, and the brand, positively."
Lessons Learned
1. Lay on the table exactly what your brand/character will or won't do. This is a good time to draw up a contract and get the lawyers involved if needed.
2. Sometimes it's okay for your brand to take a backseat when your mascot gets the glory. You get the brand halo when it's positively portrayed.
The rules of El Tabador
1. He keeps his name and character design, including the mask, belt, spandex tights and Koodo colours.
2. Maintain the essence of his character.
3. He must be funny.
4. El Tabador loves pie. Never cut him off from pie!
Experimenting with content: Molson's on-the-fly social approach
David Bigioni, VP marketing, brands, media, social and digital, Molson Coors, calls content "experiments."
These experiments started during the Vancouver 2010 Olympics, when the beer brand rolled out a customized jersey app over Facebook, resulting in more than 375,000 followers – up from 30,000.
"There was a critical mass to begin [seeding out more] content," says Bigioni. "It was a turning point for us to say, 'Now that we have people's attention, how do we reward it?'"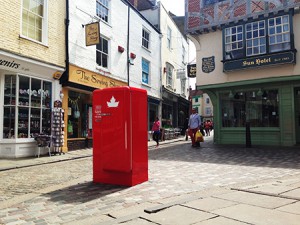 Molson started rolling out more photos, posts, articles, apps and video, including a couple of surprising viral hits along the way. But it wasn't until more recently that the brand took a more serious look at content distribution.
Recently, the company began organizing smaller digital working groups, bringing together the PR, social and brand marketing teams alongside agency partners to review content calendars in sessions called "newsrooms" to identify relevant upcoming moments to build content around, resulting in everything from 30-second stop-motion animated videos for Rickard's, or the now 1.8 million-viewed, three-minute "The Beer Fridge – Project Indonesia" spot released online.
Bigioni says this year, they've upped the frequency with which they roll out content, estimating they've increased budget and manpower dedicated to its creation "three to five times" that of 2013 levels.
But rolling out new content at such frequency still means balancing the cost to produce – especially since Molson has started layering more video into its mix over the past year.
He says the social and traditional teams share more resources when it comes to creating high-production value spots, such as "Beer Fridge." But for the most part, online-only content relies on "more real and raw footage," as it resonates better in the online space, he says.
"We're realizing we might make an investment behind three to five pieces a quarter," he says. "And we're not looking for payoff on each one, but payoff on the one that might catch [consumer's attention]."
If something "catches," they put more media dollars behind it, upping the paid search or pre-roll. And if it's really successful, digital content can start to bleed out into the more traditional space. Garnering huge traction, its "Beer Fridge" picked up mentions in the popular press like People magazine and the NBC news.
Lessons learned
1. Plan to fail. Or at least plan to try lots of things in a short amount of time. Budget around it.
2. If something small is a hit with consumers, have a plan in place to capitalize on mass-media opportunities.
3. Go for "real and raw" footage to resonate better in the online space.
Letting one brand do the heavy lifting: the Beetle drives VW's content play
As part of Volkswagen's drive to almost double Canadian sales (for more on its plans, check out p. 24), the brand and its agency partner Red Urban have ventured deeply down the branded content road. In 2013, using the Beetle as an anchor, Volkswagen released three different content pushes, including an exclusive branded CBC cross-country music tour (where a CBC personality travelled Canada chatting up bands while driving a limited edition Beetle Fender), a partnership with band Walk Off the Earth and a 30-minute documentary, paid to air on traditional channels.
With eight vehicle lines to choose from, it might seem a bit odd to put all its branded content marketing behind a single car, especially such a niche one from a niche player. Why not, say, put the branded content bulk around the Jetta, VW's most popular line, or the Tiguan, its fastest growing brand?
Peter Blackwell, director of marketing, says that while brands like Jetta and Tiguan benefit from mass-market traditional pushes (teaching consumers about one or two aspect of the brand) the Beetle doesn't need that same informational messaging. Everyone knows the Beetle, he says, so they don't need to teach people about it.
"In the grand scheme of things, the Beetle is not a volume-driving model for Volkswagen," he says. "But it over-indexes in terms of awareness and preference for Volkswagen overall. So we consciously pick marketing opportunities that we get [impressions five times greater than the spend]."
It's why the brand partnered with Walk Off the Earth, a Burlington, ON.-based band with a YouTube following third only to Justin Bieber and Selena Gomez. "All of a sudden their video is with our car on their channel – we could have never bought that exposure."
The 11-minute video features three different versions of a song (playful, soulful, powerful), and three different versions of the car. The band uses the car as an instrument, and viewers are invited to skip through the three songs, seamlessly blending the different cuts.

Though filming multiple music videos could be expensive, Blackwell says they saved money by not doing traditional media buys, meaning more funds could be dedicated to a higher production value.

Between the brand and band's channels, the video has received more than 1.2 million hits, but success was also measured through social engagement, as well as measuring Volkswagen brand health.

It's latest content push, a 30-minute doc, Once More: The story of VIN 903847, was originally born out of a desire to create more social, always-on content for super fans on Facebook. However, after stumbling across a few photos of the same car hidden away in archives, the Red Urban team realized there was a much more powerful story to be told.

Working with Oscar-nominated director Hubert Davis, Once More chronicles the life of Paul Loofs, who took his car around the world three times in an effort to meet up with his brother. It aired on Bravo and Discovery in early 2014 as a paid media buy, and now lives online in an interactive form, pulling in old travel notes, letters and more, for viewers to browse.

The key to a watchable documentary was focusing on the story behind the car, rather than the car itself, says Christina Yu, EVP/CD, Red Urban. While the car (VIN 903847) may be a Beetle, the interesting aspect was the journey it took around the globe, and the connection point it provided Loofs and his family (who were separated by continents at the time).

"It's such an amazing story about people and the relationships they have with objects and their family, and it became a bigger story than just the Beetle," she says.

What they spent on high production values, they saved with a very tailored media buy, targeting only two channels with a limited run.

And though to date the car co has focused its content pushes exclusively on the Beetle line, Blackwell says they've begun exploring similar options for other brands under the VW banner, which he suspects will start to roll out in the next few months.

Lessons learned

1. Find different ways to save. Partnering with a well-known band or doing highly-targeted media buys could mean less of a media spend, freeing up funds for production values.

2. Keep your eyes open for additional opportunities that may present themselves during a content execution, such as a fan who shares an interesting story.

3. Branded content doesn't only need to be measured through sales. Consider views and social media engagement, and the value of building brand affinity.

Want to hear more branded content insights? BCON Expo is less than two weeks away and is chock-full of great speakers and upfront sessions for your brand. Check out more info or buy tickets here.