Verdict: Awake Chocolate packs a punch
The fast-growing company has moved more than $1 million in product since its August launch, despite competing in two crowded categories: chocolate and energy drinks.
Toronto-based, caffeine-infused chocolate bar company Awake has been hitting a sweet spot with consumers.
The company launched last August by friends and former PepsiCo managers/directors, Matt Schnarr,  Dan Tzotzis and Adam Deremo has seen exponential growth and consumer engagement, with $1 million in total sales. Distribution has risen to 10,000 locations from 4,000 in January. Working with brokers in the U.S., the trio has gotten the caffeinated chocolate bar (with 100 mg of caffeine, it's equivalent to a medium Tim Horton's coffee) listed in approximately 3,000 stores, including Winn Dixie, Sheetz and Barnes & Noble college campus bookstore locations. That's in addition to the 7,000 locations in Canada, including 2,600 front-end displays in stores including Petro Canada, Shoppers Drug Mart and Loblaws, as well as stores in major Canadian universities.
Awake entered a tough market, competing with both chocolate bars and candy (where brands often fight for a sliver of a market share, with few holding more than 10%) and any other products providing a caffeine boost, such as energy drinks (dominated by Red Bell) and coffee, but Schnarr says their product can hold its own in both categories.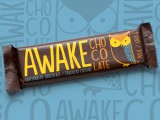 Proprietary research shows that many consumers use chocolate as a pick-me-up, he says, but since traditional milk chocolate bars usually contains about 10mg of caffeine, Awake provides a stronger kick.
Schnarr says the company's recipe to its marketing success includes an eye-catching package featuring their mascot, Nevil the owl. Seattle-based agency Tether (lead by Stanley Hainsworth, former creative director at Nike, Lego and Starbucks) did all the design work and manages Awake's social media efforts.
"Number one  is the packaging and in-store promotion," says Schnarr. "Nobody writes on their shopping list, 'I need to go buy chocolate.' Your packaging and what you do to get yourself noticed, whether it's on the counter or on the display, we find to be the most important element of the marketing mix."
Awake's main marketing focus is on trying to lock up counter displays and visible impulse locations, which he says has been the biggest driver of their business.
That is combined with a heavy dose of sampling (more than 200,000 chocolate bars and 2,000 shirts have been distributed since August) at universities, colleges and other places its energy-starved target market of 18-to 24-year-olds hang out. It also has an active social media presence (Facebook, Pinterest, Twitter and YouTube), with its owl mascot, Nevil, starting and joining discussions, while traditional PR, such as appearing on the CBC's Dragon's Den in February, also raised Awake's profile. The trio do their own PR in Canada but San Francisco-based Arieff Communications has been brought on to run their PR program in the U.S.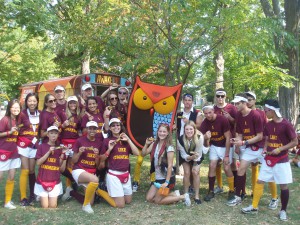 Schnarr says Awake has already become the best-selling chocolate bar at many Canadian university campuses, selling up to 16 bars per store, per day, while some college stores have started selling bulk boxes to students.
The company intends to do a second campus tour in the fall – adding American colleges to the mix. By then it will have introduced a new product – a bag of 10 bite-sized bars, about 1/3rd of the size of the regular bar with half of its caffeine (about half a cup of a small coffee).
Photo: Awake Chocolate mascot Nevil poses with students at Kingston, Ont.'s Queen's University during frosh week.