Brands stand up to bullies
As the issue of bullying dominates global headlines, a slew of Canadian brands and agencies are responding. But will brands be recognized as authentic supporters and not just background logos?
A girl sits at the edge of her bed and holds up a stack of white paper bearing words written with bold black marker.
"I sent a photo to someone I trusted," she silently tells the audience, a few words at a time, as the camera pans out and the viewer sees her image replicated on numerous smartphone screens. "And now thousands of people I don't know, know me."
It is eerily similar to the story of B.C. teenager Amanda Todd, and the YouTube video she posted a month before committing suicide in October as a result of being tormented both on and offline. But this is a PSA about sexual exploitation and online safety by Cossette Vancouver for Coquitlam, B.C.-based Children of the Street.
The video, launched in March, was influenced by Todd's suicide, which sparked a national bullying debate. Diane Sowden, executive director of Children of the Street, says there was a strong response to the campaign that included washroom posters and TSAs across the province's lower mainland. Children of the Street received an influx of emails and comments about the video, she says. It has become a tool for classroom visits and is being shared with U.S. organizations doing similar work.
For Michael Milardo, CD at Cossette Vancouver, the response to the campaign indicated that a public discussion about online safety was overdue. The YouTube video was picked up by a slew of sites including the Huffington Post, CBC, Mashable, Business Insider and Jezebel, and has received more than 150,000 hits as of press time.
"This conversation needs to be happening," Milardo says. "Obviously there's a demand for it, which is why people were saying [in news sites' comment sections and on blogs], 'Why aren't more people talking about this?'"
Lately, people have been talking a lot about bullying, particularly when Halifax teenager Rehtaeh Parsons ended her life last month after allegedly being sexually assaulted and then harassed once a photo of the incident circulated on social media. As bullying has evolved from a physical schoolyard threat to cyberbullying, which is often associated with sexually charged issues and the social network equivalent of shunning, it's changed the nature of the debaCoaste. And more brands are getting on board.
Broadcasters, such as MuchMusic and Family Channel, which have long made anti-bullying awareness part of their identity, have an authentic voice in the debate now that the cause is in the spotlight.
For example, MuchMusic is a long-time partner of Kids Help Phone. Last November, when the telephone-counselling service and Artists Against created a video for a cover of Cyndi Lauper's "True Colors," MuchMusic debuted the video and supported it with an anti-bullying PSA and  posted video messages online from artists who supported the cause.
"It was a natural fit to marry music, which is our core message, with the messages our audience is talking about at school and at work," says Neil Staite, VP and general manager, music and entertainment at Bell Media. "We always want to be in the right place when our audience is talking about something that is so important to them." Much also teamed up with Secret deodorant's "Mean Stinks" campaign to help young women combat bullying.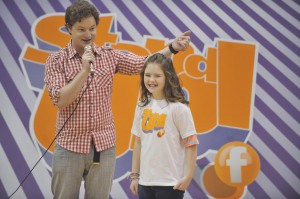 Family Channel has run its fall "Stand Up!" campaign since 2003, weaving the anti-bullying cause into its organization and addressing the issue on TV programs such as The Next Step. It also partnered with bullying research authority PREVNet to develop the Stand Up! theme, based on research that shows when bystanders stand up to bullying the act often stops, says Deborah Wilson, VP of communications at Astral Television Networks.
"When we were developing this initiative, we very much engaged our audience to see what it was that would resonate with them," Wilson says. "Bullying was something that came out fairly loud and clear. We decided to invest in that area and make sure that [it] became the focus of our cause branding."
Radio station CKNW AM 980 in Vancouver has held a "Pink Shirt Day" every year since 2008, selling pink t-shirts to raise funds for anti-bullying organizations. The campaign drew inspiration from two Nova Scotia students, who purchased and distributed 50 pink shirts in 2007 after a ninth-grade male student was bullied for wearing a pink shirt during the first day of school. B.C. declared a provincial anti-bullying day the following year.
For the campaign leading up to this year's shirt day in February, B.C.'s Coast Capital Savings credit union, which puts its community involvement focus on youth, came on as a presenting sponsor. Wendy Lachance, director, community leadership at Coast Capital, says the co-branding move was part of her company's recognition to be more visible in its involvement.
"While we have been giving a significant amount of money to our communities for many years, we have always been very quiet about it," Lachance says. "We are definitely now in an area where we feel that we have a very strong, strategic approach to community giving that really can start to show a measurable impact."
Taxi Vancouver donated 500 agency hours to do the creative for CKNW. The resulting "Make Some Noise Against Bullying" campaign included a TV spot that aired on Global and other Shaw Media channels, as well as posters and newspaper ads that illustrated that when someone intervenes within 10 seconds of a bullying situation, it's likely to stop.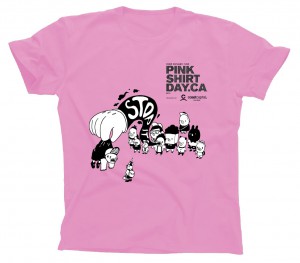 Sales of shirts jumped to 70,000 from 52,000 in 2011, the first time they had sold out, says Jen Schaeffers, executive director of CKNW's Orphan Fund. More than $250,000 was raised, a significant increase from the $150,000 the year before.
From a marketing perspective, bullying provides a good example of how quickly a cause can gain traction with the public and go from having a few corporate backers to many.
CKNW has to be wary of rival pink shirt day campaigns, says Schaeffers. For example, some schools sell their own pink shirts at cost, rather than purchasing from CKNW. Part of CKNW's marketing efforts are to make it evident that money made from sales of their shirts go to organizations such as Boys and Girls Clubs of Greater Vancouver.
"When you do something well, then everyone wants to get on board, right?" says Schaeffers. "What we found is there has been a bit of brand dilution, because people start their own campaigns rather than joining the bigger campaign."
On the flipside, there are efforts to create movements to rally support across like-minded cause partners. Bullying's recent surge in corporate support saw Facebook get behind the cause for the first time in Canada last November, launching the "Be Bold: Stop Bullying" campaign in partnership with Family Channel, PREVNet, Concerned Children's Advertisers, Kids Help Phone, MediaSmarts, Free The Children and Stopcyberbullying.org, building on a similar campaign launched in the U.S. in 2011. As of press time, more than 21,000 people have "liked" Facebook's Canadian Be Bold page, while nearly 1,400 people have taken a pledge to stop bullying.
CIBC and long-time partner Boys and Girls Clubs of Canada teamed up to plan a national day to end bullying on May 1. The campaign, "Belonging: National Day to End Bullying," aims to strengthen the message that the clubs work year-round to "prevent and combat bullying by being a place where young people know they belong," says Sue Sheridan, VP, fund development. Sharon Mathers, SVP, Communications at CIBC says that when the Boys and Girls Clubs approached the bank about the day, they knew it was the right fit, since "bullying is a growing issue facing Canadian youth and one that our clients, employees and shareholders are very concerned about."
Canada's Youth Diversity Initiative (Jer's Vision) also receives corporate backing, though no company has co-branded with the group for its "International Day of Pink." On April 10, more than 8.5 million people wore pink to celebrate the day, says Thea Belanger, manager of Day of Pink.
UFC fighter Georges St-Pierre, who was bullied as a child, is also fighting against bullies through his Georges St-Pierre Foundation. He doesn't pretend to be an expert on the cause, says Justin Kingsley, partner and head of the PR division at Sid Lee, who has St-Pierre as a client. Instead, he gets funding from his sponsors and makes sure it's distributed to organizations that are dedicated to preventing bullying.
Arthur Fleischmann, president and CEO of John St., notes that while anti-bullying is garnering a lot of attention from brands right now, there is a saturation point with most causes.
"Causes related to cancers and the environment have been popular and are seen as 'already done' by so many corporations," says Fleischmann, whose daughter, Carly Fleischmann, is a non-verbal autistic and is involved in raising awareness for autism (see sidebar).
"As mental health becomes a more open and talked about cause, we'll see more companies support it until it reaches saturation. Bullying is a newer topic with the tragic deaths of Canadian teens [such as Parsons and Todd] and is just starting to be a popular cause for brands to support."
Andrea Donlan, president and CEO of cause marketing agency Manifest, says that brands seeking to maximize the impact of their corporate citizenship need to be seen as a leading corporate champion for a specific cause. But with the space among many issues being crowded, finding one that is unique and compelling is getting tough, she says. If a company believes a cause fits with its brand, then that company will need to carve out a niche.
"There is virtually no issue without some activity within it," Donlan says. "So you have to figure out a way to make it ownable, given there are always going to be other players in that space."
Brands and causes get personal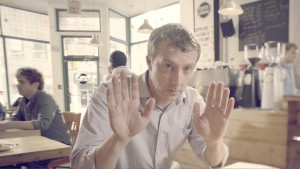 Arthur Fleischmann, John St. president and CEO, is personally invested in increasing awareness around autism, because his daughter, Carly Fleischmann, is a non-verbal autistic. Carly is also an ambassador for the cause, having co-written a book, Carly's Voice, with her dad and featured in a short online documentary by John St. "Carly's Café" depicts a scene in a coffee shop from Carly's point of view, as she sits with her father and sister. Scenes are interrupted by deafening noises from other patrons and coffee machines. Around 20% of all hits to the website for Carly's Voice, which promotes her book, come from Carly's Café.
It's one example of recent campaigns that tackle subjects that previously may not have been centre-stage – such as Down syndrome and homophobia – and which are garnering attention, with agencies addressing them in new and interesting ways, often putting the viewer in the shoes of the stigmatized person.
These campaigns come in the wake of Bell's "Let's Talk" campaign, which proves the biggest, most mainstream brands can become involved in deeply personal or even divisive issues and create goodwill toward both the cause and brand, says Justin Kingsley, partner and head of the PR division at Sid Lee.
"People are saying 'We don't have a problem with you getting involved with this cause as long as you're fostering the greater good,'" says Kingsley.
Other brands should be paying attention, says Max Valiquette, managing director, strategy, Bensimon Byrne. Bell now appears to be a corporate champion for mental illness thanks in part to the personal issue having greater traction on social media, he says, adding that people are more likely to know somebody affected directly by the issue.
"When you get into something like bullying, homophobia, or Down syndrome, everybody knows somebody," Valiquette says. "So you can actually make it incredibly personal and I think that's been commensurate with the rise of social media, which has actually allowed people to say this kind of stuff.
"It's easier to get traction on [mental illness] than it would be for an environmental issue, because you could start with a group of people who would have re-blogged or re-tweeted or re-posted anything you said about mental illness simply because they have been personally affected by it."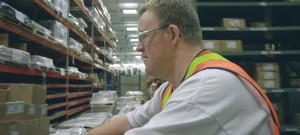 "Ten years ago if I was doing a campaign it would have been TV and print, and then I would have been at the mercy of the generosity of the media for them to post our ads for free," says Terry Drummond, ECD at Juniper Park, whose agency worked with non-profit Circle 21 to create a five-minute documentary about a day in the life of a man and a woman with Down syndrome.

The Quebec government made an interactive site for the touchy issue of homophobia a cornerstone of its campaign in March. Its Ministry of Justice, working with Cossette Quebec, created a video survey that gets users to question how open they are when it comes to sexual orientation and identity.

For example, once users have provided their sex and age, a segment in the video shows a boy drawing in his house.

"This little guy loves books, dinosaurs and music," a narrator says. "This little guy loves his two mommies. Does this bother you?" The user is then asked to select one of three choices: "Not at all," "a little" or "a lot."

"It was the first-ever campaign in the fight against homophobia in the province of Quebec and the goal was to scratch the surface," says Marjorie Lapointe-Aubert, web conceptor, who came up with the concept for the campaign at Cossette.

The "Really Open" campaign, which ran from March 3 to 31, also featured TV and radio spots in addition to online ads. More than 532,000 people visited the site, spending an average of three minutes and 20 seconds on it. The campaign's Facebook page received 97,000 "likes" and was retweeted 8,836 times.

Valiquette, who believes that brands addressing more personal causes is "an area of growth," points out that while it's easier for people to identify with more personal causes, "it's also certainly easier for brands to be seen as being exploitative. You can't really have a goal for the brand other than to support the initiative. Anything else seems horrendously cheap."

Commercial brands, in general, are still hesitant to throw themselves behind a new-territory issue and they don't want to be seen as boastful, says Tony Piggott, global CEO of JWT Ethos, the CSR branch of JWT. However, he says, conditions in the marketplace are much more compelling for brands looking to step forward. Bell's decision to associate its brand with a misunderstood and stigmatized issue proved that "done with integrity and commitment, and in the right way, the brand will win every time."

In fact, Piggott says brands should treat their social initiatives with the same discipline, insight and creativity they would in marketing their brand or creating a new product or innovation.

"What leading brands do in the future in terms of social leadership, we believe, is going to be as important as what they sell."