Throwback Thursday: strategy in 1998
For our 25th anniversary, we're travelling through time. Guess which retailer opened a 24-hour store in '98 (hint: it wasn't Walmart).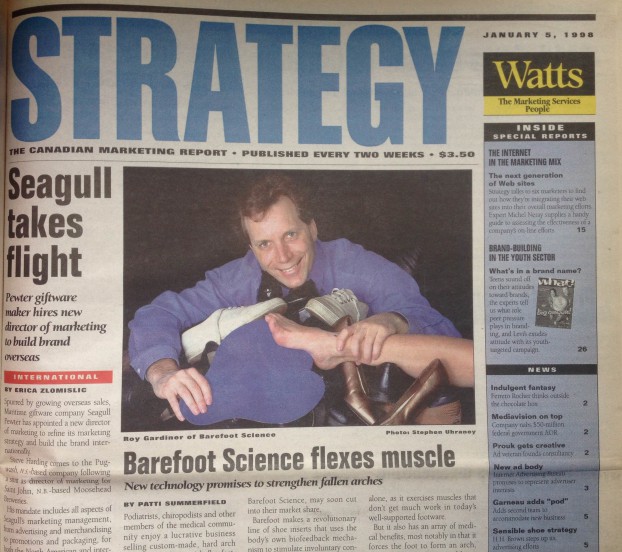 For strategy's 25th anniversary, we're travelling back in time, flipping through the pages of old issues to highlight some big news you may have forgotten, trends you wish you'd had a crystal ball to predict and marketing issues that never seem to change. Check back next Thursday to pick up some valuable insights into Canadian marketing history. This week, we tackle 1998.
A portrait of 1998
Executive Decision? Aug. 3, 1998
"In the wake of the controversy surrounding the Bell Ontario pitch, the Institute of Canadian Advertising (ICA) has called upon Bell to prove its decision was objective – or reimburse the participating agencies for costs incurred…
"At the heart of the controversy is the belief that top executives at Bell Canada's Montreal headquarters vetoed the first choice of the review committee and suggested that Cossette be awarded the business."
But our Aug. 3 editorial said perspective was missing from the debacle, and "Bell was totally within its rights to select whichever agency it wanted, on whatever basis it chose."
BMO, A&P team for in-store banking June 22, 1998
"The Bank of Montreal is the latest of the major Canadians banks to announce it is working with a major grocery store chain to establish a broader retail presence…
"In February, the Canadian Imperial Bank of Commerce and Loblaw Companies struck a strategic alliance that led to the creation of President's Choice Financial in-store banking outlets, and last summer Provigo-owned Maxi & Co. formed a partnership with Toronto-Dominion Bank to do the same."
Merger leaves some hungry Nov. 9, 1998
"The proposed merger between Empire Co. Ltd., owners of Sobey's grocery stores and Oshawa Group, which controls the IGA chain of grocery stores, will create a $10-billion company with more than 30,000 employees and give the company a major presence in all Canadian provinces except British Columbia." Sobeys would tackle another merger in 2013, adding Western Canada-chain Safeway to its roster.
Hudson's Bay taps into growing loyalty trend May 25, 1998
"In a development that calls attention to marketers' ever-growing infatuation with loyalty marketing, Toronto-based Hudson's Bay Company – parents of Zellers and The Bay – signed a contract last month to manage a loyalty catalogue program for Citibank Taiwan."
The retailer set up a division the prior year to handle loyalty programs for cos, with clients such as CIBC and Royal Bank already on board.
Home Depot opens 24-hour store May 11, 1998
"In a move that raises the bar for customer service among hardware and household goods retailers, Home Depot is opening its first 24-hour store in Canada."
The retailer attributed the change to the increasing amount of people whose work schedules were not within the typical 9 to 5 confine. But it wasn't quite the first to break ground in the 24-hour space, as printing and computer retailer Kinko's Canada had been keeping its doors open 'round the clock since 1986.
Agency news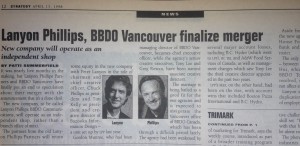 Lanyon Phillips, BBDO Vancouver finalize merger April 13, 1998
"It was nearly five months in the making, but Lanyon Phillips Partners and BBDO Vancouver have finally put an end to speculation about their merger with the announcement that it's a done deal.
"The new company, to be called Lanyon Phillips BBDO Communications, will operate as an independent shop, rather than a branch office of BBDO."
Saatchi to open in Montreal March 16, 1998
"Saatchi & Saatchi, one of the world's largest advertising agencies, is opening an office in Montreal March 30."
DMB&B spins off media management shop April 27, 1998
"Toronto-based Bensimon Byrne/DMB&B and New York-based TeleVest Inc. have formed a new standalone media management company.
"The Toronto agency's media department has been spun off as an independent division called TeleVest Canada."
The following year, TeleVest would become Mediavest.
Media giant formed Sept. 28, 1998
"Omnicom Canada has combined the media buying functions of all its agency groups to form Optimum Media Direction Canada – a media-buying behemoth that will be responsible for total billings in excess of $900 million."
OMD far exceeded the reported annual billings of its closest competitor, The Media Company/Media Buying Services of Toronto, which trailed with nearly $500 million.
The internet in its youth
New body to speak for Web clients Jan. 5, 1998
"Canadian Internet advertisers and marketers now have their own representative body: The Internet Advertising Bureau of Canada.
"Launched last month in Toronto, the new organization is said to speak for a segment of the advertising industry that, up till now, has had no collective voice."
WebTV merges TV and Internet June 22, 1998
The idea of watching Coach's Corner and being able to buy Don Cherry's tie by clicking on the screen to link to his site was now slightly less far-fetched, with a new service that seemingly married TV and the internet.
Microsoft-owned WebTV, "technological interface which provides limited Internet and World Wide Web access to people who don't own a computer," became available for $24.95 a month and was used with a set-top receiver, with a signal sent over phone lines. Buying something on TV screens with a simple click of the mouse still hasn't really taken off yet.
Internet ad revenues soar May 25, 1998
"Internet advertising revenues in Canada increased a whopping 516% in 1997 over 1996, jumping to $9.8 million from $1.6 million – a trend that's expected to continue, according to the Internet Advertising Bureau of Canada."
Hot industry issues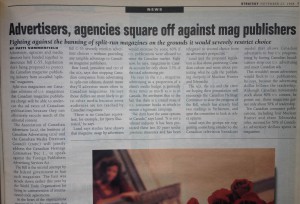 Advertisers, agencies square off against mag publishers Nov. 23, 1998
"Advertisers, agencies and media directors have banded together to denounce Bill C-55, legislation that's being proposed to protect the Canadian magazine publishing industry from so-called 'split-run' magazines.
"Split-run magazines are Canadian editions of U.S. magazines that Canadian magazine publishers charge will be able to undercut the ad rates of Canadian publications because they can effectively recycle much of the editorial content."
Are moral standards for ads too scrupulous? May 11, 1998
The heat resulting from two ads for a GM dealer led to this editorial, which posed this timeless question:
"Last week, General Motors of Canada announced that it was withdrawing its membership from Advertising Standards Canada (ASC) to protest the organization's new policy of publically naming advertisers found to be in contravention of any of the guidelines set out in the Canadian Code of Advertising Standards or the Gender Portrayal Guidelines.
"Ostensibly, GM is upset that anyone with an axe to grind can use a pen with Paul Bunyon-like force to fell an ad or an ad campaign with which no one else in the country takes exception…
"However, there's another issue at play here: why such strict moral standards for commercial advertising in the first place?"
Creative Report Card
And as always, we'll wrap up our time travel with the top creative agencies, brands and creatives who graced strategy's annual Creative Report Card. See if you can spot any names still playing big today.

Want more strategy Throwback? Catch up on the headlines from 1989, 1990, 1991, 1992, 1993, 1994, 1995, 1996 and 1997.