Who's winning the online popularity contest?
Analytics company Infegy ranks the 50 most popular brands online.
Apple, Disney and BMW are among some of the brands proving most popular online, but staying top of mind for consumers can still be challenging.
Analytics company Infegy released its World's 50 Most Popular Brands report Tuesday, based on a look at billions of conversations on various public online platforms such as Twitter, Facebook, micro-blogging sites and forums.
Google, Twitter and Facebook topped the list of most talked-about brands in 2014, with other major players like Microsoft and Nike also high up on the list. Disney stood out with 86% of conversations about the brand being positive.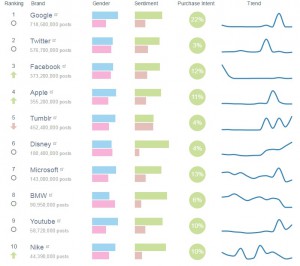 However, staying as popular from year-to-year can be a challenge. Apple, for example, saw overall conversations drop 32% over 2013, despite still taking the number four spot on the list.

Being talked about isn't always a good thing, either, with CNN and Fox both seeing higher negativity than positivity in their conversations.

The list is based on analyzing over 800 brands to find out which are talked about most, overall positivity and negativity around each, levels of positive purchase intent and other rankings based on sentiment.

Infegy's technology analyzes text to determine things like positive sentiment, passion for a product and purchase intent. It also excludes content from the brands themselves, focusing on what consumers have to say.

"I think if you look down the list, you'll see a lot of these brands are really [active] in terms of building a strong connection," says Rion Martin, marketing director at Infegy.

The NFL for example, has made a push to connect more with fans online, outside of the league's franchises, allowing it to move up six spots. Wii also made a push last year to connect with gamers by highlighting nostalgic games like Smash Bros., moving it up seven places.

Overall, Chevrolet saw the biggest change in ranking, dropping 13 spots to number 46, while Chipotle saw the biggest jump, moving up 10 places to number 30.

Activity tracker Fitbit saw the highest purchase intent at 36%, highlighting the growing popularity of wearables, Martin says.

One unexpected newcomer to the list was mobile gaming app Flappy Bird, which showed a high level of popularity toward the beginning of 2014. Toyota and Intel were also newcomers to the list, despite being legacy brands.

"That just kind of highlights the fickleness of consumers and how quickly things can change for brands," Martin says.

Top image courtesy of Shutterstock