Meet Brendan, a 26-year-old who works in radio after falling in love with NPR's This American Life podcast. He lives with his girlfriend – who works in the fashion industry – but he does all his own shopping, and often wonders if they can fit a third closet in their one-bedroom Toronto condo.
In the past three years, he's traded in his band T-shirts for designers such as Fred Perry and Salvatore Ferragamo and has recently picked up an old-school Merkur safety razor, figuring that in the long-term it'll be less wasteful than disposable blades. He's also a mighty fine cook – exploring exotic tastes and unique meats, like rabbit and moose – and consistently offers to bring charcuterie platters to social functions. He once made his own Greek yogurt, just to see if he could.
Some could call him a hipster, but he isn't really. He's just a modern-day gentleman who's helping redefine what it means to be a man, creeping into traditionally female-dominated categories such as fashion, beauty and cooking, and making them his own.
And he's someone marketers should really be keeping an eye on.
But according to a study done by Unilever in 2009 as it prepared to launch its Dove Men+Care brand, three quarters of men globally believe they're stereotyped in advertising, while 67% found it hard to relate to men their age in ads.
"They say there's a lot more to being a guy today than the stereotypical 'man stuff,'" says Sharon MacLeod, VP marketing, Unilever.
In other words, guys are more than just tool-loving, beer-guzzling, bikini-chasing macho men who wouldn't be caught dead in the kitchen or caring about their personal style. So maybe it's time to stop treating them like that?
In the basement of Harry Rosen's flagship Yorkville Toronto location, a group of guys have gathered to hear Toronto-based blues singer Michael Rault play. The fashion varies, with some guys in corduroy, others in tight-fitting suits bedecked with pocket squares and fedoras, and the occasional suit jacket-over-jeans combo. They sip Macallan Scotch cocktails, and their six-o'clock shadows seem purposeful against their perfectly coiffed hair.
The average suit down here runs $1,000 (versus the pricier clothing upstairs) and perfectly targets the young professional male, says Larry Rosen, chairman and CEO of the high-end men's clothier. The retailer began its Underground Lounge series as part of an ongoing effort to reach millennial guys, blending music, fine liquors, and of course, clothing.
Despite the stereotype that guys don't care about fashion, the effort seems to be working, with the majority of attendees new to the store, drawn in by the free show, he says. Though it doesn't track whether these party-goers return and make purchases, Rosen is positive this type of promotion is bringing in new customers.
"I see how my sons [ages 26, 24 and 22] dress for their social life and you hear things you would never have heard from other generations," Rosen says. "My [youngest] son was running around looking for his 'scent' this morning…He preens in front of the mirror."
Men's fashion is growing at a faster rate than women's, according to statistics from NPD group. Guys spent 18% more than previous years, or roughly $400 million in new sales. Men's accessories alone, such as shoes and belts, grew 13% in 2012, compared to 3% growth in women's.
"It's fair to say women are a dominant market, but with so many places that offer women's clothing, there's a bigger opportunity in men," says Sandy Silva, industry analyst for fashion and beauty, NPD group. "Men are not getting married until later in life, which means they have more money to spend – and what will they spend their money on? It's going to be on cars, toys and fancier clothes."
Even beauty brands are starting to catch up. There's a race among CPG companies to release men's lines with L'Oréal, Biotherm and Dove all coming out with unique-to-guys products in the past four years. Men's grooming is now the fastest-growing segment in the beauty industry.
"Self-presentation and style have become more important to men," says Johanna Faigelman, president of Human Branding, an anthropological-based research consultancy based out of Toronto, which will be releasing a syndicated study on millennial men on Jan. 15.
At a deeper level, there's a shift in traditional gender roles, Faigelman says. "A lot of the stereotypical roles came from the belief that men are going to be all about [their] career and focus on being a good provider – and not going to be interested in all this other stuff," she says. But, with a downturn economy still struggling to get back on its feet (and millennials feeling the brunt of the job cuts), more job mobility, not to mention three decades of women's rights movements helping shift women out of – and men into – the home, millennial guys' long-term careers seem much less certain.
"[As a result] there's a desire to define oneself through other means [such as style and grooming]," Faigelman says. "The way a man looks is becoming a lot more important in how he values himself in the role as man. It'll be as important to have that perfect mustache as [a career]."
At the inaugural Gentlemen's Expo (launched to fill the expo void for modern urban males) at the Metro Toronto Convention Centre, the first thing guys see upon entering is a man getting his face shaved with a straight razor by Safaa, a 17-year veteran barber. The Dove Men+Care-branded booth is decked out with a giant lighted mirror and even a red and blue candy-striped barber poll. Three chairs sit nearby for guys who've signed up in advance for one of the 30-minute professional shaves.
"We really thought this [expo barber shop] was a great chance to introduce guys to a professional barber experience," MacLeod says. "Lots of guys have never been shaved, and to have a good straight-razor shave by a professional is on their bucket list."
The resurgence of barber-shop shaves, along with "heritage" brands (such as the renewed popularity of Dr. Martens and Ray-Ban) and styles (more structured and tailored), actually represents a wider anthropological move by the millennial man seeking a more authentic experience, Faigelman says.
These guys grew up in the '90s and '00s, which was replete with corporate scandals and consumerism (where giant logos and oversized clothing were the norm in men's fashion), not to mention two recessions and a major war following extreme terrorist attacks. As a result, Faigelman says these guys are, en masse, more skeptical about everything than their Gen X or baby boomer counterparts. When you combine that with the hyper-connected digital world in which they were raised, this is a generation seeking more "real" experiences, especially in the digital space where nothing is tactile, she says. It's one reason there's been a massive rise in analog artifacts, such as vinyl records and the resurgence of dandyism (i.e. a renewed focus on the aristocratic lifestyle of refined hobbies and style. Top hats are frequently involved).
In the alcohol space, it's especially pronounced, with the rise of the craft beer movement and an increasing popularity on old-timey cocktails (not the pink drinks sipped in martini glasses, but rather intricate cocktails like Manhattans and Old Fashioneds).
"[The] '90s were very much 'here's our brand. Take it as it is and don't question us because you're the consumer and we're the producer,'" Faigelman says. "[Now], there's an attitude from guys saying 'I'm smarter than that, savvier than that and I reject that.'" They want brands that either feel authentic because they're older brands from a pre-digital era (better yet, from a pre post-industrial era), or brands that are open with their stories, building a deeper connection with guys.
Faigelman points to Montreal-based men's online clothier Frank & Oak as a new retailer that's knocking it out of the park when it comes to reaching these guys.
The brand offers a curated collection of clothing, made locally, at low price points (the average shirt costs $45). Online, guys can browse everything they need to know about dressing themselves, from style Q&As with musicians to learning about which fabric types work best for which occasions.
"We realized the millennial guy likes to know the 'why' behind a product," says Ethan Song, CEO and CD of the two-year-old retailer. "And it's much easier online to show how to wear something, and the reason for [a piece of clothing], than it is in stores."
It doesn't hurt that the styles the clothier carries are relatively classic looking, or that even the brand's name evokes a year of yore, adds Faigelman. To date, it's a pretty successful model, with more than 500,000 shoppers, and burgeoning partnerships with more traditional retailers, such as Aldo-owned shoe store Little Burgundy, which, for the first time, saw the online retailer sell its heritage-traveller inspired accessories in a bricks-and-mortar store.
And the digital space is accelerating the rise of businesses catering to this generation of guys, with brands able to easily fill the void left by traditional retailers in the fashion, beauty and food categories. For example, Vancouver-based Indochino, which makes affordable bespoke suits, started because the founders were tired of feeling like "second-class retail citizens, shoved in the basement or back corner," says Kyle Vucko, founder and CEO.
"All of these things [changing gender roles, seeking more authentic experiences] are coming together for a perfect point of cultural tension where male identity is changing," Faigelman says. "It's less about the hard and fast rules of stereotypical [indicators such as] masculinity, strength and monetary success, and is becoming much more multi-faceted, including being stylish, savvy and ethical. Essentially, [guys want to be] somebody who is seen to be interesting versus successful."
At the Gentlemen's Expo's food pavilion, guys wander around tasting various beers and liquors. The Justeat.com booth (which allows people to order food from various participating restaurants) proudly declares "Real men don't cook."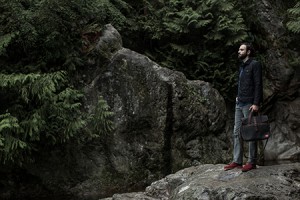 But at Loblaw's Black Label booth, guys are getting in on the action. Tom Filippou, Black Label's executive chef, teaches six guys the steps of prepping shrimp tacos – something that can easily be recreated at home. He walks around the portable burners, helping the guys adjust temperatures before instructing them on the next ingredient. So far, the guys have made everything from scratch (the Black Label team even had a first aid kit nearby to help with potential knife- or burn-related injuries). It's like watching a live cooking show. He's not pandering to this crowd, assuming these guys are buffoons or incompetent in the kitchen. "The whole purpose is to show that Black Label brings out the foodie in all of us," he says.
It's unusual to see food brands reaching out to guys this way. Cooking and grocery is the last bastion almost exclusively targeted at women. Talk to any retailer over the holidays, for example, and most of their campaigns target "mom," while most cooking brands still try and reach out to "her."
"But food and cooking is such a wonderful outlet for self-expression," implores Faigelman, who says she's been trying to get her clients in the food industry to shift their core demographics to be more inclusive of men.
Guys, especially younger men who are living on their own, are increasingly the primary shopper. One U.S. study estimates that men are responsible for 50% of the purchase decisions in stores.
"They're becoming much more involved and emotionally invested in food," Faigelman says. "Once you become engaged in questioning where your food comes from, it becomes much more difficult to avoid getting involved, not only in the purchasing of it, but also in the making of it."
Like beauty and fashion before it, cooking will be a hot growth area for guys. Over the next five to 10 years, Faigelman predicts that as these guys become parents of their own, we'll see a more equal representation of all household tasks. According to Statistics Canada, the percentage of women doing all the housework in cohabitating couples is steadily dropping, meaning guys are picking up the slack.
Digital companies, like U.S.- and U.K.-based Mantry, which sends guys artisanal food boxes each month to help them experience different types of well-crafted foods, are popping up to fill the void. Just this past October, the Carnivore Club launched in Toronto, mailing guys a subscription of cured meats, with the hopes that products like duck breast prosciutto and bison jerky will appeal to young professionals.
The consensus from various experts is that food needs to take a page out of the beauty handbook and get ahead of the game. Mom may still be your primary buyer, but as millennial guys start having their own families, they won't be kicked out of the kitchen. It's time to stop thinking of "mom" as the only shopper in the household and try and talk in more gender neutral terms. After all, Brendan's homemade Greek yogurt is just the tip of the tasty meals he's likely to make over the next 30 years.
Reaching men in retail
Guys, it turns out, have a pretty particular way of shopping, something that goes back to their roots as hunters, says Audrey Carr, VP of strategy, Nurun, who recently completed a study on the shopping habits of men.
1. Guys are mission focused: "Every time guys go out shopping, they're very focused on achieving a particular task, whether that's buying a suit or three T-shirts," she says. This means brands wanting to target guys should do their utmost to help them complete their shop.
For example, Indochino sends out a travelling tailor to measure dudes for their bespoked suit. Once measured, guys can always easily go back and re-order their customizable outfits. If guys can't make it out to the travelling tailor, the online retailer offers a step-by-step breakdown to help them measure themselves, videos included.
2. Curation is best: Break out your big data. One trend Carr found incredibly popular among guys was the concept of a curated assortment, which made it infinitely easier to fulfill their shopping mission.
She adds many retailers, especially in the big box space, really struggle to create curated collections because of their massive product selection.
"One of the frustrating things guys brought up, especially if you're a frequent online shopper, is, 'They know who I am, they know what I bought. Why don't they show me a selection of three T-shirts they think go with those jeans, instead of forcing me to browse the entire catalogue of 30 different T-shirts?'" Carr says.
3. Guys like to save face: Faigelman adds that while guys dig deeper into various aspects of all self-expression, digital also offers a bit of a safety blanket as they explore different types of clothing. Most guys don't like to appear to not know what they're doing, and shopping online allows them to explore in a more anonymous manner. "These kinds of sites allow them to express themselves without needing to walk into a store and say 'I don't know what I want,'" she says.