Top Cannes Mobile and PR contenders
Strategy is counting down the campaigns most likely to win big at the Palais at this year's festival.
As we count down the days to the Cannes Lions submission deadline (March 28), strategy is rounding out the most likely contenders for each category, tapping the top folks in the industry to help us narrow down the list. This week, we're taking a gander in the Mobile and PR categories. Check back each Friday until the deadline to see which campaigns have the best shot in Cannes.
Mobile
Campaign: The Memory Project
Brand: The Memory Project
Agency: Rethink
Chosen by: Chad Borlase, digital CD, Cossette
In its third year at Cannes, the mobile category is going to continue to evolve. We certainly have fewer contenders than with Cundari's "Pain Squad" and Grey's "The World's Most Valuable Social Network" of years past. But given that one thing the jury was looking for last year was pervasiveness, the Snapchat campaign for The Memory Project from Rethink could be an interesting contender.
Using the emerging platform of Snapchat, which is predominantly used to send discreet hookup messages and dirty selfies (which are deleted automatically from recipients' devices after a set time), millennials were reminded about what our veterans did with an individual's real story. Once viewed, the story of that particular veteran vanished for the user. This was one of the first advertising uses of the new platform and is an awesome example of creating emotionally relevant messaging on a mobile platform that goes well beyond for what it was envisioned. Let's hope this campaign isn't forgotten at Cannes.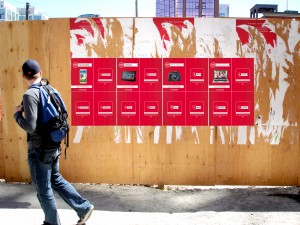 Campaign: Future Shop Grant Program
Brand: Future Shop
Agency: John St.
Chosen by: Brent Choi, chief creative and integration officer, JWT
The trend in mobile awards, and in life for that matter, is really moving from recognizing engagement to utility. The Future Shop grant program is all about utility. And it was born from arguably the greatest insight on getting a post-secondary school education – it's freakin' expensive. The "Future Shop Grant Program" was an integrated digital program, but the use of mobile was key to its broad success when considering the target and their smartphone usage. At the core, it was a simple way to help students earn grant money or supplies to help ease the cost of attending school. Kids were invited to submit "Twitter essays" for a cash reward or take Instagram "Pop quizzes" for deals.
But what made the program effective was how it was directly tied to the brand proposition of being a key destination for all students' school supply needs. And it had each applicant amplifying the story to all their peers. Even if you didn't apply, you were made very aware of Future Shop's offering for school. This program also took a strong step forward in showing the emotional value of understanding students. When it came to the utility, the results delivered in spades. I love the stat which indicated this program had more grant applicants than some schools did, with the business results of $3 million over projection. While I am usually very suspicious of this type of results, I'll assume projection was a good one.
Campaign: Kringl
Brand: Make-a-Wish Foundation
Agency: Zulu Alpha Kilo
Chosen by: Sean Weller, senior strategy director, Blast Radius, Portland. Weller is a Canadian expat from Vancouver.
The Kringl app from Zulu Alpha Kilo is an easy-to-use, free app that helps you keep the spirit of Christmas alive. Parents can prove Santa exists by creating video footage of Kris Kringle making a personal visit to their home.
When looking at potential Canadian contenders for Cannes, the Kringl app stood out. The app is a fun, creative way to keep the magic of Christmas alive, while raising awareness and funds for the Make-a-Wish Foundation. There's no shortage of Santa-tracking apps out there, but this stands out by layering in personalization through a creative use of augmented reality. Combining Santa and real-live video footage of your actual home, you can convince the little ones he does exist. Users can show him drinking milk, checking his list, finding gifts and even realizing he's being recorded in the living room. The app is simple and well designed — just choose a scene and point your phone to where you want him to be in your house. Rather than more ads or clutter, this app provides a creative solution to keep the Christmas magic alive and also drives donations for a worthy cause.
PR
Campaign: Christmas Miracle
Brand: WestJet
Agency: Mosaic
Chosen by: Martine Levy, managing director, DDB PR
A creative idea is like a seed. It has the potential for greatness, but it requires flawless execution, and the right time, place and circumstance to really flourish. West Jet's "Christmas Miracle" is a great example of this combination.
First off, the scale of the campaign, operationally, is impressive (over 150 WestJet staff sought, purchased and wrapped passenger gifts). It had viewers guessing, "Will the employees have enough time to pull this off?" Second, the personalized approach, where each passenger received the exact gift they asked for, made the end result that much more "wow-worthy." Third, because it took viewers on a behind-the-scenes journey shopping with employees, WestJet built a vested interest in the final reveal. You first felt a sense of urgency, uncertainty and excitement, and in the end, joy, watching these unsuspecting passengers' emotional reactions. This is good in-the-moment storytelling and what made this campaign so share-worthy.  It was emotional versus rational advertising and it connected with WestJet's customer base.
In measuring the campaign's success, the original video has garnered 35 million views and counting. Even the blooper reel has 1.5 million views. As well, positive quantitative and qualitative editorial coverage was generated.
WestJet's strategic partnership with Ronald McDonald House, where they donated flights after video views soared past 200,000, worked very well. It was reported that WestJet hit over 1,000,000 views within the first 24 hours.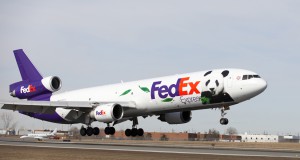 Campaign: FedExed Pandas
Brand: FedEx
Agency: Toronto Zoo
Chosen by: Lindsay Mattick, VP, strategy and creative, Narrative PR
FedEx made the most of a high-profile delivery when it donated its services to the Toronto Zoo, shipping its two new giant pandas, Er Shun and Da Mao, from China to Canada. The delivery, which they documented through a video, and special branding of the "Panda plane" successfully generated lots of earned media across the country – all of which brought to life FedEx's core brand promise – they can ship anything anywhere and have it delivered on time.
This is a perfect example of a PR move that brought a brand's "best foot forward" narrative to life. It was impossible to write about this newsy, happy and highly anticipated Canadian event without mentioning FedEx. But the coverage didn't just mention FedEx, it made the company part hero, highlighting the services it donated to ensure these incredible creatures made it safely to their new home. Any reader couldn't help but think, on some level – "Hey, if they can get a couple of giant pandas across an ocean, they can probably handle my contract too." This simple, perfectly told story, with PR handled internally by FedEx Canada, became, on a macro level, a major proof point for the brand, and on a micro level, a great cocktail party anecdote that reinforced FedEx's leadership position in the category. All this to say it's a perfect contender for the Cannes Lions PR, Brand Voice category.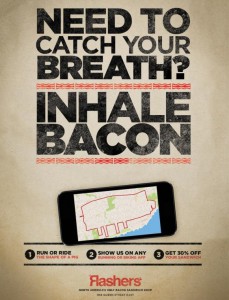 Campaign: "Run the pig"
Brand: Rashers
Agency: Ogilvy

Chosen by: Steph Mackie, partner, Mackie Biernacki

The campaign by Ogilvy rewarded runners with a coupon to Toronto-based sandwich shop, Rashers, for taking their jog in the shape of a pig. Is it the toughest thing to sell a bacon sandwich? Nah. But there is a nice nugget of bravery in Rasher's aim to sell health nuts on filling their chiseled cheeks with a bacon sandwich – it makes the general population feel better about their choices.

Add in the social media component of "drawing" your mapped run into a pig, and I think this is a good example of a simple and charming PR tactic. I'm not sure how many people actually participated, but it got great national pick-up. And who doesn't want a little pig map – and a tasty bacon sandwich of their own?

Are we missing a particularly strong Mobile or PR contender? Weigh in below. 

Check out last week's picks in the Film category.