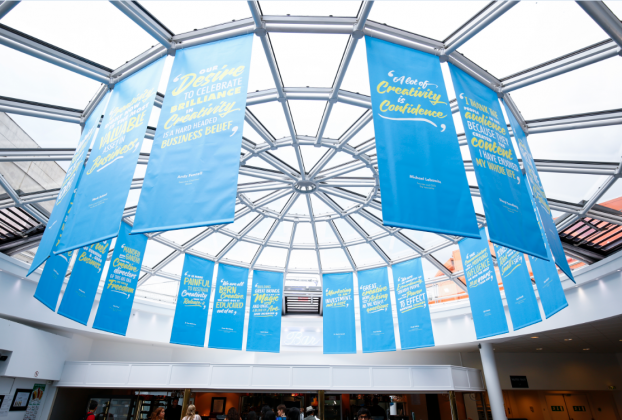 By Jennifer Horn, Harmeet Singh and Josh Kolm
UPDATE: This article has been updated to include"#TakePause" for BMO and Jam3′s work for MTV.
Fresh off picking up seven Lions on Monday (in addition to one Health win over the weekend), Canada has now been shortlisted in four additional categories.
Creative Effectiveness (1)
Always (P&G) "#LikeAGirl" Leo Burnett Toronto
One of the top Lions winners at last year's festival has one more shot to increase its medal count in Creative Effectiveness, which honours work that has had a long-term impact on a client's business after winning a Lion in one of the previous three years. The campaign reclaims the phrase "like a girl" by comparing how older women saw it in a derogatory way, whereas younger girls still saw it as something empowering.
Lions Innovation: Creative Data (5)
Spotify Canada "Spotify Music For Your World" Anomaly Toronto
Creative Data Enhancement
Data Storytelling
The campaign for the streaming music service created special playlists for neighbourhoods in four Canadian cities, using its data insights to determine the most popular songs played by people in those areas. On the social side, it also monitored influencers and people active in the music scene, serving them playlists relevant to situations they were tweeting about (i.e. being stuck in traffic).
SickKids Hospital "Life Unpaused" Cossette
Data Storytelling
In 2014, the "Better Tomorrows" campaign showed the story of a different child impacted by the care at SickKids in a different piece of creative every day for 45 days. As a follow-up, Cossette "paused" the stories of patients viewers were already familiar with (the same way a family's life is "paused" when a child goes in for treatement), and unpaused the video with an update on how their lives had changed over the last year once it reached a number of unique donors equivalent to how many days the child spent at SickKids.
Molson Canadian "Global Beer Fridge" Rethink
Use of Real-Time Data
The world descended on Toronto last summer for the Pan-Am Games, so Rethink partnered with Google to reimagine the Molson Beer Fridge as something that could welcome people of all backgrounds. The fridge, which previously opened for people by scanning a Canadian passport or singing "O Canada," now would open only if six people could come together and say the brand's "I Am Canadian" tagline in six different languages.
Mark's "The Colder It Gets" Sid Lee/Touche!
Use of Real-Time Data
Digital boards in transit shelters used real-time data to display the current temperature during a particularly harsh Canadian winter. The colder it got, the greater the discount people who saw the board would be able to get at Mark's. It's -30 degrees outside? No sweat, go to Mark's and get a 30% discount on a heavier parka.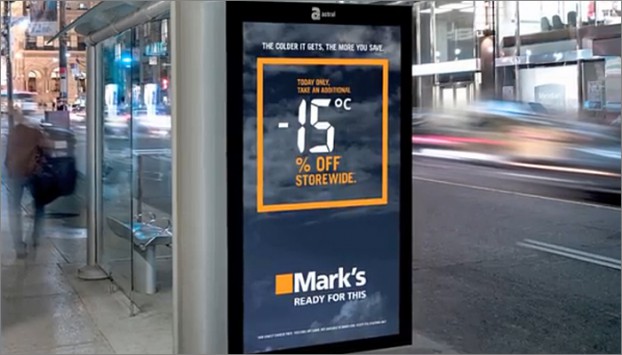 Cyber (8)
Zulu Alpha Kilo "Say No To Spec" Zulu Alpha Kilo
Corporate Image
Social Video
Created for strategy's 2015 Agency of the Year awards, Zulu showed just how ridiculous it would be if clients in industries outside of advertising insisted upon receiving free spec work the way many clients in advertising do. In response to the positive feedback the campaign received, Zulu created a dedicated website featuring a curated list of social posts made about the video.
Somerset Graphics "Printed By Somerset" Leo Burnett Toronto
Website
On Somerset Graphics's new website, the idea of "you supply the design, we'll focus on doing good printing work" was reflected in a super-minimalist design, created using only black and white lines.
Réno-Dépôt "The Cursor" Sid Lee Montreal
Web Banner
Sid Lee created a "Magic Cursor" for Réno-Dépôt to show people the many nuances of a web page. It developed a web banner app that matched website colours with an actual Sico paint colour in real time to show that "If a colour is on the internet, it's on our shelves."
Cineplex "Lily & the Snowman" Zulu Alpha Kilo
Social Video
Other Video
Cineplex's "See the Big Picture" platform positioned the movie theatre as a place to put away your phone for a couple of hours. With the Lily and the Snowman video, the brand used the holiday season to push its emotional message to "Make time for what you love."
Canada Goose "Out There" CAA Marketing
Interactive Video
To support Canada Goose's content-heavy, emotional approach, CAA Marketing in Los Angeles created a short film and global brand campaign called "Out There." The five-minute film was directed by Canadian filmmaker Paul Haggis, and told the story of the 60-year-old brand and some of the adventurers who have donned the iconic coats.
Mondelez – Ritz Crackers "Cracker Cutter" FCB Toronto
Social Business
It started out as a joke online, with a fan posting they'd want a device that perfectly cuts Ritz crackers so there'd be no more snacking outside the lines. The brand then took that joke post and ran with it, creating just that, a "Cracker Cutter" that cut meat, cheese and other cracker innards into the exact shape as the outside Ritz cracker.
Media (6)
Milk West "Snack Time" DDB Canada Vancouver
Food & Drinks
Milk West went after a difficult-to-reach but coveted teen target with this branded content web series. The 30-second animated spots contain no milk branding and instead use food puns and other jokes to woo the younger demo. The series' YouTube channel currently has more than 28,000 subscribers.
Walmart "Pooch Truck" J. Walter Thompson Canada
E-commerce, Restaurants & Fast Food Chains
To promote the new Pure Balance line of dog food, Walmart Canada and JWT put a spin on the food truck craze at Toronto's annual Woofstock event. A third of the size of a real food truck, the branded "Pooch Truck" had a window only accessible to dogs. Those pups – and their owners – willing to take a "#PoochTruck" selfie also had a chance to win a year's supply of the pet food. The execution drove more than two million Facebook impressions.
Skittles "Skittles Holiday Pawn Shop" Mediacom Toronto/BBDO Toronto
Use of Stunts
The Skittles Holiday Pawn Shop let Canadians trade in their unwanted gifts post-Christmas for some of the candy. Those who couldn't make it to the downtown Toronto pop-up could still make the trade online through a microsite.
Mercedes-Benz Canada "Mercedes-Benz AMG GT launch" OMD Canada Toronto/BBDO Toronto
Automotive Products & Services
To launch the new AMG GT model, the luxury car brand created an interactive video that used the speed-control feature of YouTube to let viewers be in the driver's seat. By using their keyboards, viewers control the speed of the car as it goes around a racetrack.
Bank of Montreal "#TakePause" Maxus Canada
Financial Products & Services
For Remembrance Day, BMO took to social media to spark silence instead of conversation. In the lead-up to the day, the initiative, with creative from FCB Toronto, asked Canadians to sign-up online and commit to one minute of social silence at 11 a.m. on their Facebook or Twitter accounts. At precisely 11 a.m. on Remembrance Day, a one-minute silent poppy field video played automatically to the user's chosen social media account.

MTV "MTV VMA Green Screens" MTV New York, Jam3
Media & Publications
The campaign promoting the VMAs gave fans the ability to create user-generated content that was used in the broader integrated campaign.
Mobile (0)
Canada was shut out of the Mobile category this year.
Correction: This article originally provided the incorrect campaign description for the Mercedes-Benz AMG GT launch.