Cossette wins big at 2017 Marketing Awards
"VS" and "Bring Back the Bees" take top honours, with Lg2, Sid Lee, Leo Burnett and Rethink also winning Gold.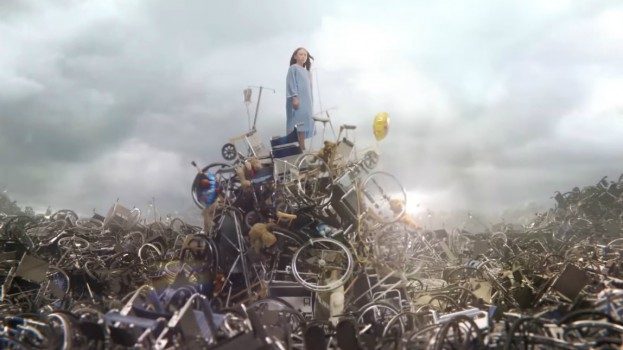 It was a big night for Cossette at the 2017 Marketing Awards Tuesday as the agency swept up Gold trophies for Best of Public Service with "SickKids VS," and Best of Show for its "Bring Back the Bees" campaign.
Also earning accolades for the "Bees" work was the marketing team from General Mills Canada, which took home honours for Client of the Year, as well as Veritas Communications, who shared Gold honours in PR with Cossette.
The "Bring Back the Bees" campaign delivered a 12% lift in sales for the previously flatlining Honey Nut Cheerios brand, while the SickKids "VS" campaign is now widely known as setting off the largest donation return in the history of the SickKids Foundation. Appealing to donors to join the fight against illness, Cossette's advertising work for the hospital has been noted as a strong contender at the upcoming Cannes Lions International Festival of Creativity.
Lg2 had an impressive performance at the Marketing Awards gala as well, as the agency brought home a total of 12 Gold M trophies, and a slew of Bronze and Silver awards. As in previous years, the jury was particularly impressed by the agency's work for client Farnham Ale & Lager and its ongoing multichannel "A Bit Bitter" campaign.
A few other familiar campaigns returned with fresh creative to win gold as well, including Sid Lee's impressive tech-based colour sensor work for client Réno-Dépôt, new iterations of the "#YouShouldPlay649″ campaign with Loto-Québec, Rethink's "#AnythingForHockey" work with Molson Canadian and DDB Canada's episodic branded content masterpiece for Milk West, "Snack Time". Rethink and Sid Lee took home seven Gold M trophies each.
Leo Burnett Toronto's "Cook This Page" campaign for IKEA Canada greatly impressed both the design jury and the main jury as another of the night's big winners. In creating a set of recipe instructions on a cook-safe page that mimicked IKEA building instructions, the entry was successful in not only promoting IKEA food products, but in picking up five Gold M trophies as well as the honour of Design Best of Show.
Below, all of the Gold-winning campaigns for the 2017 Marketing Awards have been listed by category. For a complete look at the winners, be sure to check out our full list of Bronze, Silver, and Gold awards.
2017 Marketing Awards – Gold-Winning Campaigns
BEST OF SHOW
• "Bring Back the Bees." Client: General Mills Canada. Agency: Cossette

CLIENT OF THE YEAR
• General Mills Canada

DESIGN BEST OF SHOW
• "IKEA: Cook This Page." Client: IKEA Canada. Agency: Leo Burnett Toronto

BEST OF PUBLIC SERVICE
• "SickKids VS." Client: SickKids Foundation. Agency: Cossette

BRANDED CONTENT

• GOLD: "Snack Time." Client: Milk West. Agency: DDB Canada

DIGITAL

Apps/Mobile
• GOLD: "Live Swatches." Client: Réno-Dépôt. Agency: Sid Lee

Creative Use of Technology
• GOLD: "Street Swatches." Client: Réno-Dépôt. Agency: Sid Lee

Games
• GOLD: "Grab-A-Gift." Client: Sports Experts. Agency: Rethink

Integrated Web Campaign
• GOLD: "Mixtape of You." Client: boom 97.3. Agency: No Fixed Address

Online Film Campaign – 15 Seconds and Under
• GOLD: "Toast/Passports/Elevator." Client: Loto-Québec. Agency: Sid Lee

Online Film Campaign – Long-Form
• GOLD: "Snack Time." Client: Milk West. Agency: DDB Canada

Online Film Single – Long-Form
• GOLD: "Question Madness Anthem." Client: The North Face. Agency: Sid Lee

DIRECT

Best in Collateral
• GOLD: "IKEA: Cook This Page." Client: IKEA Canada. Agency: Leo Burnett Toronto

FILM

Television Campaign – 30 Seconds and Under
• GOLD: "A Bit Bitter." Client: Farnham Ale & Lager. Agency: Lg2

Television Campaign – Small Budget
• GOLD: "Mafia & War." Client: Berlitz Canada. Agency: Rethink

Television Single – 30 Seconds and Under
• GOLD: "Office." Client: Farnham Ale & Lager. Agency: Lg2

Television Single – Small Budget
• GOLD: "War." Client: Berlitz Canada. Agency: Rethink
• GOLD: "Chopstick." Client: Loto-Québec. Agency: Sid Lee

INTEGRATED CAMPAIGN

• GOLD: "Bring Back the Bees." Client: General Mills Canada. Agency: Cossette

OUT-OF-HOME

Best in Point-of-Purchase
• GOLD: "Bring Back the Bees." Client: General Mills Canada. Agency: Cossette
• GOLD: "IKEA: Cook This Page." Client: IKEA Canada. Agency: Leo Burnett Toronto

Billboard Campaign
• GOLD: "Goal-Synced Nation." Client: Labatt Brewing Company Ltd. Agency: Anomaly

Experiential/Special Events/Stunts
• GOLD: "Rooftop Rink." Client: Molson Canadian. Agency: Rethink

Large-Scale Ambient
• GOLD: "Rooftop Rink." Client: Molson Canadian. Agency: Rethink

Transit/Posters Campaign
• GOLD: "The Tissue for any Issue." Client: Kruger/Scotties. Agency: Lg2
• GOLD: "Degrees of Bitterness." Client: Farnham Ale & Lager. Agency: Lg2

Transit/Posters Single
• GOLD: "Street Swatches." Client: Réno-Dépôt. Agency: Sid Lee

PR

Influencer/Talent Marketing
• GOLD: "Speechless." Client: Carly Fleischmann. Agency: John St.

Integrated Campaign Led By PR
• GOLD: "Bring Back the Bees." Client: General Mills Canada. Agency: Cossette/Veritas Communications
• GOLD: "Rooftop Rink." Client: Molson Canadian. Agency: Rethink/Citizen Relations

PRESS

Magazine Campaign
• GOLD: "Our Cheeses." Client: Fromages d'ici (Les Producteurs de lait du Québec). Agency: Lg2

Magazine Single
• GOLD: "Italy." Client: Fromages d'ici (Les Producteurs de lait du Québec). Agency: Lg2

Newspaper Campaign
• GOLD: "The Tissue for any Issue." Client: Kruger/Scotties. Agency: Lg2
• GOLD: "Degrees of Bitterness." Client: Farnham Ale & Lager. Agency: Lg2

Newspaper Single
• GOLD: "Stairs." Client: Farnham Ale & Lager. Agency: Lg2

PUBLIC SERVICE

Branded Content
• GOLD: "Down Syndrome Answers." Client: Canadian Down Syndrome Society. Agency: FCB Toronto

PR – Community Building
• GOLD: "Ladyballs." Client: Ovarian Cancer Canada. Agency: Grey Canada

Small-Scale Ambient
• GOLD: "Ward+Robes." Client: Starlight Children's Foundation Canada. Agency: Rethink

Integrated Campaign
• GOLD: "SickKids VS." Client: SickKids Foundation. Agency: Cossette

Online Film Campaign
• GOLD: "Down Syndrome Answers." Client: Canadian Down Syndrome Society. Agency: FCB Toronto

Online Film Single
• GOLD: "SickKids VS – Undeniable." Client: SickKids Foundation. Agency: Cossette

Out-of-Home Campaign
• GOLD: "Any Way You Look At It." Client: Ronald McDonald House. Agency: Cossette

Out-of-Home Single
• GOLD: "Any Way You Look At It: Moguls to Meals." Client: Ronald McDonald House. Agency: Cossette

Television Single
• GOLD: "SickKids VS – Undeniable." Client: SickKids Foundation. Agency: Cossette
• GOLD: "Don't Give A Damn." Client: La Société de l'assurance automobile du Québec. Agency: Lg2

Direct/Collateral
• GOLD: "Give-A-Care." Client: Rethink Breast Cancer. Agency: Lg2

RADIO

Campaign
• GOLD: "Titles." Client: Rakuten Kobo. Agency: Cossette

Single
• GOLD: "Holy Cow." Client: Canadian Tire. Agency: Taxi

SELF-PROMOTION

• GOLD: "#CollabWithAric." Client: Aric Guité Photography. Agency: Havas Canada

DESIGN

Brochures/Print Collateral
• GOLD: "IKEA: Cook This Page." Client: IKEA Canada. Agency: Leo Burnett Toronto

Graphics
• GOLD: "IKEA: Cook This Page." Client: IKEA Canada. Agency: Leo Burnett Toronto
• GOLD: "Weston Bakeries Branded Environment." Client: Weston Bakeries. Agency: Jacknife
• BRONZE: "Olympic Park 40th Anniversary Exposition" Client: Olympic Park. Agency: Lg2

Logo/Corporate Identity
• GOLD: "Fuel Transport." Client: Fuel Transport. Agency: Sid Lee
• GOLD: "Olympic Park 40th Anniversary Logo." Client: Olympic Park. Agency: Lg2

Promotion
• GOLD: "IKEA: Cook This Page." Client: IKEA Canada. Agency: Leo Burnett Toronto

Websites/Microsites
• GOLD: "Mixtape of You." Client: boom 97.3. Agency: No Fixed Address