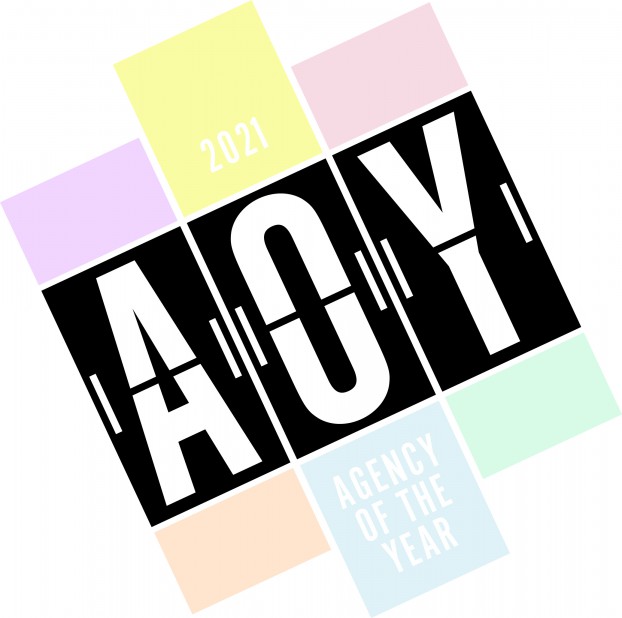 Aaron Starkman once told us that Rethink did the whole Secret thing and wrote down, in pen and paper, their goals for the year in hopes that the universe would grant them: (1) Win Gold in Agency, (2) Win Gold in Digital, (3) Win Gold in Design.
That year we gave the CD a "better luck next time" pat on the back when the shop only won two Golds and a Silver – having lost to FCB in Digital. A year later, the agency was on stage for the same dang trio.
Well, third time's a charm, because this afternoon during strategy's 2021 virtual awards gala hosted by Steve Mykolyn and Nancy Vonk, Rethink finally did it. The agency took home three Golds across the three competitions, a first in AOY history.
Joining Rethink in the winners' circle is 123w, an indie shop based in Vancouver, with a new office in Toronto, that took home top honours in the Small AOY category. Meanwhile, Initiative stepped up to the Media plate with a Gold win to add to its own collection of AOY trophies. And over in PR, No Fixed Address showed it has the communications chops to also walk away with a Gold.
As for the 2021 Silver medalists, they include Zulu Alpha Kilo for Agency; Broken Heart Love Affair for Small Agency; Lg2 for Design; FCB for Digital; Middle Child for PR; and Wavemaker for Media.
And, finally, six Bronze trophies were given to Ogilvy, Fuse Create, Blok Design, No Fixed Address, Citizen Relations, and Touche across Agency, Small, Design, Digital, PR and Media, respectively.
Of those winners, only four agencies were given a Campaign of the Year title, awarded to work that received the top score for each category.
Rethink led with three COY wins, one for the Fondation Emergence's "Colours of Pride" in Agency, one for the Periods for Periods branding work in Design, and another for Over The Bridge's "Lost Tapes of the 27 Club" in Digital. The media plan that Initiative put together for the launch of Amazon's Borat Subsequent Moviefilm was given the Campaign of the Year in Media, while Citizen Relations snagged the PR campaign award for SickKids' "Monument to the Brave" and Broken Heart Love Affair won for Kruger's "Unapologetically Human" campaign.
Below are features on this year's batch of winners, which first appeared in strategy's Fall 2021 print issue (hitting mailboxes and shelves this week):
AOY, Digital and Design Gold: Rethink's winning streak hits a milestone
AOY Silver: Zulu Alpha Kilo takes control of its future
AOY Bronze: Ogilvy reaches beyond its borders
Small AOY Gold: 123w is a talent magnet
Small AOY Silver: For the love of BHLA
Small AOY Bronze: Fuse Create turns heads
Design AOY Silver: Lg2′s brand experience touch
Design AOY Bronze: The bravest shop on the Blok

Digital AOY Silver: The digital engine that is FCB 
PR Gold and Digital Bronze: Talent meets opportunity at NFA
PR Silver: Middle Child refuses to be ignored
PR AOY Bronze: Citizen Relations has purpose
Media AOY Gold: Initiative weaves its own Storyline
Media AOY Silver: Wavemaker's chips fall into place
Media AOY Bronze: Touche blends the art of media with the science of data

And here are the shortlisted agencies, in winning order: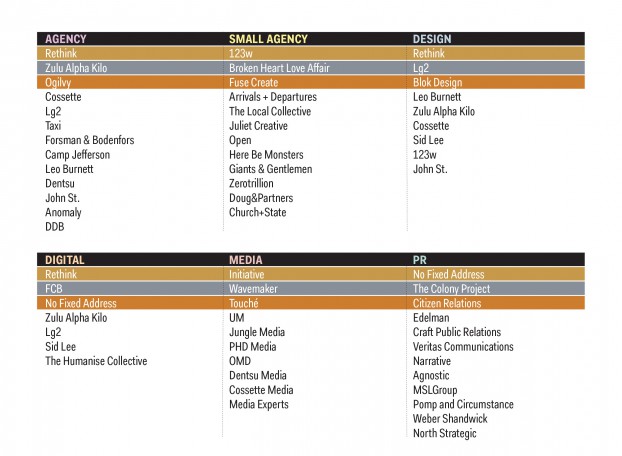 To read about and watch the work that led these agencies to medal at AOY, visit the website here.