TD wins big at the CMAs
"#TDThanksYou" wins Best of the Best, with Tim Hortons and PepsiCo picking up multiple awards.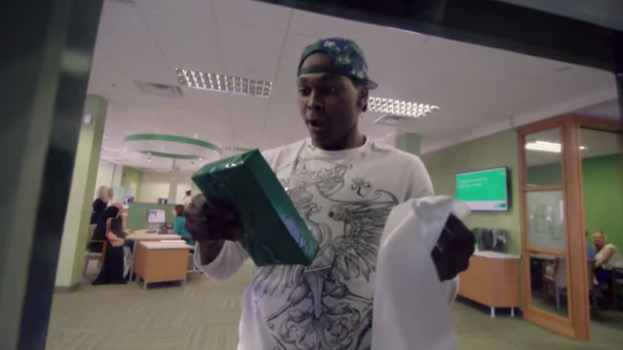 The Canadian Marketing Association has shown its appreciation to a campaign all about showing appreciation.
At the annual CMA Awards gala in Toronto on Friday, Best of the Best went to "#TDThanksYou," the customer appreciation campaign for TD by Diamond Integrated Marketing and Leo Burnett Toronto. The campaign also won five Golds, tied for the most of any campaign, in the Advertising, Community Engagement, Digital, Experiential and Innovative Media and Integrated categories.
Also taking home five Golds was the Tim Hortons "Dark Store" by J. Walter Thompson Canada, which won in the Advertising, Direct, Experiential and Innovative Media, Integrated and Promotion/Shopper Marketing categories.
The most awarded campaign overall was BBDO Toronto's "Doritos Ketchup Hold Out" game for PepsiCo Foods Canada, which won three Golds, three Silvers and a pair of Bronzes.
The most awarded agency was Leo Burnett, taking seven silvers and two bronze to go with its Best of the Best and Gold wins. Leo took home the most Golds with 10 (with Always' "#LikeAGirl" and the Ontario Women's Directorate's "#WhoWillYouHelp" campaigns also earning Gold wins), followed by JWT's eight for "Dark Store" and SickKids' "Better Tomorrows."
Also at the gala, the CMA gave its Marketer of the Year award to Duncan Fulton, SVP of communications and corporate affairs for Canadian Tire and CMO for Mark's and FGL Sports.
You can see all the Gold winners below. The full list of winners can be found on the CMA's website.
Leo Burnett Toronto: 10 Gold
Financial
TD Bank, "#TDThanksYou" (with Diamond Integrated Marketing)
Advertising
Community Engagement
Digital
Experiential and Innovative Media
Integrated
Consumer Products – General
Procter & Gamble (Always), "#LikeAGirl"
Advertising
Community Engagement
Digital
Not-for-profit/Fundraising/Public Service
Ontario Women's Directorate, "#WhoWillYouHelp"
Community Engagement
Digital
J. Walter Thompson Canada: eight Gold
Retail
Tim Hortons, "Dark Store"
Advertising
Direct Engagement
Experiential and Innovative Media
Integrated
Promotion/Shopper Marketing
Not-for-profit/Fundraising/Public Service
Hospital for Sick Children, "Better Tomorrows"
Advertising
Direct Engagement
Integrated
Diamond Integrated Marketing: five Gold
Financial
TD Bank, "#TDThanksYou" (with Leo Burnett Toronto)
Advertising
Community Engagement
Digital
Experiential and Innovative Media
Integrated
DDB Canada and Tribal Worldwide Canada: four Gold
Consumer Products – Food & Beverage
General Mills Canada (Peanut Butter Cheerios), "Dadhood" (Tribal Worldwide Canada)
Community Engagement
Digital
Milk West, "Snack Time" (DDB Canada)
Advertising
Retail
McDonald's Canada, "Fry Defender" (Tribal Worldwide Canada)
Digital
BBDO Toronto and Proximity Canada: four Gold
Consumer Products – Food & Beverage
PepsiCo Foods Canada (Doritos), "Doritos Ketchup Hold Out"
Direct Engagement
Promotion/Shopper Marketing
Canada Post Incite Award
Rogers Communications, "PVR Confidential Augmented Reality Postcard"
Financial
Visa Canada, "Visa Infinite"
Direct Engagement
Lg2: three Gold
Consumer Services
Bell Canada, "Bell Let's Talk 2015″
Advertising
Community Engagement
Business Products and Services
1one Production, "Jesus"
Cundari: two Gold
Automotive
BMW Group Canada, "Ultimate Racetrack"
Advertising
Community Engagement
Bensimon Byrne, Narrative PR, S&E Sponsorship and PHD: one Gold
Retail
Scotiabank, "You're Richer Than You Think"
Community Engagement
FCB Toronto and FCB Chicago: one Gold
Pro-bono
PFLAG Canada, "Nobody's Memories"
Geometry Global: one Gold
Consumer Products – General
Kimberly-Clark (Kleenex), "Share Kleenex Care"
Promotion/Shopper Marketing
Grey Canada: one Gold
Automotive
Volvo, "6 Billion Hours"
Digital
Grip: one Gold
Automotive
Honda Canada, "Honda Fit"
Integrated
John St.: one Gold
Consumer Products – General
Stanfield's, "Streak Week"
Experiential and Innovative Media
Saatchi & Saatchi Canada: one Gold
Not-for-profit/Fundraising/Public Service
Canadian Centre for Gender and Sexual Diversity, "The Gay Sweater"
Experiential and Innovative Media
Zulu Alpha Kilo: one Gold
Consumer Products – Food & Beverage
Labatt Breweries of Canada (Corona), "Corona Summer Campaign"
Experiential and Innovative Media