Are loyalty programs the fifth P of marketing?
A new report shows just how important programs have become, and which brands are doing it right.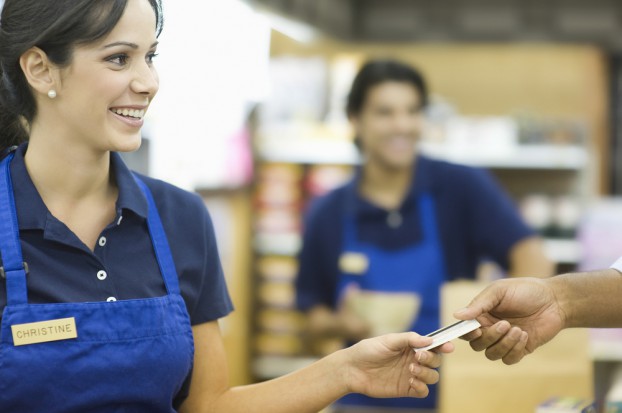 Loyalty programs not only continue to grow in popularity, but are now one of the most important factors in overall brand loyalty, according to the 2015 Loyalty Report from Bond Brand Loyalty.
Bond surveyed over 6,000 Canadians, gauging their overall satisfaction, and input on over 40 other metrics, as they related to loyalty programs and reward debit or credit cards.
Calling it the "fifth P," the reports suggests loyalty programs are now the second-most important driver of overall brand satisfaction, ranked by consumers to be behind quality of the product or service but ahead of factors like the brand meeting a consumer's needs, ease of interaction, value and customer service. Of those surveyed, 30% said they wouldn't be loyal to a brand if it weren't for the loyalty program, with 67% saying programs are a part of their relationship with a brand. Rising from last year, 71% said they modify when and where they make purchases (up from 65%) and 65% said they modify which brands they purchase (up form 55%) in order to maximize their benefits.
The average Canadian has 11.1 loyalty program memberships, up from 9.8 last year, but the number of those memberships that are active saw a slight drop from 7.9 to 7.4. Satisfaction with programs rose slightly, with 68% of members saying they were either somewhat or very satisfied with their programs (up from 64% last year), with 61% saying the same of the enrollment experience (up from 58%). Debit card partnerships saw the highest satisfaction rate (83%), followed by credit cards (76%), stand-alone retail programs (65%) and coalition programs like SPC and Air Miles (61%).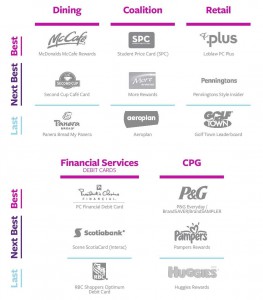 The report compiled all the satisfaction factors to rank the top two and bottom program in each category (pictured left, click to expand). However, the report points out that in many cases, there is little that differentiates the top program from the next best, and where there was parity on key factors, the differentiation came down to the experiential functions they offered that went beyond function and rewards. The top experience drivers were that the program is enjoyable to participate in and worth the effort, that it meets a consumer's needs, that it is trustworthy and that it is personalized. The report points out that while performance on the basics is important to compete, these experiential factors are important for differentiation, as 45% of those surveyed said the programs they are a part of could easily be replaced by a competitor's.

Overall, the factors that had the strongest correlation with overall program satisfaction were how appealing the rewards are, the ability to reach those awards in a timely manner, the number of ways they can be earned and the amount accumulated for every dollar spent.

In addition, the report shows that Canadian Tire FS Options MasterCard, Loblaws PC Plus, PC Financial World MasterCard, CIBC Aero Classic Visa and RBC Rewards Gold Visa saw the greatest increase in very satisfied members, while CIBC Aerogold Visa, RBC Shoppers Optimum Debit Card, Air Miles' non-credit program, Longos Thank You Rewards and RBC Rewards Preferred Visa saw the most decline.

While the RBC Shoppers Optimum Debit Card saw a decline in its ranking, the MasterCard version of the program had the highest ranking of satisfied customers, with 56% strongly agreeing that the program met their needs and 55% strongly agreeing that it made them more loyal to the brand.

When it comes to mobile, only 10% have downloaded a corresponding mobile app for the programs they are a part of and 37% either strongly or somewhat agree they would like to engage with their loyalty program on a mobile device. However, 45% of people who had already downloaded the app for a program reported being very satisfied with the program, compared to 32% for those who hadn't. Among those who hadn't yet downloaded the app, the features most in demand were the ability to access purchase history, having a digital version of the membership card, managing their preferences and being able to browse and redeem reward options.

The report also examined Nike+, Apple iTunes Genius and the NEST Learning Thermostat. While not loyalty programs, all three utilize elements common in loyalty programs, like identifying individual customers, capturing/tracking activity, interactions that encourage certain behaviours and offering some kind of benefit. And satisfaction was high for all three (90% for Nike+, 73% for NEST, 70% for iTunes Genius).

Featured image courtesy Shutterstock