Throwback Thursday: strategy in 2012
Which QSR giant launched a transparency push that has since won it some serious hardware?
For strategy's 25th anniversary, we're travelling back in time, flipping through the pages of old issues to highlight some big news you may have forgotten, trends you wish you'd had a crystal ball to predict and marketing issues that never seem to change. Check back next Thursday to pick up some valuable insights into Canadian marketing history. This week, we tackle 2012.
The start of something big…
Ah, remember the days when Instagram was just a youngster before it exploded into a social media behemoth? Well, it was only a few  years ago. We documented its uptake since its 2010 launch in a March article, noting a less-is-more trend in social and how "newer micro-social networks, like photo-sharing platform Instagram and online pin-board Pinterest, are attracting more focused followings than broader-based elders Facebook and Twitter." And later in our December/January 2013 issue, we named Pinterest the year's breakout social media site. These sites have exploded, with other niche competitors blossoming in their wake, including Vine and Snapchat.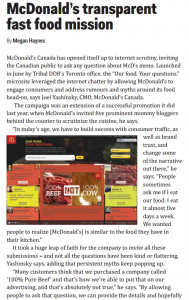 With work from Tribal Worldwide, McDonald's launched its "Our Food. Your Questions." campaign in June to address consumers' inquiries about its menu items. The transparency push would go on to garner major accolades, including multiple Cannes Lions, an AToMiC Grand Prix and CASSIES Gold and the Globe and Mail's Creative Effectiveness Prize.
In June, we highlighted Carly's Café, a documentary and interactive site to support the launch of the book Carly's Voice, "designed to overload the senses" and show users the struggles autistic people face. When she was 17, non-verbal autistic Carly Fleischmann, with help from her father Arthur Fleischmann of John St., wrote the book. Fleischman and the agency created the award-winning site which would later claim a Silver Cannes Cyber Lion, CASSIES Silver and an AToMiC award.
Industry buzz
In an October article, we wrote how Lance Martin was to leave Taxi 2 to lead the newly-created Union, "born out of the operations of CP+B Canada, backed by MDC Partners." Joining Martin at the top were former CP+B Canada president Subtej Nijjar and Dave Carey, who had worked at Lowe Roche. Meanwhile, there were other changes afoot at Taxi, with news of Steve Mykolyn moving to the role of chief brand officer from global CCO, with Frazer Jelleyman stepping into the CCO position (we wrote about his subsequent departure from that position in September of this year).
In our December/January issue, we deemed "integration" to be the buzzword of 2012. Not only were agencies reworking their structures in pursuit of more cohesion, we wrote, but marketers were too. Campbell's then-VP marketing Mark Childs spoke not just of the CPG co integrating marketing with its brand and communications group for digital efficiency and voice alignment, but the increased integration of its agency partners.
In November's "The unsiloed quest for integration," we noted how "the proof that integration works is in the creative pudding, so to speak," as DDB, John St. and Taxi took top spots in Agency of the Year and Digital AOY, and "named their integrated models as the source of their creative juices."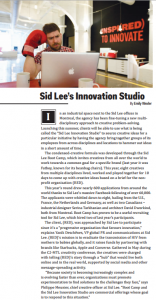 In June, Sid Lee caught our attention with two new initiatives. At the time, the forthcoming "Sid Lee Innovation Studio" was deemed to be able to let clients "source creative ideas for a particular initiative by having the agency bring together groups of its employees from across disciplines and locations to hammer out ideas in a short amount of time." And in a piece about "The new brand relationship," which looked at how "the ad industry is realigning its operations and offerings around these new ways of involving consumers," Sid Lee's new PR shop was said to be "the next evolution of public relations."
The trends we sniffed out
In our Next Big Things report in September, we wrote about tech to track like Google Glass, 3D printing and smart TV apps, while also pointing to how teched-out storytelling was becoming hot, with things like holograms, mind-reading and ads that use facial recognition tech or are viewable with special glasses. Two years later and it's still a conversation we're having.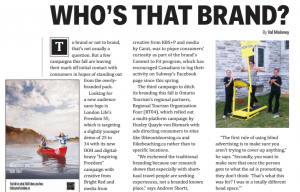 In October's "Whos' that brand?" we picked up on the prevalence of unbranded executions – noting work from London Life's Freedom 55, QSR Subway and Ontario Tourism's regional partners, Regional Tourism Organization Four (RTO4).
We also identified a few larger trends, noting "brands no longer look solely to advertising agencies for creative inspiration, but rather seek a wider selection of partners – usually revolving around new technology – to help generate ideas and produce better dialogue with consumers." Additionally, brands were developing apps and games, formulating their own media channels. For instance, we wrote Nike+ FuelBand "represents the new wave of branded content: ongoing relationships between consumers and brands, forged to create ecosystems for social connections and functionality. Brands are breaking into personal spaces, combatting tech fragmentation by providing mobile solutions for their customers that ultimately serve as free (and viral) media channels."
Meanwhile, video-sharing apps Socialcam and Viddy were gaining serious momentum, so in June, we asked pundits whether they had the chance to surpass YouTube. They didn't, of course, replaced by sites like Vine and Instagram as the go-to short-form video sites.
Shopper marketing takes off
We took a look at shopper marketing's growth in Canada, dubbing 2011 "the year it really cemented itself as a core brand-building discipline" in our December/January 2012 issue. DDB launched its Shopper DDB division in 2011, meanwhile, Canadian manufacturers were putting dollars towards developing internal teams to handle shopper marketing.
In March, we ran a roundtable piece about "The Shopper Marketing Revolution" where a panel of industry experts weighed in on issues around moving beyond price, smart targeting, mobile, showrooming, Target's arrival in Canada and tech update cost-sharing between retailers and manufacturers.
Remember when Frank Palmer was a hip-hop star?
It's a hard one to forget. Refresh your memory by checking out the November issue's cover and back page.
Creative Report Card
And lastly, don't forget to check out who made the cut that year.

Want more strategy Throwback? Catch up on the headlines from 1989, 1990, 1991, 1992, 1993, 1994, 1995, 1996, 1997, 1998, 1999, 2000, 2001, 2002, 2003, 2004, 2005, 2006, 2007, 2008, 2009, 2010 and 2011.