Overall Brand of the Year: Crowning Tim Hortons
There's no stopping this beloved Canadian icon. From product and tech innovation to going viral, here's how to secure the top spot on the Brands of the Year list.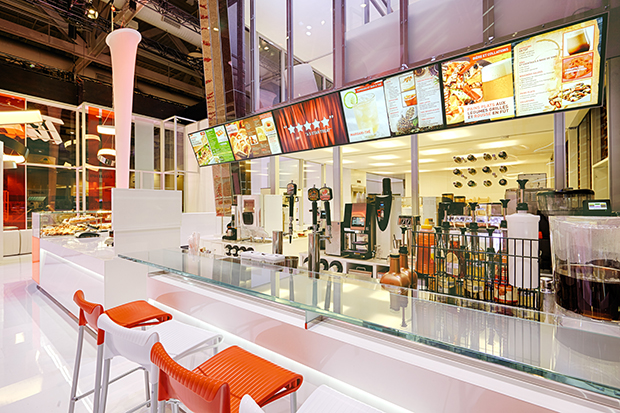 This year's Brands of the Year winners are as Canadian as maple syrup and they've had some very sweet successes. After unveiling our four other Brands of the Year this week, we've saved our Overall winner for last.  
Can you imagine grabbing your next pint of beer at Tim Hortons? How about watching the next hockey game on a TimsTV?
One day it could be a distinct possibility.
This year, for its 50th anniversary, at a franchisee trade show in Toronto, the Canadian brand unveiled a store of the future, complete with a strawberry lager and coffee porter, not to mention touch-screens at the tables and an app that lets you place your order and pay, effectively jumping the queue. There were plenty of decadent food options and even a light coffee roast, complementing the existing medium and dark roasts. The futuristic Tims, a temporary pop-up, is the result of various departments – from marketing to product innovation to store design – blue-sky thinking about what could potentially exist, says Peter Nowlan, chief brand and marketing officer, Tim Hortons. Though he remained mum on which of those innovations would likely see the light of day, he promises that some are "in the works" right now. (The TV network already exists.) The entire thing generated lots of media attention, he says, as folks eagerly weighed in on what they liked and didn't like.
As the brand celebrates its birthday, it's riding a wave of love. Tims came in at number six on Ipsos Reid's Canadian Most Influential Brands study (it was the top Canadian brand, beat out only by Google, Facebook, Microsoft, Apple and Visa). And a study of 1,000 Canadian female consumers by Marketel's women's division Marketelle named Tims the most beloved brand by women, claiming top spot ahead of Walmart, Apple and Starbucks (women from Quebec named it second-most-loved brand, preferring local pharmacy Jean Coutu).
"Nearly 40% of Canadian women [cited] Tim Hortons as one of their most adored brands," the report said. "Asked why they liked Tims so much, women's answers went way beyond the cup of joe. No other brand in Canada enjoys the emotional connection that Tims does."
This was echoed in an Interbrand study of Canadian companies, which named the QSR as the number five brand in Canada. "Regardless of age, gender, social status or heritage, there is probably not a single brand more universally loved by all Canadians than Tim Hortons," it wrote.
The coffee chain also ranked number 61 on global research consultancy APCO's loved companies list (which measures brands' emotional connection), ahead of McDonald's (69), the Yum! chains (78) and Starbucks (96) – and was the only Canadian company on the list. Only Subway beat the brand globally, coming at 32, in the quick service space.
And people aren't just declaring their love – they let their wallets do the talking. The chain has 27% of all market share for QSRs in Canada and 42% of traffic – which is more than the next 15 QSRs combined (including main competitors McDonald's, Starbucks and Subway).
Its strong branding and results was a primary driver for Burger King to pursue a merger with it (see sidebar below).
Tims' own research finds it currently serves 75% of coffee in Canada, said Marc Caira, president and CEO, on an investor call, and is winning in the breakfast daypart "by a long shot" (where it competes largely against McDonald's). Finally, it is gaining ground in the lunch market, neck and neck with McDonald's, says Nowlan.
With all this adoration (not to mention the flurry of activity surrounding its anniversary, new product innovation and regular marcom), is it any wonder it was named our overall Brand of the Year?
The path to this love was an incredibly slow one, of course, simmering over the past half a century. In the early years, loyalty was largely driven by under-the-radar advertising and expansion. In fact, most of its early successes were really from its roots in the community, says Alan Middleton, professor of marketing at the Schulich School of Business.
The brand's biggest advocates were its franchise owners, and its biggest growth mechanism was its quickly expanding footprint.
It was an "of the community" brand, with a small-town feel that was incredibly popular through to the '90s. When it brought on board its AOR JWT (then Enterprise, prior to a merger), the company was really propelled forward as an iconic Canadian brand, rolling out its well-known "True Stories" campaign in 1995, featuring iconic tales of Canadians and their love for a Double-Double, such as "Lillian," which featured a little old lady who trekked across the city each day simply to get a cup of coffee. (Want to hear more about the brand's 50-year evolution? Click here).
Politicians courted the "Tim Hortons vote," with Prime Minister Stephen Harper going so far as to throw a celebration for the brand when it repatriated its headquarters to Canada after the dissolution of its 1995 merger with Wendy's.
But in 2009, competition started heating up as brands like McDonald's and Subway upped their game, competing with Tims on lunch and breakfast.
The company's U.S. expansion stalled, the brand unable to catch on, competing directly with Dunkin' Donuts, which has similar offerings and a much more entrenched history. The brand was forced to close underperforming locations. It made a failed bid into the ice cream space, pulling out of a partnership with Cold Stone Creamery this year, falling victim to Canada's long winters.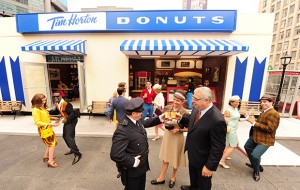 What's more, same-store sales slowed, and much of the success and steady profit growth was attributed to its continuous expansion across the country. But now, it's blanketed the nation and there's little room left to grow.
Yet despite this slowdown, 2014 was the brand's most exciting year to date.
Kicking off the year, the brand returned to portraying hockey in ads. Despite being incredibly tied to the sport (having been started by a Toronto Maple Leaf), for decades hockey was only ever associated with the brand in
a CSR capacity through Timbits Hockey.
But this year, working with Sidney Crosby, JWT and media AOR Mindshare, the brand rolled out a spot ahead of the Olympics, featuring a crowd of people jumping the boards to help play the sport (appropriately named "Jump the Boards"), declaring hockey to be "our game." According to Toronto research firm Solutions Research Group, despite not having run during the Games, it is one of the top 10 most memorable ads from the Olympics – the only non-sponsor on the list.
From there, the brand moved straight into its 50th anniversary campaign. And while it had a traditional TV spot, featuring consumer photos from across the country, aired to a modified "I've Been Everywhere" by Geoff Mack, it was the brand's experiential promotions that garnered the most attention.
Working with digital AOR OgilvyOne, the brand rolled out a replica of the original Tims location in Hamilton, bringing back original patrons (some former Maple Leafs) and employees, decking out Toronto's Yonge-Dundas Square in '60s garb, and inviting consumers to have a cup of coffee or an original donut.
The footage from the campaign went viral, says Nowlan, garnering nearly 1.3 million hits, the brand's most successful digital video to date.
That is, the most successful campaign until the brand rolled out its latest push online for its new Dark Roast coffee (its first new blend since 1964). It featured a completely blacked-out Tim Hortons in Quebec, inviting consumer to come try a cup of joe in the dark, based on the insight that without sight, your other senses are heightened. The video garnered almost 2.6 million hits online, before it ever made it to broadcast.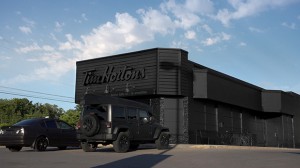 "I think this is the natural evolution of the 'True Stories' campaign, as we tell true stories that consumers can actually experience [by taking part in the activation]," says Nowlan, who joined the company in June after five years at Molson Coors. He says the traditional heart-warming "True Stories" spots will continue to roll out every 18 months or so, but experiential activations will become a bigger part of the brand's marcom repertoire. More recently, the brand turned a regular surburban house in Calgary into a pop-up restaurant, garnering buzz on social media. (The video Tims made of the experience had not yet gone live at press time.)
Of course, consumer-facing marketing is only half the brand's battle plan. At an investor conference earlier this year, the QSR rolled out a five-year plan, and a big factor was product and tech innovation (indeed, Middleton cites product innovation as a key reason Tims thrived the way it has, saying it encourages excitement and repeat visits, allowing the brand to avoid consumer boredom).
For example, its Dark Roast allows it to more directly compete with Starbucks, which has darker coffee offerings. (In 2013, Starbucks rolled out a blonde roast in Canada to compete against Tim Hortons). Tims also unveiled warm kettle chips in a bid to increase basket size, says Nowlan. Since most people only order one or two items (coffee and a donut, coffee and a sandwich), kettle chips were a new product consumers could conceivably have on the side – something different than fries or salad.
The brand also benefits from the donut trend currently sweeping the nation, allowing it to unveil more decadent offerings, such as a birthday cake donut or an Oreo donut.
And its "Duelling Donuts" program has soared. The crowd-sourcing competition, inspired by actor Jason Priestley's reference to a fictional Tims donut concoction on an episode of How I Met Your Mother, saw a spike in entries this year from 63,000 in 2013 to more than 76,000, Nowlan says. Consumers enter the campaign online, creating concoctions from a list of flavours and bases. The donuts are sampled by a panel of celeb judges and then put to Canadian consumers to vote on. The winner takes home $10,000.

And in stores, the brand is rolling out a revamped look, with some locations getting more modernized furniture, fireplaces and even a network of TVs.

This may just be the start for the brand as it eyes the next 50 years.

It's won breakfast, has its sights on lunch. Is dinner next? Perhaps one day soon you'll pop into your local Tims for a bite and a pint to watch the next big hockey game. It's already one of Canada's most popular hangout spots, so it's not a far-fetched idea.

A Whopper of a deal

This piece was being penned as news broke that a merger between Burger King and Tim Hortons was in the works, worth $12.5 billion, pending shareholder approval. BK was attracted to Tims' strong profits and brand: despite having fewer than a third of the locations Burger King had, Tims outperformed the fast-food joint on same-store sales. In 2013, Tim Hortons pulled in US$3.2 billion, to Burger King's US$1.1 billion.

As news rolled out, reaction from Canadians was swift, as Canucks decried the risk to the beloved brand – what would Burger King do to Tims? Could we expect to see fries and Whoppers instead of Timbits and crullers? Media worried about what it could mean for the profitable company and established brand.

On an investor call, Tims president and CEO Marc Caira and BK CEO Daniel Schwartz tried to assure everyone the merger would not change anything at the branding level – the two companies would operate independently of each other and everything would be business as usual. The merger, Caira explained, would allow Tim Hortons to tap BK's extensive global network and knowledge to help it with the "must-win" battle of its U.S. expansion, something it has struggled with.

But backlash and worry continued. A crop of stories rolled out explaining to Americans why Canadians were up in arms. "To Canadians, Tim Hortons — or Timmy's, or even just Tim's[sic] — isn't just a coffee and doughnut shop," wrote Colin Schultz for magazine the Smithsonian. "It's a core component of the Canadian cultural identity — a part of Canadian identity that just got bought by a burger joint…For comparison, this is like a British company coming over to America and buying Smith & Wesson or Jack Daniel's or Ford — if those companies didn't just sell iconic American products but also happened to be the all-around top hangout spot in the country."

This story appears in the October 2014 issue of strategy.