SickKids and Cossette take CASSIES Grand Prix
The awards celebrated the industry's most creative results-driven work at a Toronto gala Wednesday night.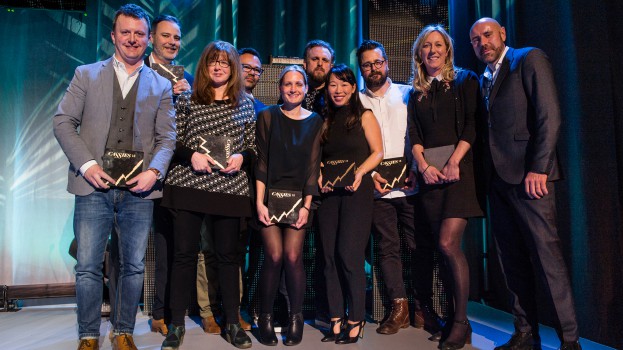 This article appears in the March 2018 issue of strategy.
$1 billion. That's how much SickKids set out to fundraise when it launched its "VS" campaign in 2016. Rooted in a fresh strategic and creative approach that captured the attention of donors well beyond its traditional base, the campaign is well on it's way to reaching that goal. It generated $57.9 million for the hospital within the first two months alone.
Results like those are difficult to ignore, especially in the fundraising space. The work, spearheaded by Cossette, has earned SickKids the title of this year's Grand Prix winner. The brand also takes home three Gold medals – matching the success of Huggies' 2017 "No Baby Unhugged" campaign – as well as this year's Globe and Mail Creative Effective Award.
Presented by the ICA and the A2C, the CASSIES took place at a Toronto gala on Feb. 21. The awards are exceptional because they require proof that a campaign was actually effective – impacting the brand's bottom line, or effecting demonstrable societal or political change. To determine the winners, a jury of senior execs deliberated over detailed case studies, considering insight, execution, and of course, results.
Read on to learn more about the winning campaigns, and check out the CASSIES site for complete cases, credits and the CASSIES Effectiveness Index. The Effectiveness Index ranks agencies according to a scoring system based on 2018 award wins, while the Cumulative Index ranks shops with the most effective campaigns over the past three years.
Gold winners
CASSIES Grand Prix: SickKids' resilient stance
CASSIES GOLD: CDSS gives new perspective
CASSIES GOLD: Canadian Tire's tested idea
CASSIES GOLD: Health Ministry tackles fear of failure
CASSIES GOLD: Gaining cents with scents
CASSIES GOLD: Bud's strategy to own the goal
CASSIES GOLD: HP spotlights hacking
Silver winners
CASSIES SILVER: Nissan plugs Rogue in hostile terrain
CASSIES SILVER: Sobey's unleashes the Christmas spirit (again)
CASSIES SILVER: ATB amplifies its biz cred
CASSIES SILVER: Boreale goes wild
CASSIES SILVER: Stonemill takes it slow
CASSIES SILVER:  Bù targets the sommelier
CASSIES SILVER: #DoTheLivi goes viral
CASSIES SILVER: Guite's Insta collaboration
CASSIES SILVER: Media's Big Food Drive changes the face of poverty
CASSIES SILVER: Oikos dreams up a Greek promotion
Bronze winners
CASSIES BRONZE: Leon's family-friendly furniture

CASSIES BRONZE: Innocence gets interactive

CASSIES BRONZE: Koodo tackles phone bill shock

CASSIES BRONZE: Mac's goes quirky with Froster ads

CASSIES BRONZE: Classico is second best

CASSIES BRONZE: Desjardins makes adulting simple

CASSIES BRONZE: Ontario Tourism gets familiar

CASSIES BRONZE: Fisherman's Friend tackles first world problems

CASSIES BRONZE: NFLD takes charge on power waste

CASSIES BRONZE: Red Barrels' gaming diaper

CASSIES BRONZE: Manulife reveals the mortgage truth

CASSIES BRONZE: Ontario changes the distracted driving narrative